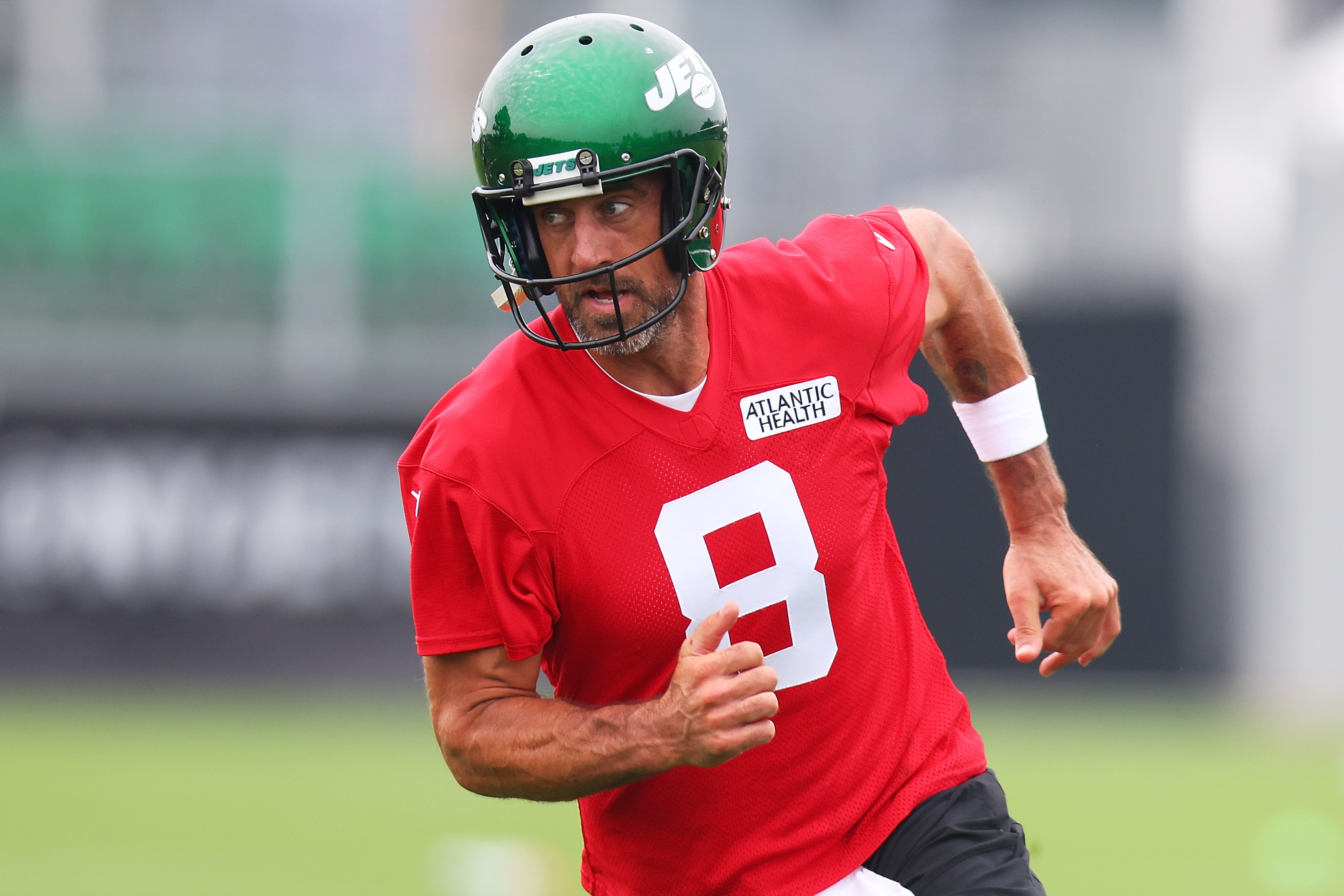 Is Aaron Rodgers Playing In the Hall of Fame Game?
Aaron Rodgers and the New York Jets play the Cleveland Browns in Thursday's Hall of Fame Game, but will Rodgers see any action?
The NFL officially begins its 2023 season Thursday night in Canton, Ohio, with its annual Hall of Fame Game. The new-look New York Jets take on the Cleveland Browns. The game kicks off the league's 104th season at Tom Benson Hall of Fame Stadium.
The Jets have plenty of hype entering the season, with Aaron Rodgers coming over from the Green Bay Packers to run New York's now-potent offense. Those hoping to see Rodgers make his Jets debut, however, will have to wait just a bit longer.
Aaron Rodgers won't make his Jets debut in the Hall of Fame Game
By adding Rodgers to a team that won seven games last year, mainly because of a stingy defense, the Jets look to be a player in the NFL. A four-time MVP, Rodgers brings plenty to the table for the Jets, who have been stagnant offensively the last few seasons.
Rodgers takes the place of Zach Wilson, the young gun from BYU whom the Jets selected with the second overall pick in the 2021 NFL Draft. Wilson has gone 8-14 in two seasons as the starter, throwing more interceptions (18) than touchdown passes (15).
Unfortunately for Jets fans, they're going to see a heavy dose of Wilson on Thursday without getting a chance to see Rodgers. Jets head coach Robert Saleh recently announced that Rodgers won't play in Thursday night's game. He said Wilson will get the start. It's not known when Rodgers will take his first snap for the New York Jets. According to Sports Illustrated, Saleh is sitting several starters for the game, including wide receiver Garrett Wilson and cornerback Sauce Gardner.
Jets fans shouldn't get their hopes up about seeing Rodgers taking part in game action soon. He hasn't played in a preseason game in the last four years. He made a brief appearance during the 2018 season.
With Rodgers on the sideline, it's Wilson's show
Wilson has had a rough go in his first two years in the NFL. When the Jets grabbed the exciting quarterback with the second pick in 2021, they expected their stagnant offense to get a bit of a jolt. Instead, it floundered.
Wilson has been under heavy media scrutiny for his performance as a pro, and he was benched during the season a year ago. With Rodgers in town, it's not looking good for him in terms of seeing the field anytime soon. According to the New York Post, Wilson said he "can't be bitter" about his demotion because he realizes he didn't play well.
Despite the rough numbers and a slide down the depth chart, Wilson says he's having fun so far this year.
"I'm having a ton of fun — more fun than I've had," Wilson said, per the Post, "and I think that's just the QB room, being with Aaron. I think it's feeling like every single day there's so much to, like, learn."
For now, this is Rodgers' team, but Thursday night will be a chance for Wilson to prove he's still a valuable member of the Jets.