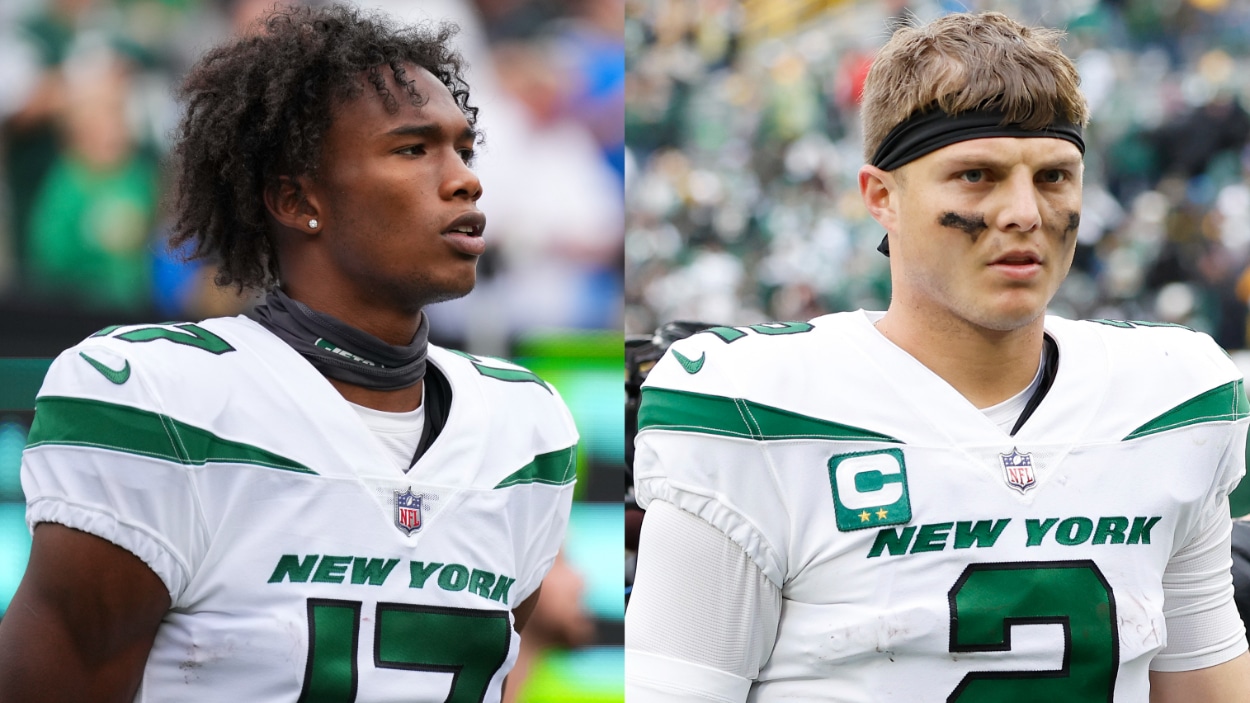 Jets Rookie Garrett Wilson Proves He's a Leader and Zach Wilson Is Not
After a horrific offensive performance in Week 11, Jets rookie WR Garrett Wilson took accountability while QB Zach Wilson did not.
When an NFL team loses, the quarterback must take at least a little responsibility publicly. Even if the final score is 38-35, a franchise QB needs to take it on the chin when his team takes an L and tell reporters, "yeah, I could have done better." When the offense only scores three points, and you lose on a last-second punt return, the QB absolutely needs to take responsibility. However, that is not something New York Jets QB Zach Wilson was willing to do after his team's heartbreaking loss to the New England Patriots, even though his rookie wide receiver Garrett Wilson did. 
Zach Wilson says he didn't let the Jets defense down vs. the Patriots in Week 11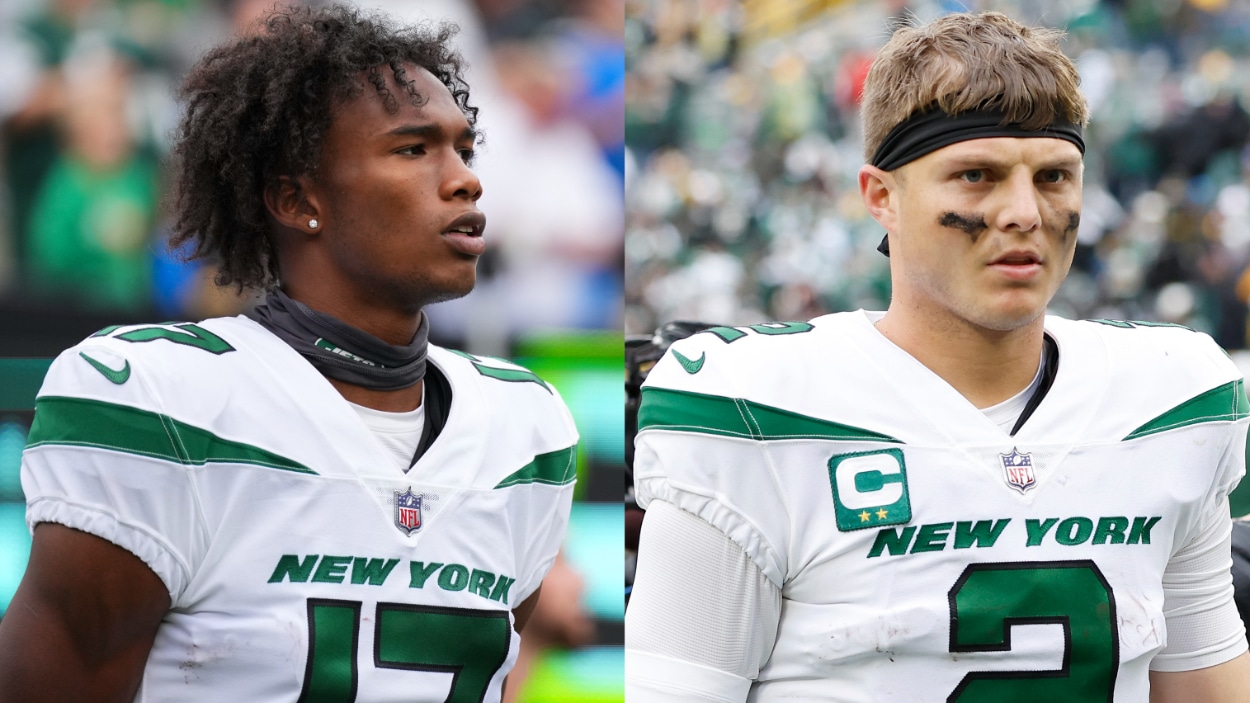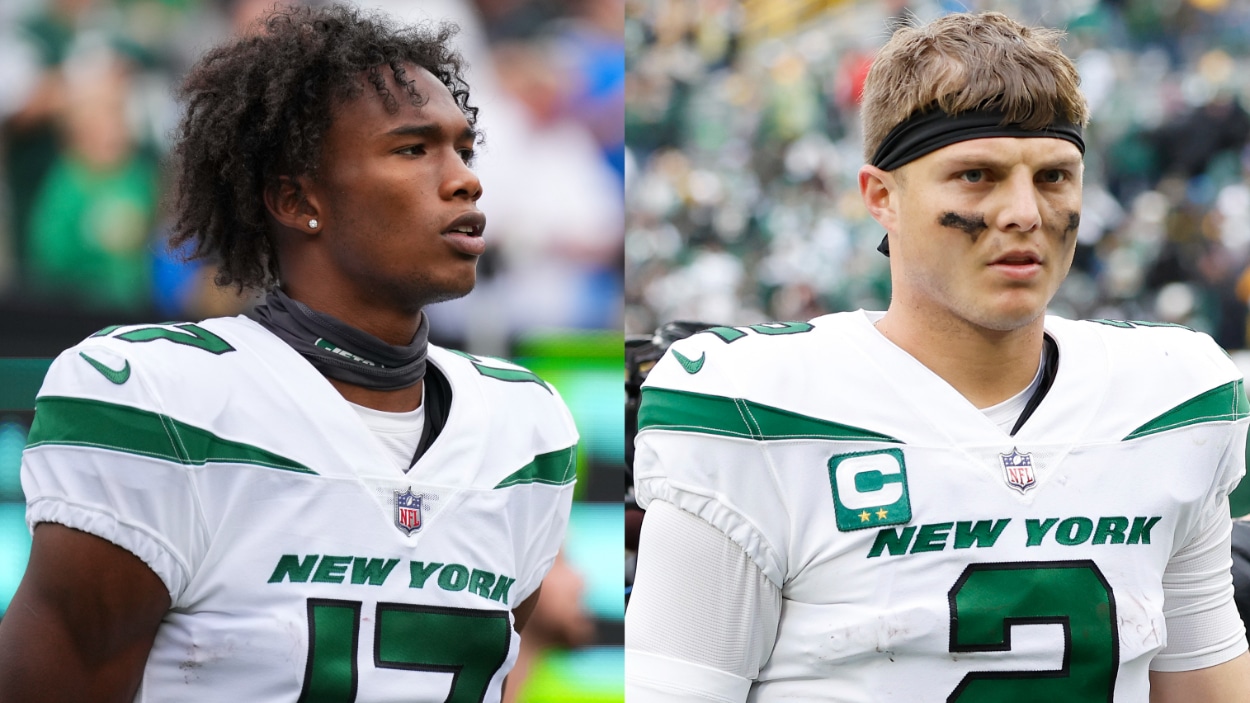 The Jets defense was excellent in Week 11 vs. the Patriots. Gang Green held the Pats offense to just 297 total yards and 13 first downs. The D also sacked Mac Jones six times for 48 yards. That's a recipe for a W on almost any given Sunday.
The problem is the Jets only had 103 total yards, six first downs. They also gave up four sacks for 33 yards. And they only scored three points.
After trading field goals in the second quarter, the AFC East "showdown" was 3-3 with 0:26 left in the fourth quarter. When the Jets once again failed to get a big first down or move into scoring position, they punted to New England's Marcus Jones, and the third-round rookie cornerback took it back to the house to win the game for the Patriots.
After the game, a reporter asked QB Zach Wilson the obvious question.  
"As an offense, though, you guys were only able to score three points. The defense only let up three points," SNY's Connor Hughes noted. "Do you feel like you let the defense down at all?"
Before the question was even out of the reporter's mouth, Wilson shut it down, simply saying, "No. No."
That's not the kind of bratty answer you want to hear from your franchise QB. What you want to hear is the answer that rookie wide receiver Garrett Wilson told reporters.
After the frustrating afternoon for the Jets offense where Garret Wilson — who was averaging almost 60 yards a game — caught just two balls for 12 yards, the rookie WR vented his frustration with the offense to the media.
NFL Network insider Mike Girardi tweeted after the game that Garrett told reporters, "This s*** is not ok. Straight up, it is not ok. How many total yards did we have (103)? That s*** is not going to fly. We got the dudes. It's time to be consistent. It's time to win the games we should win."
That's a very different answer from Garrett Wilson than Zach Wilson. And while everyone is high on the rookie pass catcher's future, not everyone is still in love with Zach Wilson as the team's QB of the future.
After the game, former Jets offensive lineman and current ESPN analyst Damien Woody took to Twitter to voice his disappointment in his former team's QB. "I'm sorry, but there's NOTHING…and I mean NOTHING that Zach has shown that leads me to believe that he's the QB of the future for the #Jets," Woody wrote.
That sentiment is shared by not all but a growing amount of Jets fans these days, and it is something the franchise needs to start considering. When your rookie wideout is more upset, passionate, and accountable for a loss than your quarterback, it's a problem, and the Jets need to figure out what that means moving forward.