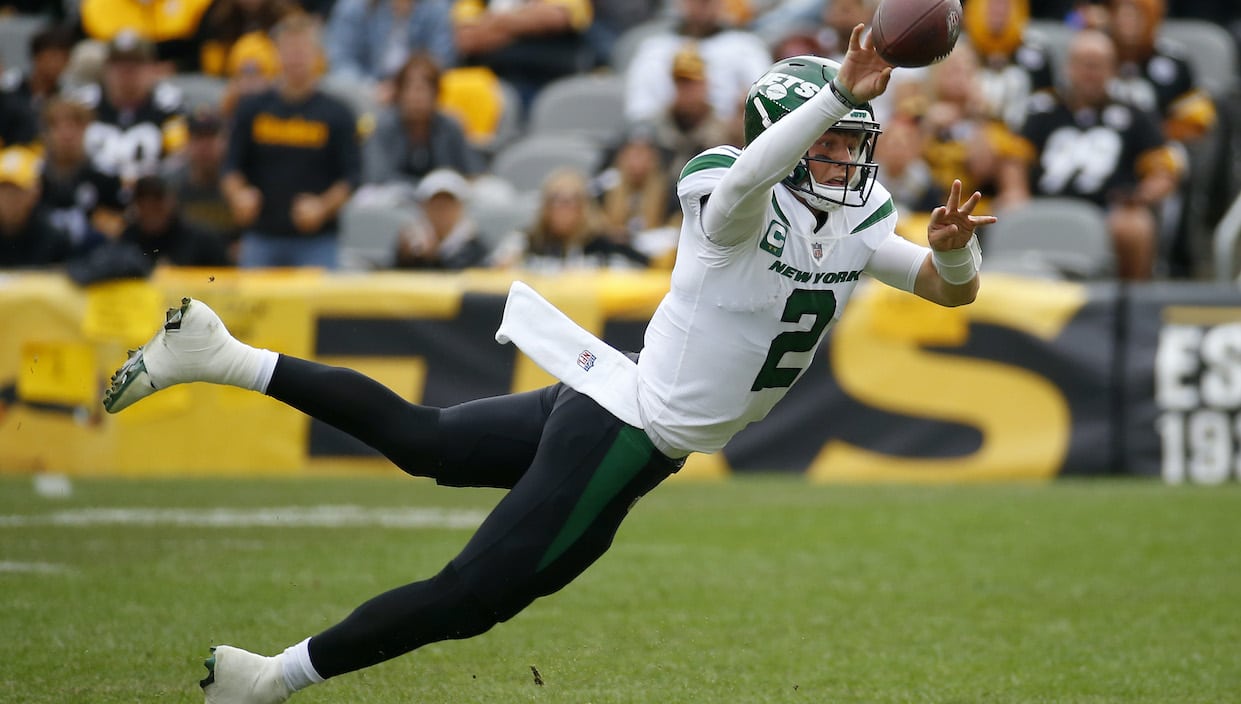 Zach Wilson Makes Jets History in His 2022 Debut Win
Zach Wilson made his 2022 debut in the Jets Week 4 game vs. the Steelers and did something no Jets quarterback had ever done.
New York Jets second-year quarterback Zach Wilson made his 2022 debut in Week 4 after a preseason knee injury. Not only did the sophomore signal-caller lead his J-E-T-S, Jets, Jets, Jets to a much-needed win against the Pittsburgh Steelers, but he also did something that no quarterback has done in the 60-plus-year history of his franchise.
Zach Wilson made Jets history on Sunday
The New York Jets franchise started as the New York Titans in 1960 and changed its name to the Jets for the 1963 season.
The team won a Super Bowl in 1969 and has started more than 50 quarterbacks in the organization's history. Names like Joe Namath, Richard Todd, Ken O'Brien, Vinny Testaverde, Chad Pennington, and Mark Sanchez have played QB for the Jets.
All these players have brought different strengths and weaknesses to the table and gave their Jets offense a different dynamic. However, one thing they all have in common is that, while they've thrown hundreds of touchdowns, none of them has ever caught a touchdown for the Jets.
Until Sunday, no QB has ever made a TD reception for Gang Green. That changed against the Steelers, though, when Zach Wilson made history.
Up 3-0 early in the second quarter, the Jets had a 2nd-and-goal from the 2-yard line. Wilson took the snap, handed off to rookie wide receiver Garrett Wilson on an end around, and Wilson handed to Braxton Barrios on the double reverse.
As the Steelers D focused on the WR trickeration, Wilson leaked out the right side, and Berrios found him all alone in the end zone for the touchdown.
And what would any great receiver do after a touchdown catch in 2022?
Zach Wilson hit The Griddy.
The Jets QB ruined Kenny Pickett's debut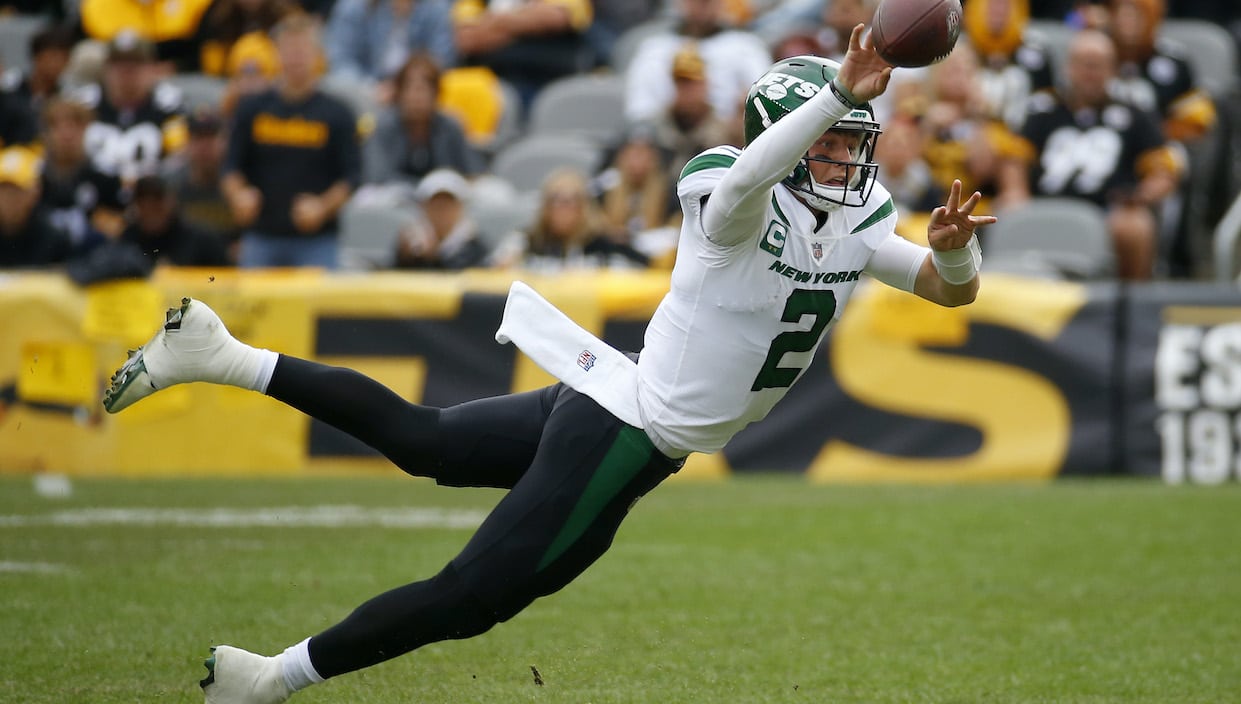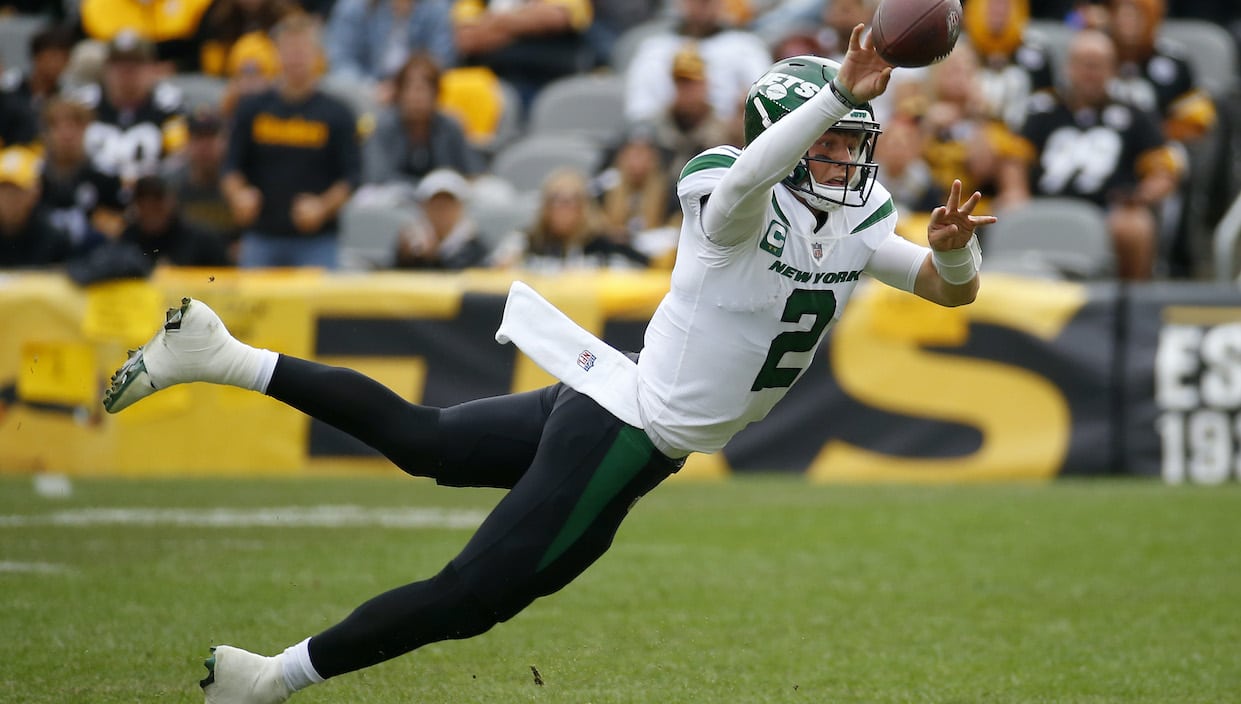 Touchdown dances aside, Zach Wilson and the Jets outplayed Mitchell Trubisky and the Steelers in the first half, building a 10-6 lead at the half. By that point, Steelers coach Mike Tomlin finally decided he's seen enough of his veteran QB and put in the No. 20 overall pick of the 2022 NFL Draft, Kenny Pickett.
Pickett's debut was a mixed bag. He was 10-of-13 for 120 yards, and he ran for two scores to give his team a 20-10 lead in the fourth. However, he also threw three picks and lost the game.
Wilson didn't play great overall either in his personal 2022 season opener. The former BYU QB was 18-of-36 for 252 yards with a touchdown pass to go with his history-making receiving TD. He also threw two picks, though, and was ineffective for a large chunk of the second half.
What Wilson did do was lead two touchdown drives in the final 6:05 of the game to lead his team to the 24-20 win.
Someday NFL fans may look back on the day fondly if Pickett and Wilson make good on their promise. For now, though, it was just a relatively ugly game that ended with Wilson and the Jets on top in the end.  
Like Sportscasting on Facebook. Follow us on Twitter @sportscasting19 and subscribe to our YouTube channel.