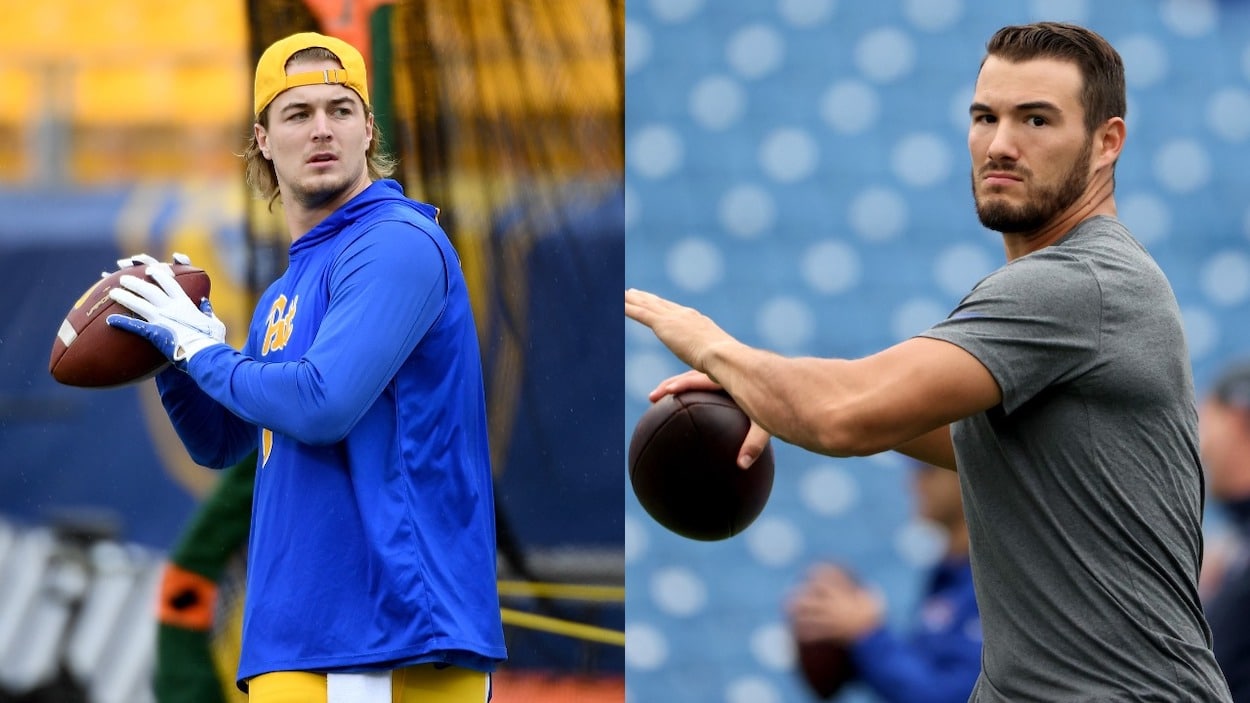 The Fine Print in Mitchell Trubisky's Contract Gives the Pittsburgh Steelers a $4M Reason to Start Kenny Pickett
The Pittsburgh Steelers can save up to $4 million next season by starting rookie Kenny Pickett over Mitchell Trubisky, but is that a good decision?
The Pittsburgh Steelers signed 2019 No. 2 overall pick Mitchell Trubisky to a manageable two-year deal this offseason to, presumably, be the team's starting quarterback in 2022. However, the money was low enough that the team could still take Pitt QB Kenny Pickett No. 20 overall in the 2022 NFL Draft.
While it may seem like taking a first-round QB only adds money to the Steelers' payroll in 2022, when you check out the fine print in Trubisky's contract, Pickett may actually save his new team upwards of $4 million in 2022.
Mitchell Trubisky signed a team-friendly deal with the Pittsburgh Steelers during the 2022 offseason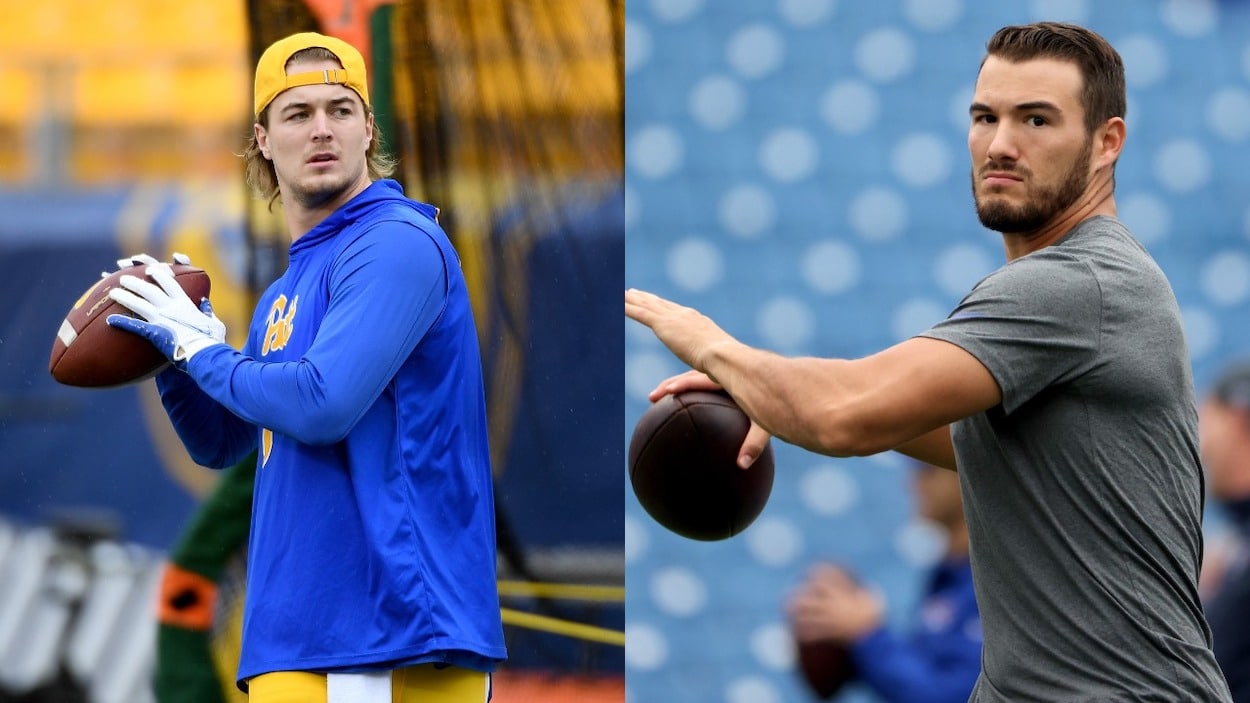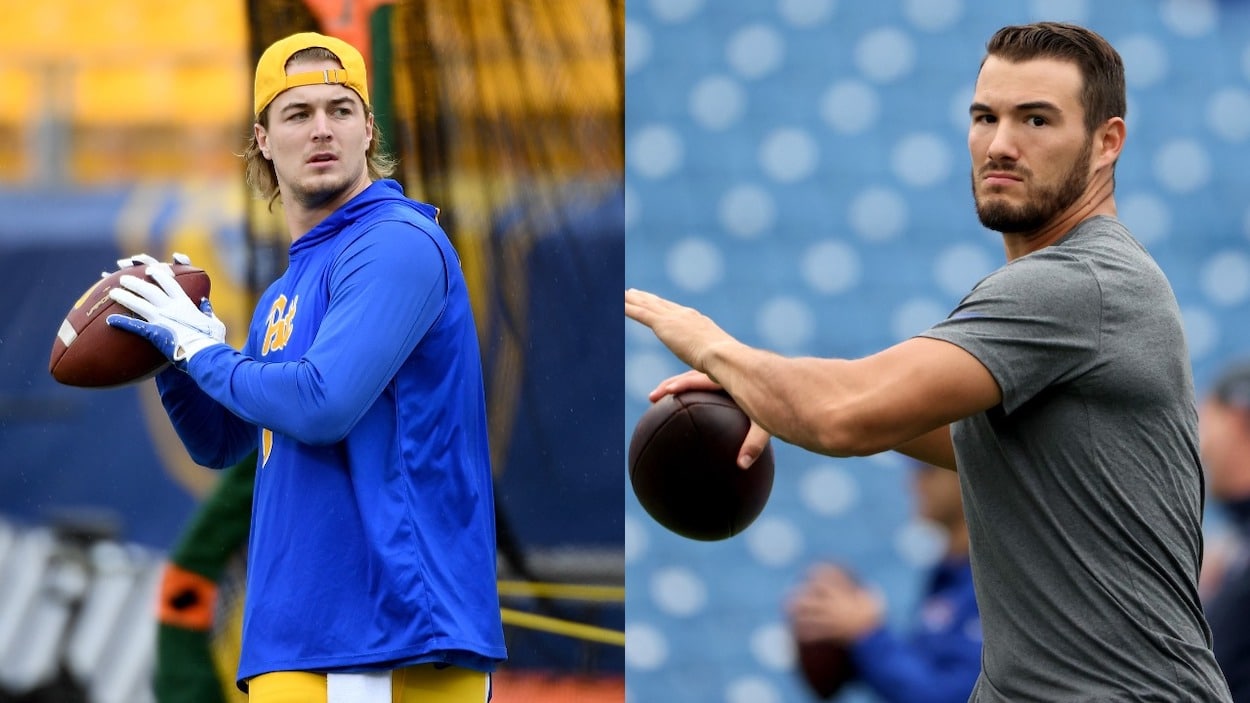 Mitchell Trubisky gets a bad rap.
That's because the Chicago Bears picked him No. 2 overall in the 2017 NFL Draft. To make matters worse, they ridiculously traded up one spot to get him and, to make matters even worse than that, Patrick Mahomes and Deshaun Watson went eight and 10 picks later, respectively.
While Trubisky hasn't performed near as well as his fellow Class of 2017 first-round QBs, he isn't the massive bust that some make him out to be.
In four seasons in Chicago, the former North Carolina passer threw for 10,609 yards with a 64% completion rate. He also had 64 touchdown passes and 38 interceptions. Trubisky made a Pro Bowl in 2018 and led the Bears to the playoffs twice in four seasons.
Last season, he spent a year with the Buffalo Bills and, by all accounts, was a model teammate and a positive presence in the quarterbacks' room.
All this led the Pittsburgh Steelers to give Trubisky a two-year, $14.28 million deal with $5.25 million guaranteed.
This contract gives him just a $3.66 million cap hit next season. That cap number would jump to $10.6 million in 2023, but that's still extremely low for a starting QB if he becomes one, and his dead cap drops to $2.6 million in Year 2. That makes him easily cut-able if he's not the starter.
Incentives in Trubisky's deal may incentive the team to start Kenny Pickett
The cap-friendly contract Mitchell Trubisky signed this offseason made it easier for the Pittsburgh Steelers to take Pitt QB Kenny Pickett No. 20 overall in the first round of the 2022 NFL Draft.
Pickett is widely regarded as the most Week 1-ready signal-caller in this year's draft, which means the Steelers should have an interesting and hard-fought training camp battle for the QB1 slot.
One advantage that Pickett may have over Trubisky — in addition to his first-round pick status — is that if the veteran becomes the starter, it will cost several million more dollars than Trubisky's contract does as of now.
Albert Breer of The MMQB reported on Twitter that the details of Trubisky's contract include playing time and playoff bonuses.
Taking 60% of the Steelers snaps in 2022 will earn him an extra $1 million. If he is under center 70% of the time, he gets $1.5 million, and 80% or more will earn Trubisky $2 million. Additionally, 70% of the team's snaps and a playoff appearance will net the QB $2.5 million, and 80% or more and a postseason berth gets him $4 million.
Those incentives repeat themselves in Year 2 as well, possibly bringing the total value of his contract from $14.28 million to $26.78 million.
The doubts about new Pittsburgh Steelers QB Kenny Pickett
While the Pittsburgh Steelers may have four million reasons to start rookie Kenny Pickett as much as possible next season, there is one major doubt about the rookie passer, and it's not about his tiny hands.
The problem with Pickett is that his breakout season didn't come until he was a 23-year-old fifth-year senior. Here are the QB's stats last four years in college:
2018: 1,969 passing yards, 58.1% completion rate, 12 TDs, 6 INTs
2019: 3,098 passing yards, 61.6% completion rate, 13 TDs, 9 INTs
2020: 2,408 passing yards, 61.1% completion rate, 13 TDs, 9 INTs
2021: 4,319 passing yards, 67.2% completion rate, 42 TDs, 7 INTs
Up until his last year, Pickett was a relatively average college QB. Then, as a 23-year-old playing against 18- to 21-years-olds, he made a significant leap. That's when he was a grown man playing against kids who were two to five years younger than him.
In the NFL, he'll be back playing against peers, mentally and physically, and he'll have to prove that his breakout season wasn't a fluke.
 Whether he can or not will go a long way toward deciding whether the Steelers will owe Mitchell Trubisky an extra $4 million this season or not.
Stats courtesy of Sports Reference. Like Sportscasting on Facebook. Follow us on Twitter @sportscasting19 and subscribe to our YouTube channel.