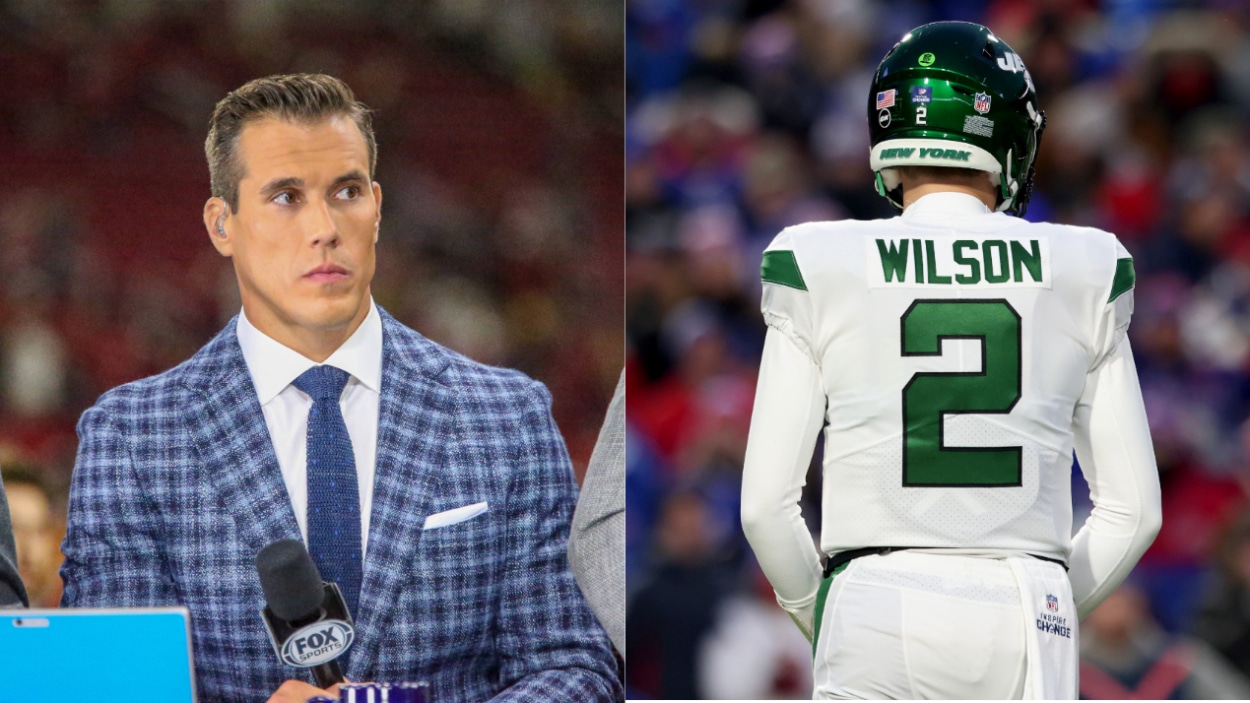 New York Jets Could Move on From Zach Wilson After Next Season to Draft 1 of 4 QBs, According to Brady Quinn
Brady Quinn not only thinks the New York Jets season will be over quickly in 2022, but QB Zach Wilson's time with the team could be over, too.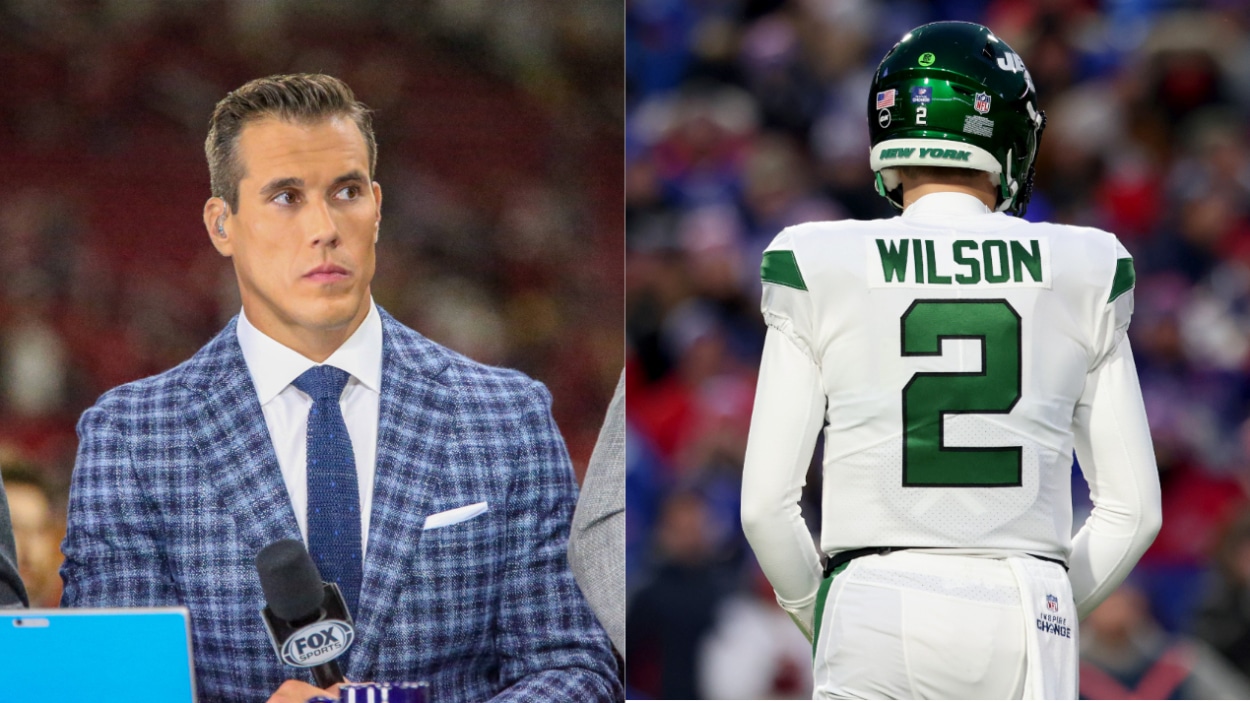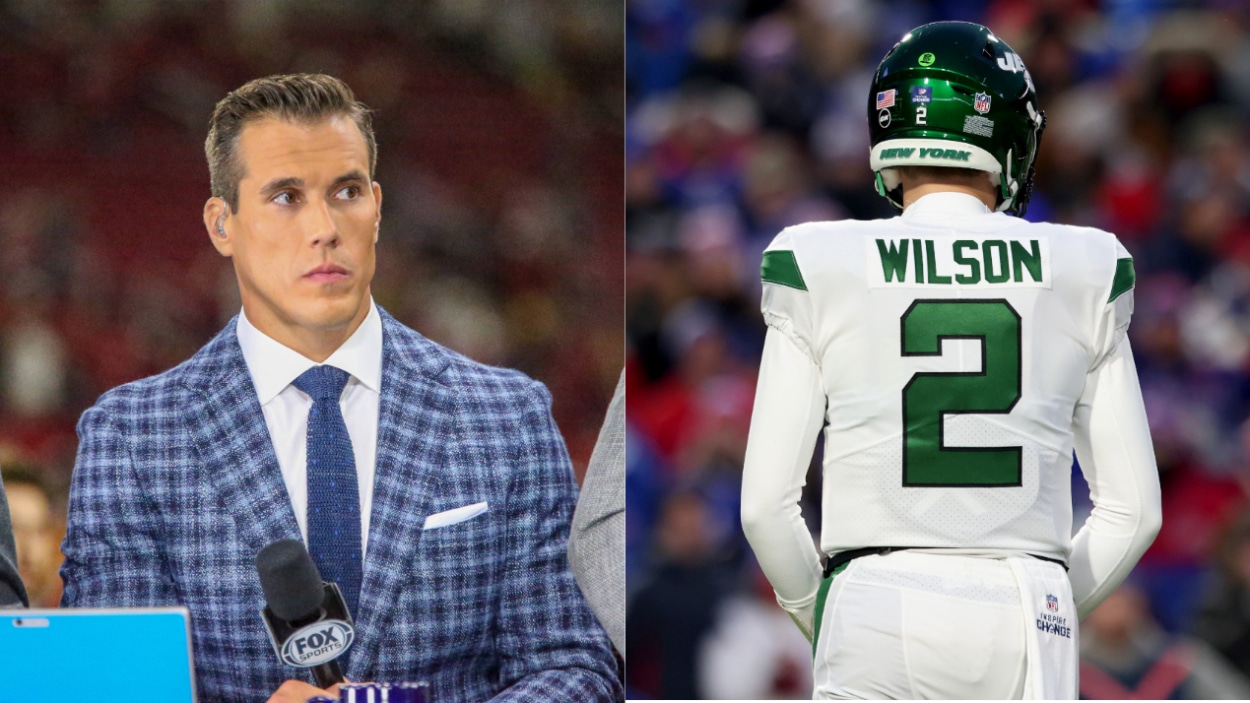 In the modern NFL, when a team picks a quarterback high in the first round, the team expects him to succeed right away. New York Jets QB Zach Wilson is no exception. The team drafted him No. 2 overall in 2021, and 2022 could already be a make-or-break season for the former BYU signal-caller.
Former NFL QB Brady Quinn believes the 2023 NFL Draft will feature so many top 10 quarterback prospects that Wilson needs to lead the Jets to success (and a higher draft pick), or he could face the same fate as Josh Rosen with the Arizona Cardinals in 2019.
Zach Wilson is under enormous pressure in 2022
In addition to Zach Wilson, the New York Jets also took USC guard Alijah Vera-Tucker in the first round. General manager Joe Douglas followed that pick up by picking Ole Miss wide receiver Elijah Moore with the second pick of the second round.
The team went 4-13 in Wilson's rookie year, and the young QB was just 3-10 as a starter. That earned the Jets another high draft pick in 2022.
In this year's draft, Douglas and head coach Robert Saleh added arguably the best WR (Ohio State's Garrett Wilson, No. 10) and best running back (Iowa State's Breece Hall, No. 36). The organization also took two blue-chip defenders in Cincinnati cornerback Ahmad "Sauce" Gardner (No. 4) and Florida State edge rusher Jermaine Johnson (No. 26).
Heading into 2022, this draft, combined with the returning players, gives Wilson and the Jets a good deal of talent.
The team also added free-agent tight end C.J. Uzomah and guard Laken Tomlinson. These two will join the 11th-ranked offensive line last season, per PFF, which will also get injured tackle Mekhi Becton back for 2022.
On defense, Tampa Bay Buccaneers safety Jordan Whitehead and Seattle Seahawks CB D.J. Reed join the fold.
If the Jets can't turn things around and challenge for the franchise's first playoff appearance since 2010, at least one NFL analyst — former QB Brady Quinn — thinks Wilson could be on the chopping block.
Brady Quinn says the New York Jets could move on after next season
Brady Quinn knows how hard it is for a first-round pick to make it as a starting quarterback in the NFL. The Cleveland Browns drafted the former Notre Dame quarterback No. 22 overall in the 2009 NFL Draft.
Quinn threw just eight passes his rookie season, sitting behind Derek Anderson. The next two seasons, he started two games, going 3-9 and 10 touchdown passes to nine interceptions. After one season with the Kansas City Chiefs (1-7, two TDs, eight INTs), he was out of the league.
Now an NFL analyst, Quinn joined the Pat McAfee Show to speak with the host and his brother-in-law, A.J. Hawk, on a range of football topics.
On the show, the hosts asked Quinn about his recent comments that the Jets season would "be over before the bye week" in 2022.
He expanded on that idea to McAfee and Hawk, saying that if the Jets season did go as poorly as he predicts, that could be it for Zach Wilson:
After this year, you have two years into Zach Wilson. It's going to be tough to overcome the position they may be in to take one of the quarterbacks that are coming out next year. … It has nothing necessarily to do with Zach Wilson in particular. It's just the fact that they'll be in position to take one. And they might have a higher draft grade on that guy, and they might say, 'Hey, look, we watched the Arizona Cardinals move on from Josh Rosen after one year and take Kyler Murray No. 1 overall, and that's working out pretty well so far.'

Brady Quinn on Zach Wilson and the NY Jets
Brady also noted that Robert Saleh comes from the San Francisco 49ers and that franchise traded up to draft Trey Lance even with Jimmy Garoppolo in place.
There are four possible top 10 QBs in next year's NFL draft
Whether Brady Quinn is right about Zach Wilson and the New York Jets next season, you can't argue that next year's quarterback class is excellent.
Wilson's draft class featured five QBs in the first round (Trevor Lawrence, Wilson, Lance, Justin Fields, Mac Jones). So did Josh Rosen's in 2018 (Baker Mayfield, Sam Darnold, Rosen, Josh Allen, Lamar Jackson).
The Class of 2023 could have five or even six quarterbacks in Round 1 as well.
Brady Quinn mentioned four players on the Pat McAfee Show as potential top 10 picks. Alabama QB and 2021 Heisman Trophy winner Bryce Young and Ohio State's C.J. Stroud should absolutely be top 10 next year. Miami's Tyler Van Dyke also looks like a first-rounder, and possibly a high one, and Quinn likes Kentucky's Will Levis, too.
After those four prospects, Florida's Anthony Richardson, Boston College's Phil Jurkovec, or South Carolina's Spencer Rattler could play their way into the first round during the coming college football season.
If Wilson makes a leap this season, though, the Jets won't have to worry about any of this. If not, the J-E-T-S, Jets, Jets Jets, could be the most fascinating team in the draft next offseason.
All stats courtesy of Pro Football Reference
Like Sportscasting on Facebook. Follow us on Twitter @sportscasting19 and subscribe to our YouTube channel.