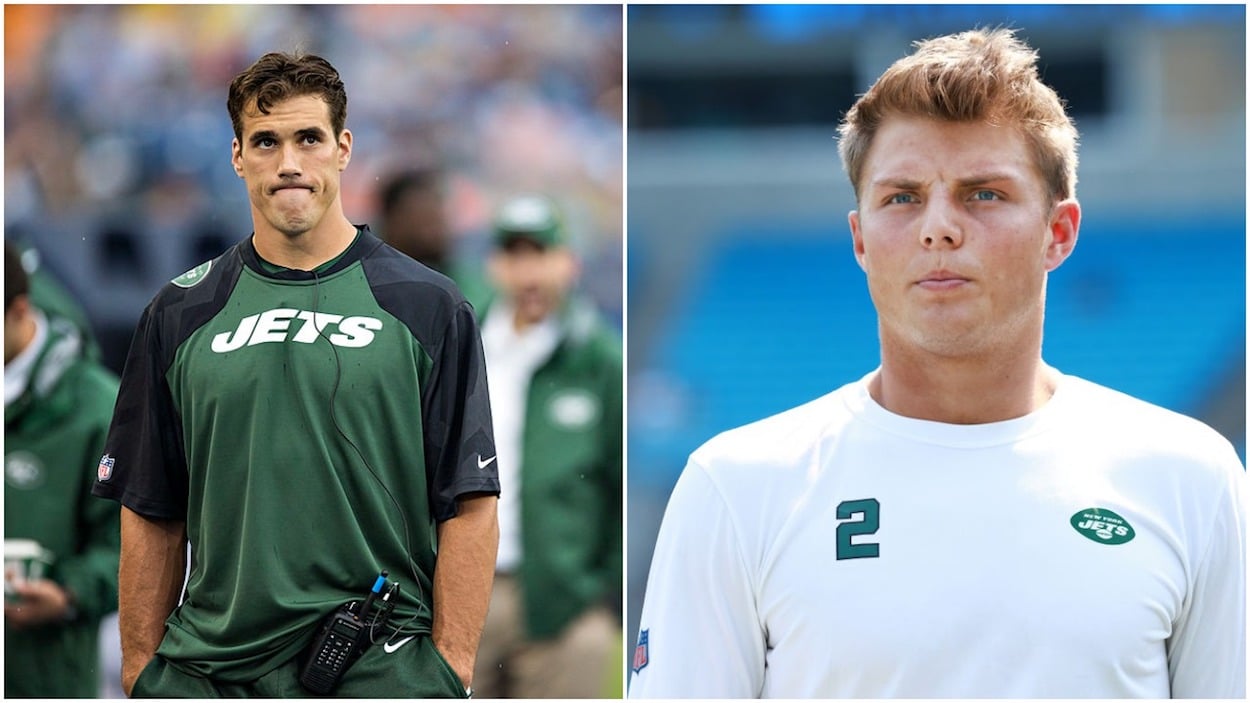 New York Jets: Brady Quinn Predicts a Nightmare Scenario for Zach Wilson and Gang Green
The New York Jets had a strong 2022 draft, but Brady Quinn isn't too optimistic about their upcoming NFL campaign.
While New York Jets fans haven't had much to cheer about lately, hope springs eternal during the NFL offseason. The club emerged from the 2022 draft with a high-quality haul. Combine that improved roster with some (theoretical) improvement by Zach Wilson, and you've got the recipe for a solid campaign. Right?
Maybe not.
During a recent appearance on CBS Sports HQ's Pick Six podcast, former NFL quarterback Brady Quinn threw some cold water on Gang Green's dreams. Not only does he think the 2022 campaign will be a struggle, but he went as far as saying it could prompt New York to return to the drawing board.
Brady Quinn predicts that the Jets' season will be over by the bye week
While individual odds can vary, most over/under lines put the New York Jets around 5.5 wins for the 2022 campaign. That may seem like a pretty manageable number, but Brady Quinn still doesn't like their chances.
"I've got them going under this number at five wins," the former quarterback explained. "Their season's gonna be over before they get to the bye. I mean, that's just the reality of it. Their bye comes November 13, and they've got to play Baltimore, they've got to play the entire AFC North at the start of the season. They might go 0-4. And then you've got that winnable game against the Dolphins. Great, they get to host them. They're gonna feel pretty desperate, pretty beat up after an 0-4 start. Then the Packers, a trip out to the Denver Broncos with Russell Wilson, the Patriots, [and] the Bills? I mean, there's a realistic scenario where they're 1-8 here. Maybe 0-9."
That may be a painful prediction, but it's not totally unrealistic. The NFL may be a league where anything can happen on any given Sunday, but the Jets do have a brutal first half of the season.
With that being said, though, Quinn wasn't done yet. In his mind, the Jets might even have to restart their rebuild after this year.
"As good as the roster has improved, I just haven't been a believer in Zach Wilson," he continued. "I think this is an unbelievably difficult schedule that lightens up in the second half, but they could be decimated by that point. So, I've got them winning five games and probably going back to the drawing board at the quarterback position in the 2023 draft."
The schedule is tough, but you could argue that progress is more important than the Jets' record
In fairness to Quinn, he's not exactly uncorking a hot take when it comes to analyzing the Jets schedule. That first half of the season would be brutal for anyone, let alone a young team. It's completely reasonable to think they'll be floundering at the midpoint of the campaign.
With that being said, though, we have to somewhat divorce results from the process at this point.
As I just mentioned, the Jets are a young team built around a second-year quarterback. They just enhanced the receiving corps with Garrett Wilson and provided their signal-caller with a new running back, tight end, and offensive lineman. While that eliminates excuses — Zach Wilson will have to put up or shut up after showing some encouraging signs at the end of 2021 — it also necessitates a bit of patience.
Let's assume that Gang Green does go 0-9 before the bye and then plays 4-4 football down the stretch. While that wouldn't prompt a parade around the Meadowlands parking lot, it could still be optimism. The same can be said for how the team loses. There are no emotional victories in the NFL, but there's a difference between going toe-to-toe with the Bills across three quarters before falling short and being down 28-0 at halftime.
A similar point can be made on the quarterback front. While you don't want to be beholden to the sunk cost fallacy, things have to be pretty desperate to a signal-caller with the second overall pick and then cut the cord after two seasons. It's unrealistic to expect Wilson to lead the Jets to 10 wins this year; it's about seeing how he plays and gauging his improvement.
That's all a long-winded way of saying that, for the New York Jets, the 2022 record doesn't really matter. While no one wants to get drubbed every week, seeing signs of progress is more important than winning one or two extra games.
How to get help: In the U.S., contact the National Council on Problem Gambling helpline at 1-800-522-4700.