Mark Sanchez Feels Terrible for Jimmy Garoppolo Because He's Been in the Exact Same Situation: 'Bro, This Ain't Easy, I Feel You on This One, Man'
Former New York Jets quarterback Mark Sanchez knows precisely how it feels when your team tries to replace you, despite having success. That is why the signal-called-turned-NFL-analyst feels so much sympathy for San Francisco 49ers QB Jimmy Garoppolo.
The 49ers drafted Trey Lance to replace the oft-injured (yet successful when healthy) Garoppolo, and the incumbent passer is dealing with it the best he can. If he keeps winning, though, and gets San Francisco into the playoffs, the team could have a serious decision to make this offseason.  
The San Francisco 49ers are trying to replace Jimmy Garoppolo 
Bill Belichick and the New England Patriots drafted Jimmy Garoppolo No. 62 overall in the 2014 NFL Draft. The thought was that he could eventually be the long-term replacement for the then-37-year-old Tom Brady.
The only problem was, no one knew at the time Brady would still be playing eight years later.
With his rookie deal ending and a large extension looming without much on-field experience to base it on, Belichick traded young QB to coach Kyle Shanahan and the San Francisco 49ers for exactly what they spent on him: a second-round pick.
Since moving to the Bay Area, Jimmy G, as he's known, has been good when he's on the field. The problem is, he's not on the field anywhere near as much as the 49ers and their fans would like.
As a starter in San Fran, he's won almost 70% of his games (26-12), while the team has only won 45% (33-40) of its total games during that time. The QB has played in 38 games as a Niner and missed 35, meaning the team is 7-28 without him.
Even more telling is that the one year he started all 16 games for the 49ers, the team went 13-3 and made the Super Bowl.
Shanahan and general manager John Lynch can read these numbers like anyone else, and they've decided it's time to move on from their oft-injured signal-caller.
In March 2021, the San Francisco front office duo went all-in on replacing Garoppolo. The team traded its 2021, 2022, and 2023 first-round picks and a 2022 third-rounder to the Miami Dolphins to trade up to No. 3 in 2021 to ultimately take North Dakota State QB Trey Lance.
Mark Sanchez knows how Garoppolo feels because the New York Jets did the same thing to him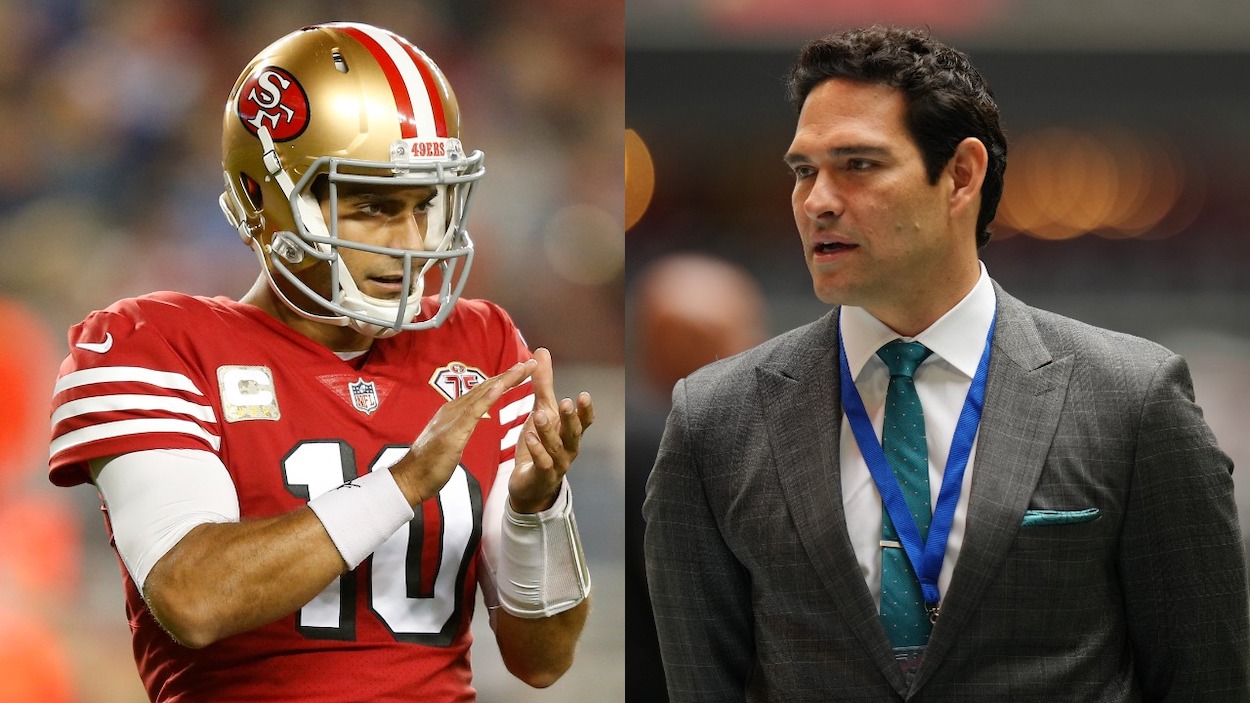 If anyone knows what it feels like when your NFL team brings in a new quarterback specifically to replace you because they don't believe in you anymore, it's former New York Jets passer Mark Sanchez.
The Jets took Sanchez No. 5 overall in the 2009 draft, and he went on to have a rollercoaster career with Gang Green. He was 32-29 in New York and piloted Rex Ryan's defensive-led teams to AFC Championship games in 2009 and 2010.
However, he also put up a lackluster 55.1% completion rate with the Jets and threw 69 interceptions with just 68 touchdowns. That led the Jets to look for replacements multiple times during his career, bringing in Tim Tebow in 2012 and drafting Geno Smith in 2013.
Sanchez, now an NFL analyst for FOX, shared with host Colin Cowherd on The Herd with Colin Cowherd that he knows just how Garoppolo is feeling nowadays and told the 49ers' signal-caller as much:
The fact that Jimmy's handled it his way — like, in production meetings, I pulled him aside the other day, and I was just like, 'Bro, that ain't easy. I feel you on this one, man.' Geno Smith, Tim Tebow, other guys coming in, it's a lot on your plate. And it's no fault of the other guy. They're just trying to play. They're just trying to come in and compete. And you respect that, but at the same time, it's like, 'why?' It's hard enough to convert a third down. It's hard enough to orchestrate a touchdown drive. Now I gotta deal with this and the media too? Why would you do that to somebody?

Mark Sanchez on Jimmy Garoppolo
Sanchez went on to say that when the 49ers ultimately do part ways with Jimmy G, another team will snap up the QB. He did, however, admit that "he's gotta stay healthy" to find success in the league.
The 49ers' victory over the division-rival Los Angeles Rams keeps their playoff hopes alive
After missing the San Francisco 49ers Week 5 matchup with the NFC West-leading Arizona Cardinals (a 17-10 49ers loss), Jimmy Garoppolo has played each of the next four games, resulting in a 2-2 record to bring the team to 4-5 on the season.
A surprising Monday Night Football blowout of the Los Angeles Rams — where mentor Kyle Shanahan beat his pupil Sean McVay for the fifth-straight time — moved San Fran into the No. 9 spot in the conference, just a half-game behind the final NFC playoff slot.
In Week 11, Garoppolo, Shanahan, and the 49ers make one of the longest flights in the NFL to play the Jacksonville Jaguars in a 1 PM EST game.
On paper, the 49ers should make quick work of the 2-7 Jags. However, the travel, the kickoff time, and the possible hangover from last week's big win could give Urban Meyer and Trevor Lawrence an edge.
If they do win the game, there are upcoming matchups against the Atlanta Falcons and Houston Texans that should guarantee the team at least seven wins. Then — if nine or ten wins gets an NFC team the final spot — they'll have to find two or three more W's against the Minnesota Vikings, Seattle Seahawks, Cincinnati Bengals, Tennessee Titans, and, in the newly-minted Week 18, their old friends, the LA Rams.
If he stays healthy — which could be Jimmy G's legal middle name — Garoppolo could once again be a playoff QB and give the 49ers a big decision as the signal-caller heads into the last year of his deal.
All stats courtesy of Pro Football Reference