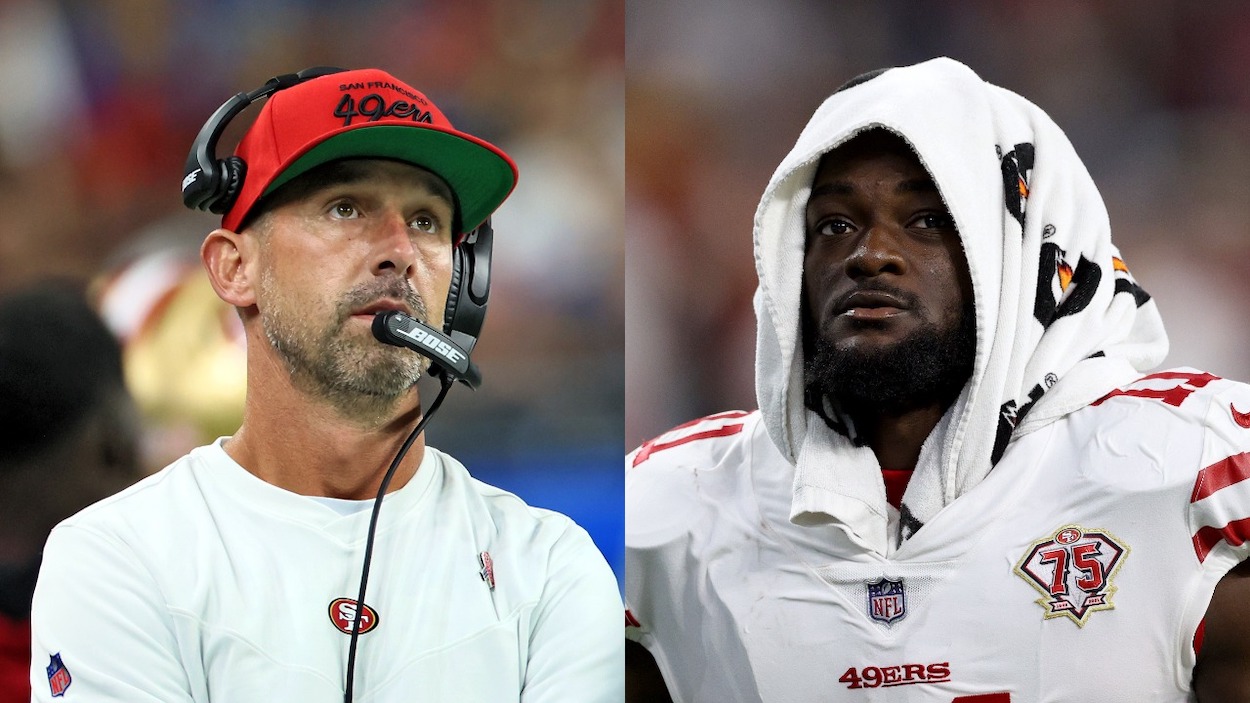 Kyle Shanahan Places Blame for 49ers' Offensive Struggles: 'I Love the Kid, but the Kid's Gotta Start Grinding'
San Francisco 49ers head coach Kyle Shanahan called out one of his players to the 'Sunday Night Football' crew, but is he the real problem?
The San Francisco 49ers were supposed to be playoff contenders in the 2021 NFL season. They had a strong defense, offensive weapons, a choice of a veteran or rookie quarterback, and an "offensive genius" at head coach in Kyle Shanahan.
Seven weeks later, the Niners sit at 2-4, just a half-game above last place in the NFC West. During a Sunday night loss to the Indianapolis Colts, NBC's Al Michaels and Cris Collinsworth shared the coach's frustration with a certain young offensive player, but is it Shanahan who's really the problem?
The San Francisco 49ers are (once again) struggling
The NFC West was considered the best division in football heading into the NFL season.
The still-undefeated Arizona Cardinals and star-studded Los Angeles Rams have held up their end of the bargain. However, Russell Wilson's injury tanked the Seattle Seahawks' season. As for the San Francisco 49ers, they are simply nowhere near what many experts predicted.
The 49ers' stats tell a clear story about why they can't win games this year. Defensively, the team holds its own. The unit ranks 15th in scoring defense and second in yards allowed.
The problem is the offense. Coach Kyle Shanahan's hand-picked unit ranks 25th in scoring offense and 27th in total yards.
Some of this has to do with Shanahan shuffling between the oft-injured Jimmy Garoppolo and the not-yet-ready-for-prime-time rookie Trey Lance. Some of it has to do with the season-ending knee injury to star running back Raheem Mostert.
Shanahan has also voiced his displeasure with one specific member of his offense who is underperforming this season.  
Head coach Kyle Shanahan places some of the blame on second-year wideout Brandon Aiyuk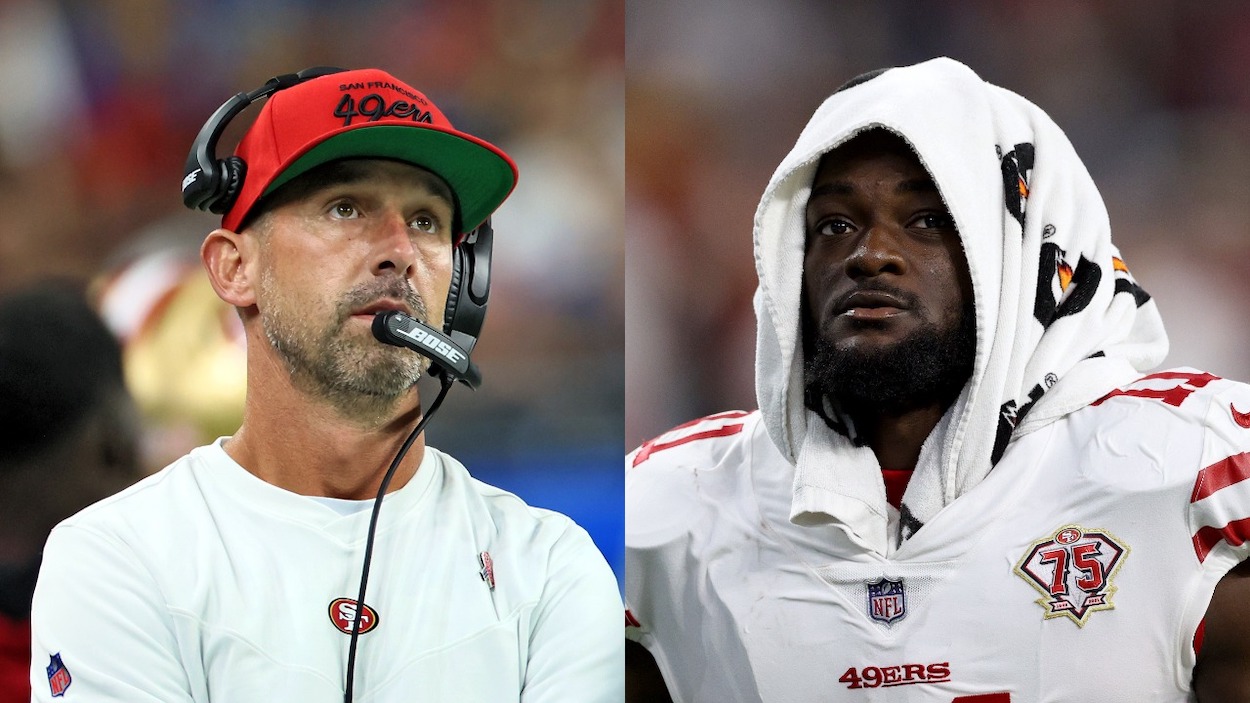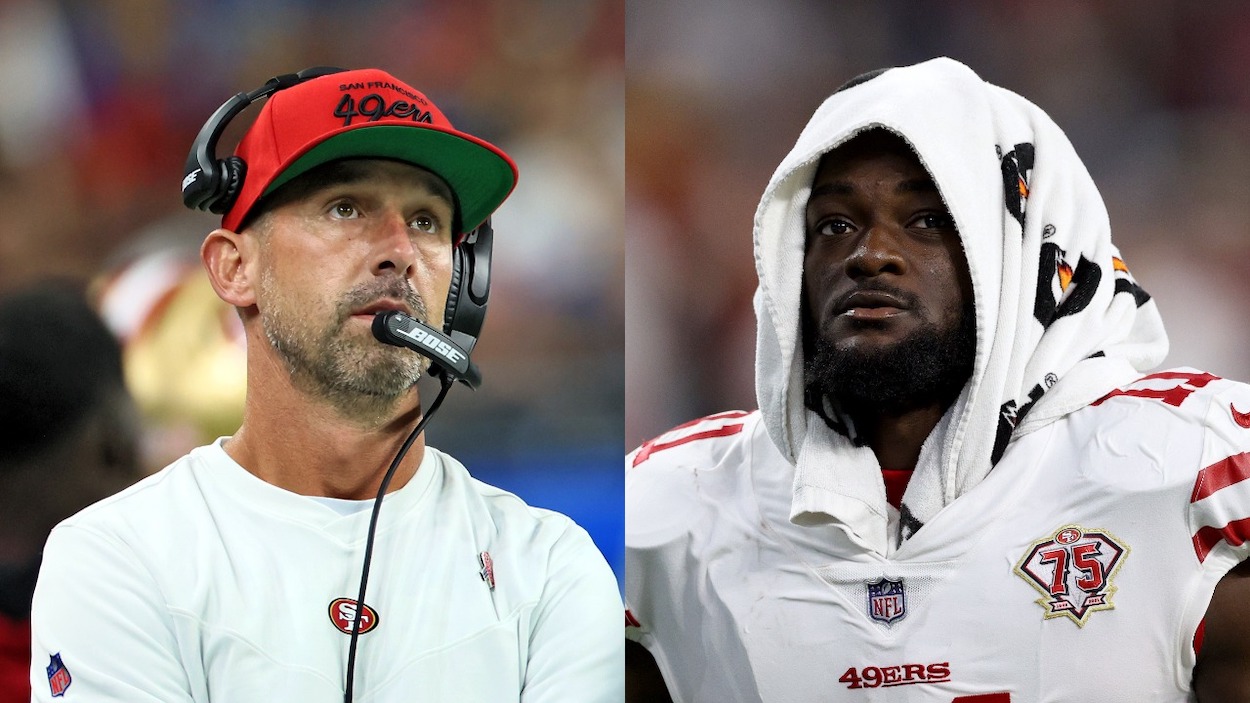 On Sunday Night Football, announcers Al Michaels and Cris Collinsworth shared a conversation they had with Kyle Shanahan about second-year wide receiver Brandon Aiyuk.
Aiyuk, San Fran's 2020 No. 25 overall pick, is struggling this year. Last season, with star receiver Deebo Samuel out the majority of the year with various injuries, Aiyuk excelled. He caught 60 balls on 98 targets for 748 yards and five touchdowns.
This season, with Samuel back and among the top-five leading receivers in the NFL, Aiyuk has become a non-factor. The 6-foot pass-catcher has just nine receptions on 16 targets for 96 yards and a touchdown through six games.
On Sunday night, Collinsworth and Michaels discussed how Shanahan had higher hopes for Aiyuk this season and how he feels like the former Arizona State Sun Devil needs to step up for the offense to succeed.
"[Samuel] is accounting for 43% of the receiving yards. Only Davante Adams is more than that at 44%, and we know what he means," Collinsworth explained. "You really thought Aiyuk was going to emerge this year as one of those great combinations along with Deebo Samuel. It just simply hasn't happened. And I think Kyle Shanahan's more than a little frustrated by it."
Michaels underscored Shanahan's attitude toward Aiyuk, characterizing the coach as "very" frustrated. He also shared that Shanahan said of Aiyuk, "I love the kid, but the kid's gotta start grinding."
Grinding aside, the 49ers' offense has bigger problems than Aiyuk's lost sophomore season, and it starts at the top.
Is Kyle Shanahan a good coach? 
One fourth-year NFL head coach traded up in the 2020 draft, picked a QB, had to play the QB when the veteran starter went down, and has a losing record. The fans of this coach's team are calling for his head.
That head coach is the Chicago Bears' Matt Nagy.
One fifth-year head coach has the same profile but is the son of a legendary NFL coach and is considered an "offensive genius" by many in the football and NFL media world.
That head coach is Kyle Shanahan.
And, one more similarity between these two coaches is that they have the exact same number of wins. Shanahan is 31-39 as the 49ers' head coach. Nagy, in a full season less, is 31-24 with the Bears.
If you take away Shanahan's outlier Super Bowl season, he's 18-36. And, in his other trip to the Super Bowl in 2016, his Atlanta Falcons coughed up the biggest lead in Super Bowl history (25 points) in an eventual 34-28 loss to the New England Patriots.
Shanahan can point to quarterback issues, or injuries, or Brandon Aiyuk if he wants. At some point, though, the responsibility falls on the head coach, and if the 49ers don't turn it around quickly, the "offensive genius" head coach might be the "offensive genius" offensive coordinator somewhere else soon.
All stats courtesy of Pro Football Reference