Sean McVay Got Out-Coached by His Friend and Former Boss for the 5th Time in a Row, Which Is a Bad Sign for the Rams, Who Will See More Familiar Faces Later in the Season
Los Angeles Rams head coach Sean McVay is one of the most lauded NFL coaches in the league. San Francisco 49ers head coach Kyle Shanahan is on the hot seat in 2021 after yet another disappointing start.  
Despite these facts, Shanahan, who gave McVay one of his earliest jobs in the league, seems to have McVay's number after a massive Monday Night Football upset. While this alone is bad news for McVay, there are also several other coaches who know McVay well, and that could be a terrible thing for the Rams' Super Bowl aspirations in 2021.
Sean McVay goes way back with Kyle Shanahan
Sean McVay and Kyle Shanahan come from similar backgrounds.
McVay's grandfather was John McVay, who served as head coach of the New York Giants in the late 1970s and then as the general manager of the San Francisco 49ers from 1983 to 1998, where he won three Super Bowls with the organization.
Shanahan's father is Mike Shanahan. The legendary coach led the Los Angeles Raiders, Denver Broncos, and Washington Football Team. With Denver, he won Super Bowls in 1997 and 1998.
When Mike got the head job in Washington, he tapped his son Kyle — who the year before was offensive coordinator for the Houston Texans under his dad's old OC Gary Kubiak — to run the offense.
Kyle, in turn, on a recommendation from mutual former boss Jon Gruden, hired Sean away from Gruden's brother, Jay, who Sean was working for as a wide receivers coach with the now-defunct Florida Tuskers of the now-defunct UFL.
If you were able to follow this somewhat confusing chain of events, you should take two things away from it.
One is that the NFL is a highly incestuous business where one or two coaching (or family) trees can determine the fate of multiple NFL franchises for decades.
Two is that Kyle Shanahan and Sean McVay go way back, are close friends, and know each other — both personally and from a football perspective — very, very well.
Shanahan has owned McVay in their last five meetings
On Week 10's Monday Night Football, Sean McVay's 7-2 LA Rams took on Kyle Shanahan's 3-5 San Francisco 49ers.
After trading for pass-rusher Von Miller, signing wide receiver Odell Beckham Jr., and coning in three games up on the Niners, the Rams were a solid -3.5 favorite on the road. What should have been an easy divisional win for the Rams turned into a nightmare as San Francisco stomped LA 31-16 on national television.
Knowing McVay so well, Shanahan knows what many are starting to learn: that McVay has no Plan B when things go wrong. Countering McVay's new and improved pass rush, Shanahan ran the ball all over LA as the team rushed for 156 yards on 44 carries. The team only attempted 19 passes, but QB Jimmy Garoppolo and wideout Deebo Samuel made them count to the tune of 182 yards and two touchdowns.
Down 14-0 at the half, McVay added to his atrocious record when losing at the break, which dropped to 7-24 after Monday night.
It now seems like the NFL's Boy Wonder, who's been the toast of the league since becoming the youngest head coach ever at the age of 31, has been figured out by his fellow coaches. This is especially true of his long-time friend and mentor, Shanahan.
After losing three of his first four games to McVay, Shanahan has now won the last five in a row against the coach he once hired, going back to 2019. In this period, McVay is 26-11 against the rest of the league, while Shanahan is 18-18 outside of his five wins against McVay.
It seems like at least one of McVay's friends has figured out the key to beating him. The problem is now that McVay currently has a lot of other friends around the NFL.
The Rams will see several of their head coach's old friends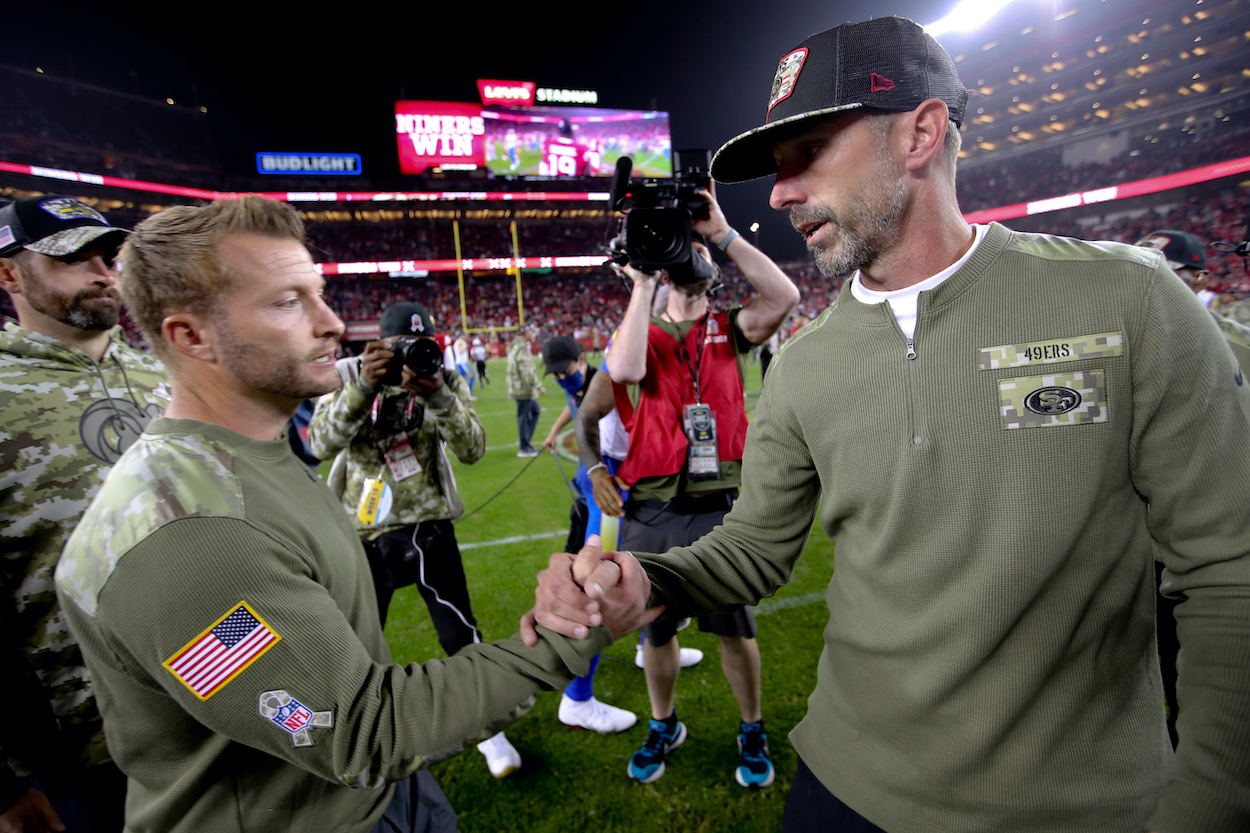 If the NFL is catching up to Sean McVay and his friends and former colleagues are the first to figure out his weaknesses, that could spell trouble for McVay as the 2021 season progresses.
The LA Rams are currently at home, licking their wounds, during the team's Week 11 bye. After that, the schedule not only gets harder, it gets more familiar as well.
The last seven games for the Rams include one probable cupcake in the Jacksonville Jaguars (Week 13). Then there are three games that should be difficult on their own. These are a divisional matchup against the Seattle Seahawks (Week 15) and two tough road games: at Minnesota Vikings (Week 16) and Baltimore Ravens (Week 16).
The other three games are against coaches who know McVay well.
In Week 12, the Rams will travel to Green Bay to face the Packers and head coach Matt LaFleur. The Packers head man was an offensive quality control assistant under Kyle Shanahan in Houston, the quarterbacks coach with McVay and Shanahan in Washington, and after a two-year stint as quarterback coach under Shanahan in Atlanta, he was McVay's OC during his first year in LA. Suffice to say, LaFleur knows McVay as well as anyone.
Then, in Week 14, the Rams travel to Arizona to face the first-place team in the NFC West, the Arizona Cardinals. While Cardinals head coach Kliff Kingsbury and McVay never officially worked together, they are close friends off the field, so Kingsbury may have some unique insight into McVay as well.
Finally, in the first-ever Week 18, McVay and Shanahan go head-to-head one more time this season. If McVay can't reverse the trend of Shanahan dominance in this final game, the Rams could be in serious trouble both in 2021 and beyond.
All stats courtesy of Pro Football Reference