The Rams' Embarrassing Loss to the Titans Once Again Proves Sean McVay Has No Plan B When Things Aren't Going His Way
There's no hotter NFL coach in the last five years than the Los Angeles Rams Sean McVay. The league's youngest-ever head coach has produced a stellar 50-23 record in his four-plus seasons and even earned a trip to the Super Bowl in 2018.
As impressive as all that is, a concerning pattern has also developed over this time. It started in that fateful Super Bowl, reared its ugly head again on Week 9's Sunday Night Football loss to the Tennessee Titans, and could stop the LA Rams from winning it all.
Bill Belichick first exposed Sean McVay in the 2018 Super Bowl
In his second season as head coach of the LA Rams, Sean McVay led his team to a 13-3 regular-season record. After a Wild Card round bye, the Jared Goff-led Rams put up 30 on the Dallas Cowboys, then 26 on the New Orleans Saints, and made it all the way to Super Bowl 53.
That's where McVay and company ran into Bill Belichick and the New England Patriots.
Coming into this matchup, the Rams averaged 32.9 points per game in the regular season and 421.1 yards. With that kind of firepower, fans and pundits alike couldn't wait for the battle with Tom Brady on one side and McVay on the other.
Unfortunately for everyone hoping for a Super Sunday shootout, Belichick had other plans.
The Rams D did a good job bottling up Brady, holding him to just 13 points. However, Belichick did even better.
Belichick's defensive game plan against the Rams was a masterclass that ended up holding the explosive team to just three points. The NFL coach with the most-ever Super Bowls played a six-man line and zone behind it for the majority of the game.
This defensive formation took away the run and McVay's favorite routes. The young head coach didn't have a counter for this surprising scheme. Even with Tony Romo begging McVay to make adjustments on the broadcast heard by millions, McVay stuck to his guns, and the result was a 10-point loss in the lowest-scoring Super Bowl in history.
McVay's response after the game was simply, "I got outcoached."
This was the first time McVay failed to counter another team's counter in front of a national TV audience. However, it wouldn't be the last.
Mike Vrabel and the Tennessee Titans ate McVay and the Rams' lunch on 'Sunday Night Football'
Less than three years after the infamous Belichick beat down, McVay once again got outfoxed by a Super Bowl-winning Patriot: Tennessee Titans head coach Mike Vrabel.
The Titans and the LA Rams faced off on Sunday Night Football in Week 9 of the 2021 season. Vrabel's team came in at 6-2, while McVay's squad was 7-1.
What was supposed to be a heavyweight matchup was over in the first half. The Rams couldn't block the Titans' defensive line, which led to three first-half sacks and two interceptions from QB Matt Stafford, including a pick six.
McVay couldn't figure out how to protect his QB in the first half, which led to the lopsided 21-3 score at the half.
In the second half, the Rams did adjust a bit. McVay was able to move the pocket when Stafford dropped back, which did help, although the Titans still recorded two more sacks. When the Rams did put together some drives, they took their time. The offense opted to huddle until late in the fourth quarter instead of going to the two-minute offense. This strategy milked too much time and, in the end, led to the team running out of time before they could mount a true comeback.
Once again, McVay showed that he doesn't have a plan B to go to when things aren't going to plan.
The halftime score determines the outcome for the LA Rams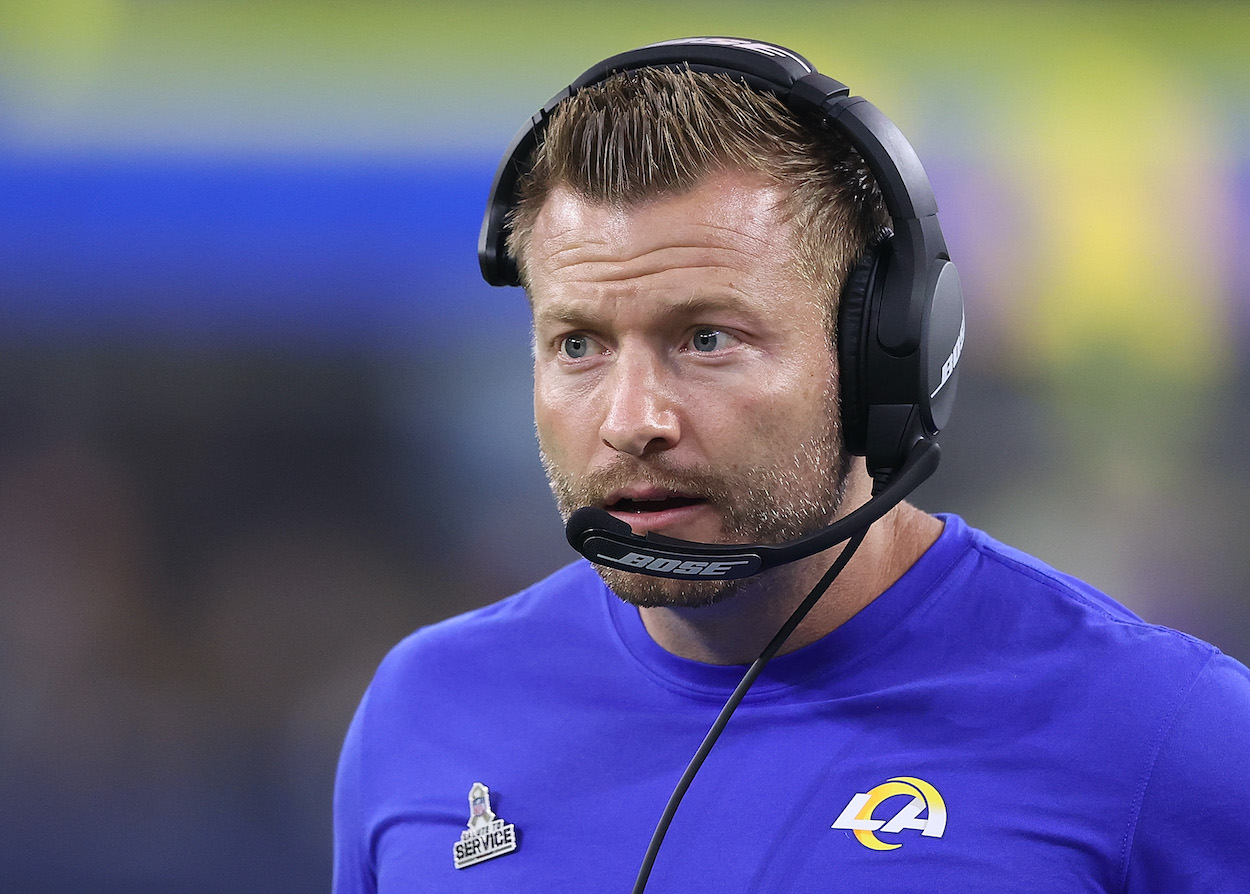 Sean McVay is not a bad coach or on the hot seat by any means. He is still one of the best offensive minds in the game, and his offense usually produces excellent results.
Also, when things are going well, the LA Rams are almost unbeatable. McVay's incredible record when winning at halftime illustrates this perfectly. When McVay's team is up at the break, they are 43-0. When they are down, it's a problem. The coach's record is now 7-23 when they're not winning after two quarters.
This simple statistic shows what McVay's main problem is.
His offense and teams are great. They are adept and getting a lead and keeping it, something that not every NFL team does well. But, when that doesn't happen — like the Patriots and Titans showed — McVay doesn't have the ability to make the necessary adjustments to come back.
It's not a football acumen issue. McVay is a football savant, a coaching wonder boy. It seems like the problem is his stubborn refusal to go away from his bread and butter offense, though, is likely where he gets tripped up.
To use a college basketball analogy, McVay is Syracuse coach Jim Boeheim and his 2-3 zone. It's a fantastic system that works great, right up until the game it doesn't. Boeheim sticks with it no matter what, though. And that's why he only has one NCAA title.
McVay needs to show more flexibility and the ability to make adjustments, or he will be doomed to be the coach who everyone respects but rarely gets it done. Or, worse yet, never gets it done.
All stats courtesy of Pro Football Reference