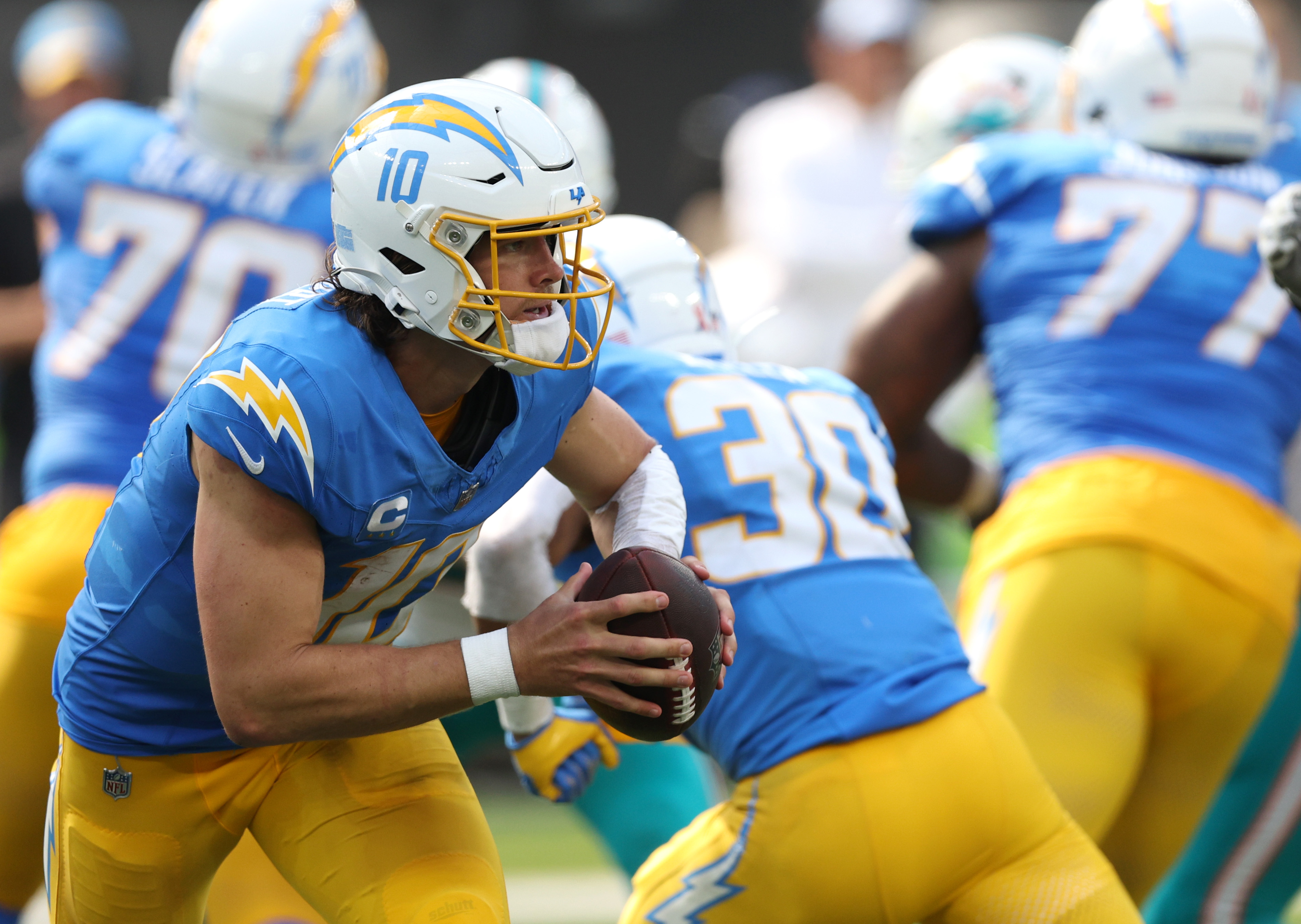 NFL Week 1 Rewind: Chargers, Bears, and Bills Emerge as Biggest Disappointments
Justin Herbert couldn't get it done when it counted against the Miami Dolphins on Sunday.
If your name is Justin, and you're an NFL starting quarterback, you just might be overhyped. Justin Herbert and Justin Fields, two young quarterbacks loaded with potential, just couldn't get it done Sunday as the NFL kicked off its first slate of games in its 104th season. Josh Allen of the Buffalo Bills didn't help himself either.
Herbert, the fourth-year QB with the Los Angeles Chargers, had a solid day, throwing for 228 yards and a touchdown on 23-for-33 passing, but he failed to get it done when it counted. Fields, out to redeem himself after going 3-12 as a starter a year ago, had the perfect opportunity to help the Chicago Bears make some early noise in the NFC North. That didn't happen. While the New York Giants, Cincinnati Bengals, and Minnesota Vikings may have had uglier losses, it was Herbert's Chargers, Fields' Bears, and Allen's Bills that were the biggest losers in Week 1.
Are Justin Herbert and the Chargers overhyped?
Justin Herbert overhyped? He just might be. Every season with Herbert under center, someone is picking the Chargers to go to the Super Bowl. Some have picked Herbert as MVP.
The Chargers are a super-talented team, especially on the offensive side of the ball. They're also a team that's had difficulty winning close games in recent years. Maybe that's on Herbert. Maybe that's on head coach Brandon Staley. It's the same pattern each year, and the quarterback usually takes the fall.
Sunday's loss is tough to pin on Herbert after putting up 34 points in a 36-34 home loss to the Miami Dolphins. LA's secondary was torched by Miami quarterback Tua Tagovailoa, who threw for 466 yards and three touchdowns. Wide receiver Tyreek Hill had 11 watched for 215 yards and two scores.
Chargers cornerback J.C. Jackson's boneheaded pass interference penalty right before the half on a Hail Mary set up a field goal that gave the Dolphins a 20-17 lead at the break. Those free three points were the difference in the game.
Herbert did have a chance to get within field goal range on the team's final possession but was called for intentional grounding and took two sacks, never getting past LA's 35-yard line. With the Kansas City Chiefs losing their home opener, the Chargers had a chance to get a game up on their divisional rival but let one get away at home.
The Bears and Bills also had ugly openers
Sunday was the perfect time for Justin Fields and the Chicago Bears to make a statement. Opening the season against the Green Bay Packers, who started a quarterback not named Brett Favre or Aaron Rodgers for the first time in 30 years, the Bears had the opportunity to show who's boss. Instead, Jordan Love guided the Pack to a lopsided 38-20 victory.
Fields, Chicago's No. 1 pick in 2021, has been a borderline bust in his first two-plus seasons as the Bears starter. In 26 NFL starts, he's 5-21. On Sunday, Fields and the Bears entered as a slight favorite against Love, who was making his second career NFL start. Love threw three touchdown passes as the Pack led the entire way en route to the lopsided win.
While Josh Allen is a much more proven NFL quarterback than Fields, he, too, struggled mightily. The Jets picked off Allen three times in a game that saw his counterpart, Aaron Rodgers, go down with an apparent Achilles injury after just four plays.
Allen and the Bills failed to capitalize on New York's struggling offense and were held to three second-half points in a 22-16 overtime loss.
While it's only Week 1, every game in the NFL counts, unlike games in the other three major sports. Herbert will likely put up numbers, but he'll never reach the next level until he shows he can win when it counts. Allen will likely bounce back after reverting to his old reckless ways against the Jets. Fields and the Bears seem to be in for another long season.