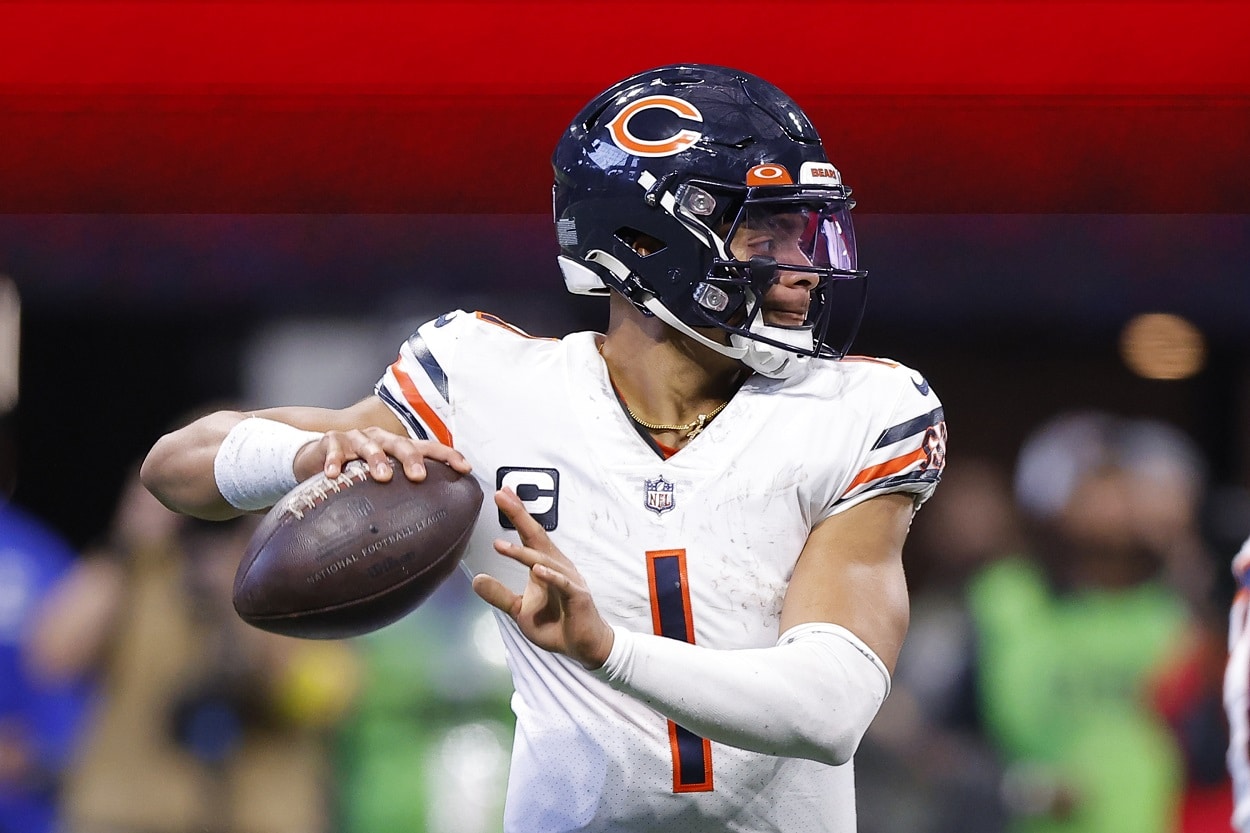 The Chicago Bears' Bold Plan for Justin Fields Is Putting the Future of the Franchise at Risk
The Chicago Bears are putting Justin Fields in harm's way far too often.
Is the juice worth the squeeze? 
In the case of Justin Fields, putting his rare athleticism to use has allowed him to set the single-game rushing record for an NFL quarterback. 
However, the Chicago Bears' strategy to utilize their promising second-year signal-caller in such a prominent ball-carrying role has already come at a cost. And if rookie head coach Matt Eberflus wants to have sustained success in the Windy City, he better reconsider how much he's willing to put his team's most important player in harm's way.
Justin Fields' shoulder injury should raise concerns about his usage
While former Bears head coach Matt Nagy showed little affinity for taking advantage of Justin Fields' 4.4 speed, Chicago's current staff has taken things in the opposite direction. 
On one hand, the bold strategy to use the 23-year-old as a pseudo-running back has provided some benefits for a Bears offense that ranks right in the middle of the pack in scoring at 21.9 points per game. After surpassing double-digit carries just once in his first five games, Fields has averaged just north of 13 across his last six starts. 
The ex-Ohio State star has dazzled with his ability to break off huge runs and make defenders miss in space. Unfortunately for the Bears, Fields' 834 rushing yards and seven rushing touchdowns haven't led to many victories. 
In fact, his increased workload as a ball carrier put him directly in a position to get hurt. 
Fields suffered a shoulder injury during last Sunday's loss to the Atlanta Falcons that was later diagnosed as a separated shoulder with partially torn ligaments. Although he avoided hurting his throwing shoulder, there's no doubt his setback shows the risk of relying too much on your quarterback's running skills. 
The Bears must keep the long-term view in mind with their talented young quarterback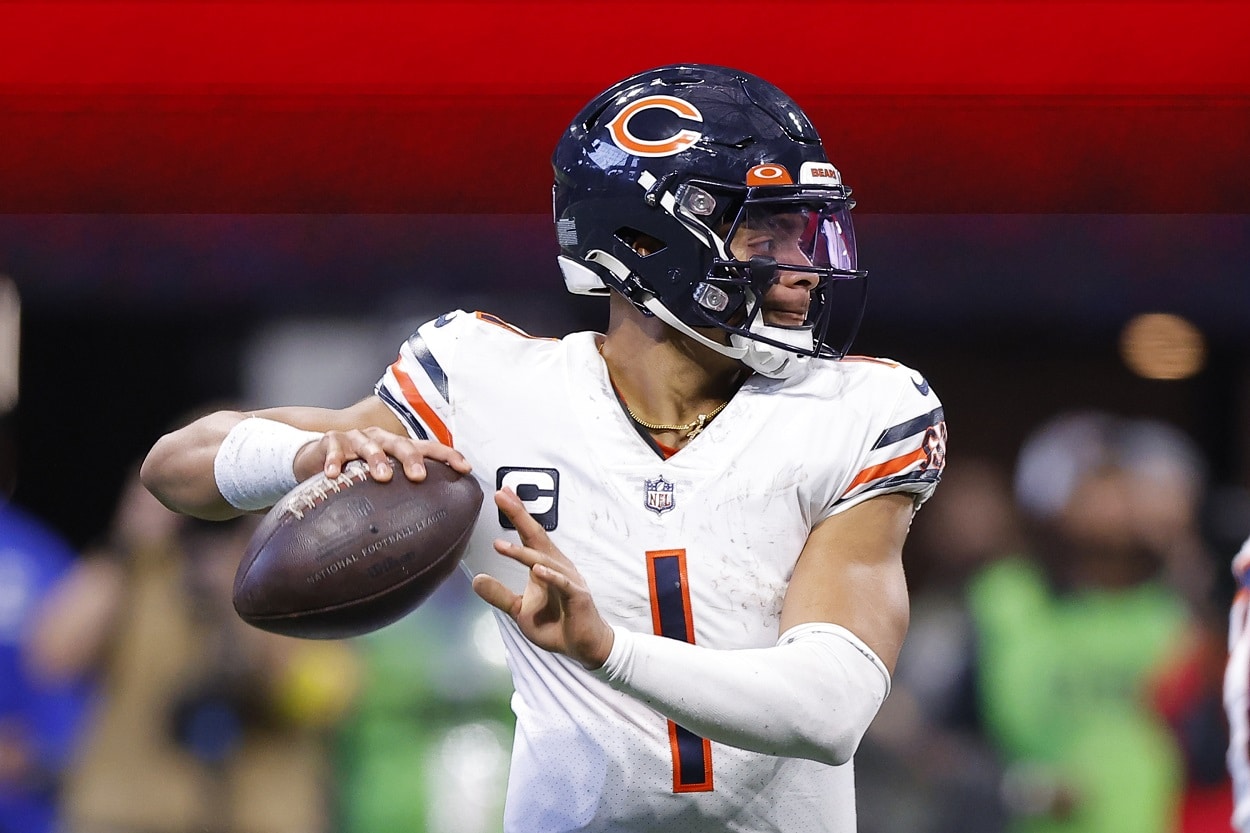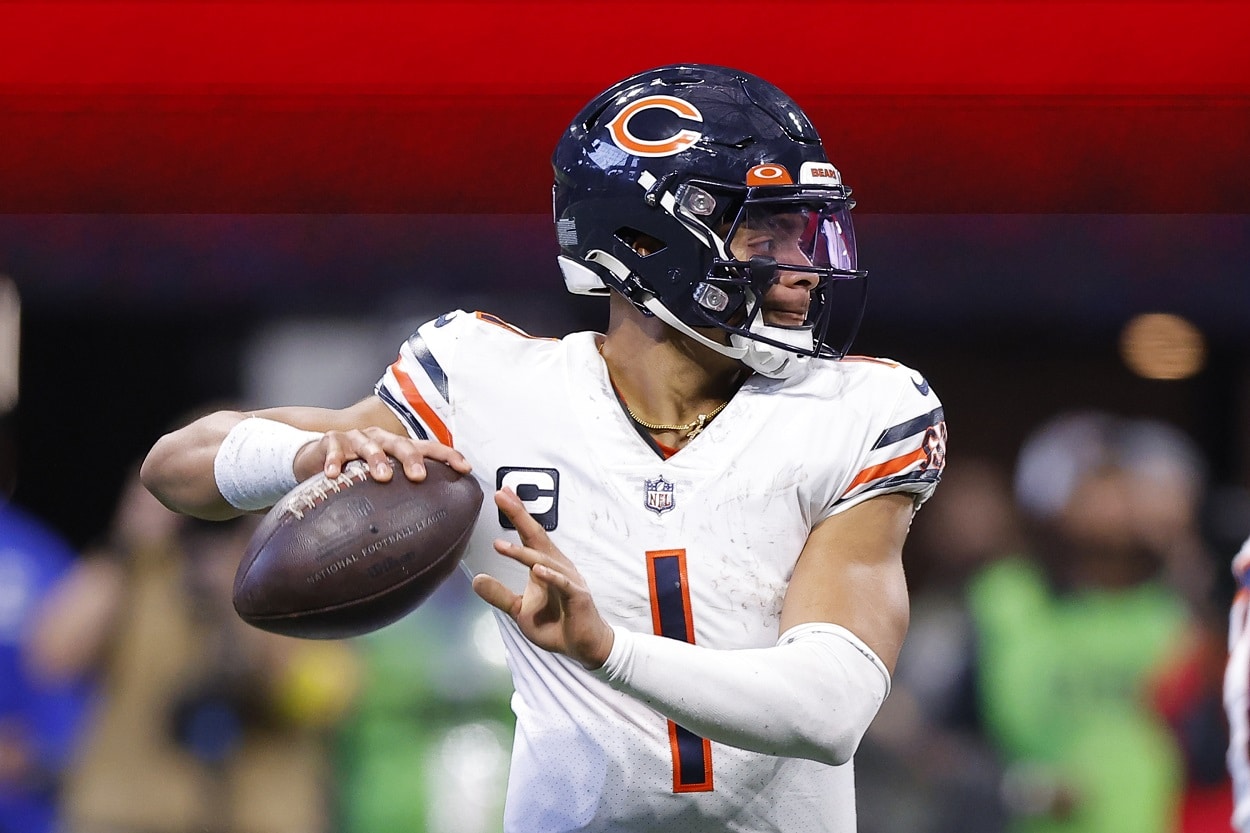 It's easy for the Bears to get attached to the idea of turning Fields into Lamar Jackson 2.0. But if they want to get over the hump and become a consistent playoff contender for years to come, they can't afford to expose their most critical player to the punishment that comes with carrying the ball 10-15 times a game. 
Sure, it makes sense to scheme up some plays that take advantage of Fields' strong frame and footspeed. However, that doesn't mean he should receive nearly as many carries as starting running back David Montgomery. 
If the Bears plan to evolve as an offense, they have to support Fields' development as a passer. With a 59.6% completion rate and a stunningly low average of 149.3 passing yards per game, he clearly has a long way to go to live up to the franchise quarterback title. 
The onus is on the front office to find him better weaponry (trading for Chase Claypool was a start) and to continue improving the offensive line. At the same time, the coaching staff has to strike a better balance in terms of play-calling to protect Fields' health and longevity. 
The Baltimore Ravens have made a concerted effort to scale back Lamar Jackson's rushing attempts, as he's averaged just under 10 carries per game. Fields possesses some similarities to the former league MVP, so it would make sense for the Bears to follow a similar path to preserve their (hopefully) franchise quarterback for the long haul. 
Let's face it: Chicago isn't competing for the Lombardi Trophy this season. And it may even take another year (or two) of free-agent investments and drafting to put together a Super Bowl-caliber squad. The focus moving forward should be on Fields' development as a passer, as it will take substantial improvements in timing, accuracy, and decision-making for him to live up to his first-round pedigree. 
Could 2023 be the year for Chicago?
Nobody expected the Bears to challenge for the NFC North title in 2022. Most expected the first year of the Matt Eberflus era to feature more losses than wins, especially given some of the team's personnel problems. 
Finding out whether they have a bonafide QB1 should have been the Bears' top priority heading into the season. It's fair to question how first-year general manager Ryan Poles handled that process, though. Unlike at Ohio State, Fields lacks both premier playmakers on the perimeter and a reliable offensive line. 
But after putting together an underwhelming offseason, Poles can set the dual-threat QB up for success by strategically spending what's projected to be the most salary cap space in the NFL (more than $116 million). 
The Bears can use free agency to acquire a proven No. 1 receiver to complement Claypool and the underrated Darnell Mooney. Plus, several established linemen, including Kansas City Chiefs left tackle Orlando Brown Jr., Cleveland Browns right tackle Jack Conklin, and Buffalo Bills center Mitch Morse, have expiring contracts and could fill big holes up front. 
On the other side of the ball, Chicago needs more sizzle to its pass rush. Trading Robert Quinn for draft picks at least gives the team a chance to reload at defensive end. With extra capital to maneuver around the board, the Bears can emerge as significant winners of the 2023 NFL Draft—if they play their cards right. 
So, even though the short-term outlook in Chicago doesn't look particularly bright, there's still reason to believe that things could improve in 2023. 
That is, of course, as long as Justin Fields' shoulder injury is just a bump in the road rather than a sign of what's to come.
Have thoughts on this topic? Keep the conversation rolling in our comments section below.