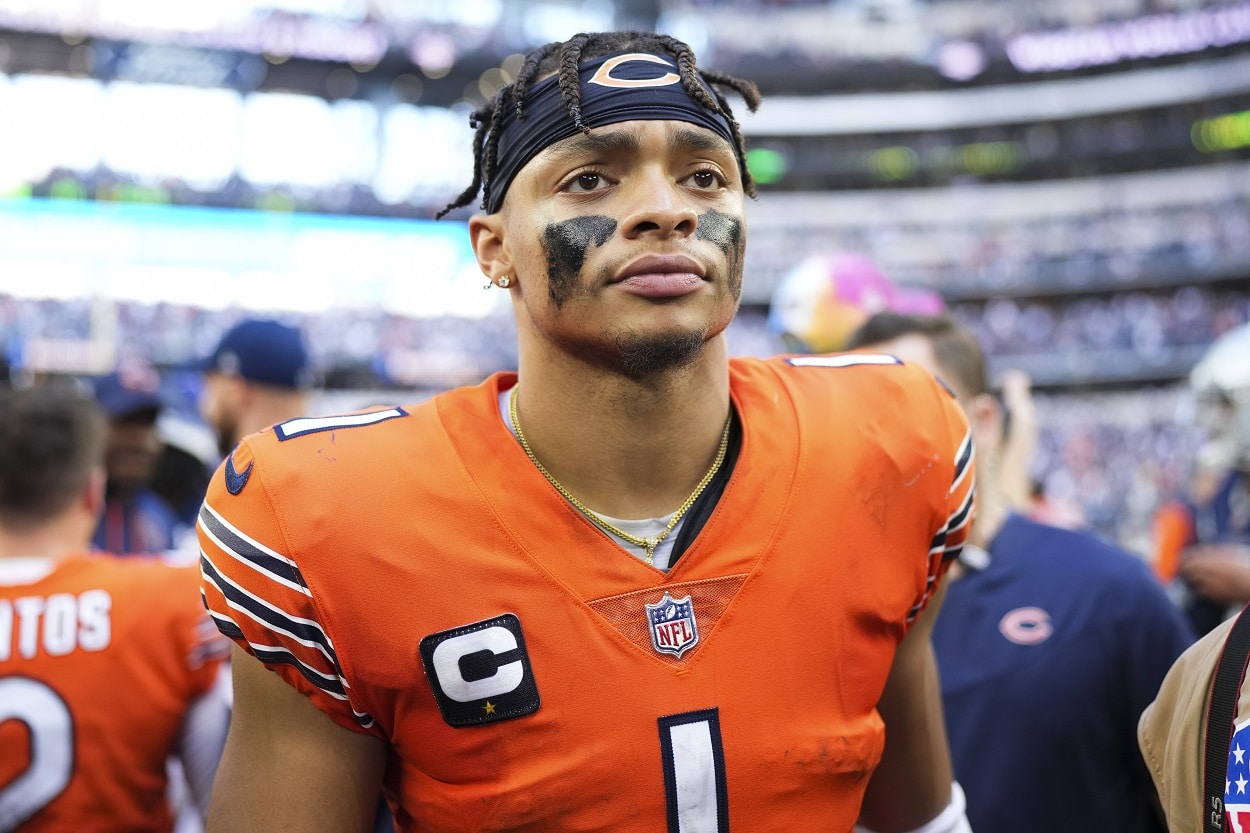 Justin Fields Finally Has a Reason to Feel Optimistic About His Future With the Chicago Bears
The Bears' acquisition of Chase Claypool helps Justin Fields on multiple levels.
It certainly hasn't been a smooth transition from college to the pros for Justin Fields. From dealing with an overmatched head coach to playing behind a porous offensive line to having a dearth of weapons, the former Ohio State star has faced roadblocks to success ever since he became the 11th player taken in the 2021 NFL Draft.  
Heading into his second season, it was fair to wonder whether Fields would ever have a chance to flash the skill set that made him one of the most electrifying quarterbacks in the country for the Buckeyes.
After all, the Chicago Bears didn't exactly put their most important player in prime position to succeed by hiring a defensive coordinator as their new head coach, using their top two picks on defensive backs, and failing to make substantial upgrades at receiver or tight end. 
Luckily for Fields, though, his short- and long-term future in the Windy City looks much brighter following Tuesday's NFL trade deadline.
Chase Claypool is coming to Chicago
Although he once seemed destined to become the Pittsburgh Steelers' No. 1 receiver for years to come, Chase Claypool didn't do enough to convince the franchise to keep him around through the remainder of his rookie contract. 
Instead, the 2020 second-round pick found himself on the move Tuesday, with the Bears sending a 2023 second-rounder to the Steelers for a player who clearly wasn't part of the team's long-term plans. 
At 6-foot-4, 238 pounds, Claypool brings elite size and strength, along with a wide catch radius. Despite possessing intriguing physical tools, though, the third-year pro went from totaling nine touchdown grabs as a rookie to just two a year ago.
More alarming than his lack of scoring production, however, is Claypool's paltry 9.7 yards-per-reception average—nearly five yards less than in 2021. 
Of course, his lackluster production (32 catches for 311 yards and one TD) can be partially attributed to a shaky quarterback situation. With the Steelers going from the uninspiring Mitch Trubisky to rookie Kenny Pickett, Claypool has undeniably been at a disadvantage. 
Now, though, the big-bodied wideout has a chance to work with a quarterback who possesses an ideal frame, strong arm, and excellent mobility. And by trading a high draft pick for Claypool, the Bears made it clear they believe a change of scenery will allow him to flourish. 
Most importantly, the deal sent a clear message to Fields about his future with the franchise.
Trading for the talented receiver changes everything for Justin Fields
Although a 3-5 start may prevent the Bears from making the playoffs, brighter days should be ahead for Fields and Co. At the very least, the team's promising signal-caller should feel confident that the front office has his best interest in mind. 
Sure, trading two key defensive leaders in Roquan Smith and Robert Quinn won't help Chicago stop opposing offenses in 2022. But getting back picks for players the team didn't plan on paying gives general manager Ryan Poles ammunition for the 2023 draft. 
However, the Claypool deal represents a concerted effort to provide Fields with ammunition to do damage in the passing game. Acquiring a receiver with his abilities takes some of the pressure off of Darnell Mooney, who would best serve as a complementary piece to a true No. 1 wideout.
If Claypool can harness his physical gifts and build chemistry with his new quarterback, he certainly has a chance to become the go-to guy in Chicago. 
Obviously, the Bears have more work to do before they can claim to have a top-10 (or even league-average) offense. But after averaging less than 20 points per game through the first eight games of the Eberflus era, expect that number to go up over the second half of the season.
The addition of Claypool instantly forces defensive coordinators to recalculate their game plans against a Chicago offense that's averaged 384 total yards from Weeks 6-8. 
After leaning heavily on the run their last three games, the Bears can open up the playbook and potentially take advantage of more play-action opportunities now that they have a legitimate threat on the perimeter. And even if it takes some time for Field and Claypool to get acclimated, that could simply set the stage for a significant leap next season.
2023 could be a big year for a Bears franchise that hasn't won a playoff game in over a decade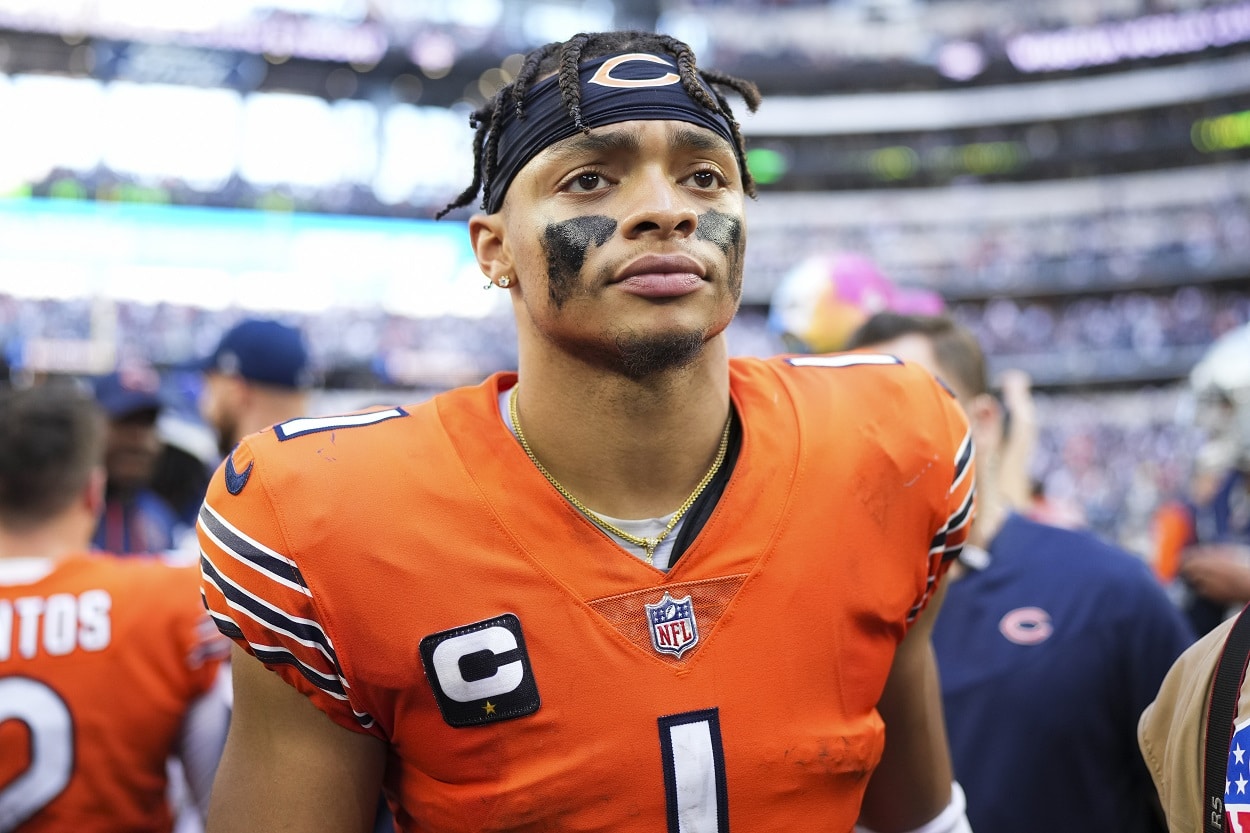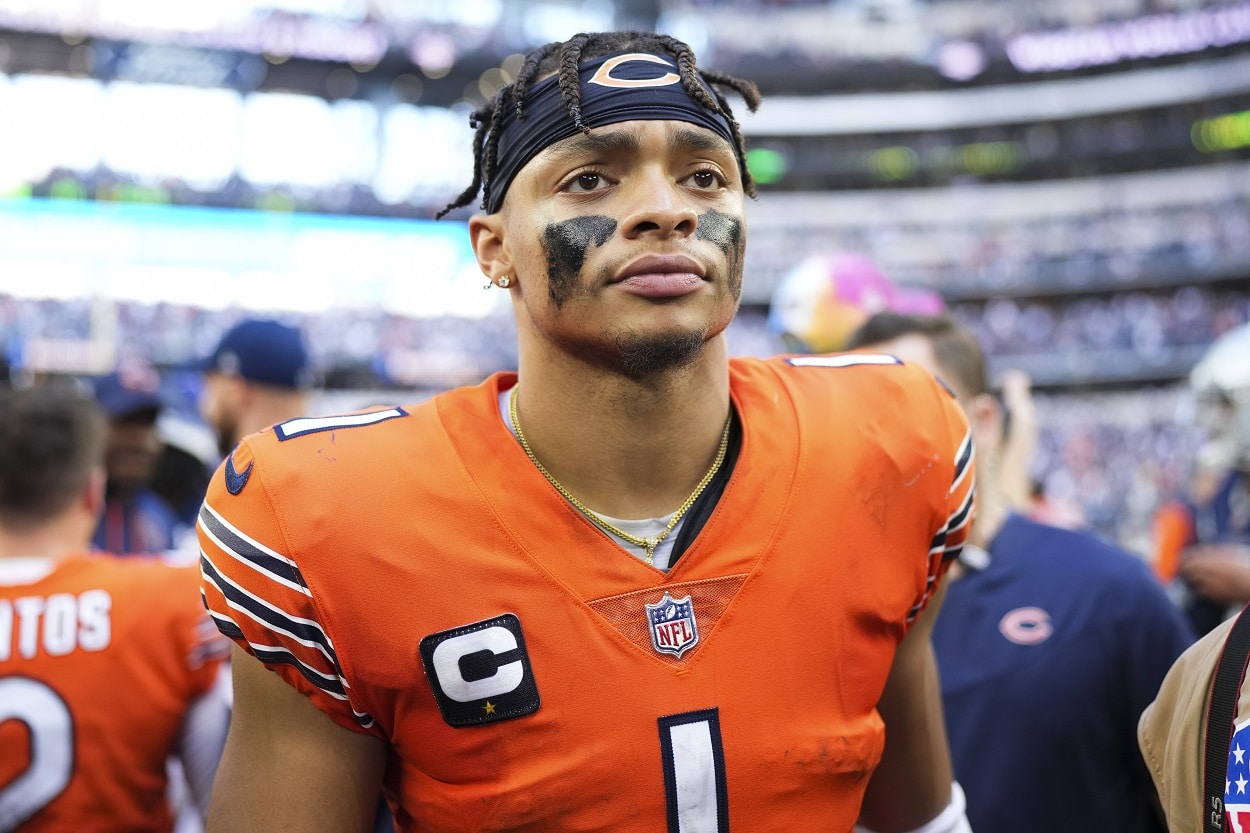 Credit Chicago for securing a receiver with untapped upside who will remain under team control through 2023. If Claypool puts it all together, he'll set himself up to get paid sooner than later. And there's no team that's better positioned to take care of business next offseason than the Bears. 
Projected to have the most salary cap space in the NFL, they can utilize free agency to fill critical needs and bolster a roster that isn't totally devoid of talent.
With well over $100 million available, Poles can easily transform Fields' supporting cast by targeting established players at critical positions.

Here are just some of the notable names who could hit the market this spring: 
RB
Damien Harris, New England Patriots 
Kareem Hunt, Cleveland Browns 
Josh Jacobs, Las Vegas Raiders 
WR 
Allen Lazard, Green Bay Packers 
Jakobi Meyers, New England Patriots 
JuJu Smith-Schuster, Kansas City Chiefs 
TE
Mike Gesicki, Miami Dolphins 
Dalton Schultz, Dallas Cowboys 
Robert Tonyan, Green Bay Packers 
OL
Orlando Brown Jr., Kansas City Chiefs 
Jack Conklin, Cleveland Browns 
Mitch Morse, Buffalo Bills
Plus, even after parting ways with a second-round pick for Claypool, the Bears have plenty of draft capital to add young, cheap talent. With multiple selections in the fourth and fifth rounds, plus the Ravens' second-rounder, Poles can pull off additional deals for veterans or move up the board to target a specific player. 
Ultimately, the 2023 offseason could be a franchise-altering one for a Bears team that's been stuck in neutral for too long. 
And if the front office takes advantage of that spending power and arsenal of picks, don't be surprised if Justin Fields and his new No. 1 receiver lead Chicago on a playoff run sooner than later.
Have thoughts on this topic? Keep the conversation rolling in our comments section below.