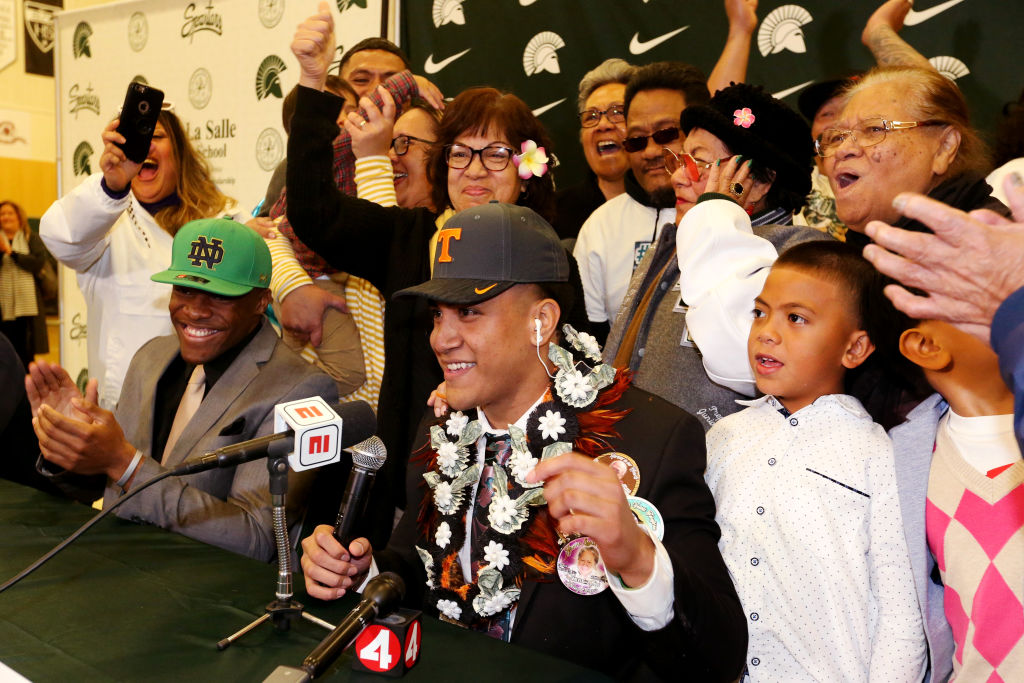 College Football: 10 Teams That Spend the Most Money on Recruiting
When it comes to college football success, recruiting is everything. It's all about the "ABC" in college football: Always Be 'Cruitin (as ESPN personality Bomani Jones mentions on his podcast and previous radio shows). You simply can't win games if you don't put the money in to find the best athletes in America. Which schools spend the most money on recruiting? …
When it comes to college football success, recruiting is everything. It's all about the "ABC" in college football: Always Be 'Cruitin (as ESPN personality Bomani Jones mentions on his podcast and previous radio shows). You simply can't win games if you don't put the money in to find the best athletes in America.
Which schools spend the most money on recruiting? Today we will break down the teams who opened up their wallets more than anyone in 2018.
10. LSU Tigers- $1.28 million
Based on the final recruiting rankings over at Rivals.com, LSU finished with the 14th best class in 2018. They signed one five-star recruit, and are positioned as a top-10 team in everyone's preseason rankings. From 2013-2018 their increase in recruiting spending has jumped up a staggering 122%, and with Ed Orgeron at the helm we expect that number to increase this year.
9. Penn State Nittany Lions- $1.37 million
Penn State's spending clearly paid off, as they finished with the No. 4 recruiting class in the country. The team signed two five-star recruits and 16 four-star recruits, and will look to make a run at a Big 10 championship. Their recruiting spending has gone up by 86% since 2013, and James Franklin is proving why he is one of the best recruiters in the nation.
8. Michigan Wolverines- $1.39 million
Jim Harbaugh is on the hot seat this season, and with the No. 24 recruiting class, we were surprised to see Michigan in the top 10 for spending. The Wolverines have increased their recruiting costs by 110% since 2013.
7. Florida State Seminoles- $1.57 million
Willie Taggart has only been with the Seminoles for one season, but his first one he made recruiting a priority. FSU spent nearly $1.6 million on recruiting and landed the No. 10 class in the nation. Their spending has gone up by 271%(!) since 2013.
6. Texas A&M Aggies- $1.71 million
Texas A&M should be at the top of this list in a few seasons. Jimbo Fisher is the main reason for FSU's astronomical increase as head coach of the team from 2013-17, and the $1.7 million Texas A&M spent last season landed them the No. 16 class in the country.
The Aggies' spending has gone up 326% since the start of the 2013 season.
5. Clemson Tigers- $1.79 million
Your defending national champions have made recruiting a top priority. They have increased spending by 190% since 2013 and landed the nation's eight best recruiting class, with six of those players being five-star prospects.
4. Texas Longhorns- $1.82
Tom Herman is expecting big things out of the 2019 Longhorns, and with a No. 4 recruiting class under his belt, we think a College Football Playoff run could be in store. Texas has increased its recruiting spending by 232% since 2013 and we think those numbers will increase over the next few seasons.
3. Tennessee Volunteers- $2 million
Tennessee is looking to rebuild under Jeremy Pruitt, and he quickly made recruiting the team's main focus. After increasing spending only 55% over the last five seasons (four of them under Butch Jones), Pruitt was able to spend money and land the No. 20 recruiting class.
2. Alabama Crimson Tide- $2.34 million
We were surprised Alabama wasn't at the top spot. Nick Saban has built a recruiting machine at Alabama, and the increase in spending has gone up 138% since 2013. Bama had the No. 7 class in the nation last season, and will look to get back to the national championship game.
1. Georgia Bulldogs- $2.62 million
Kirby Smart has turned Georgia into a national championship contender in a remarkably short time. The Bulldogs spent the most money on recruiting last year and landed the No. 1 class for their efforts. The team also had the largest five-year increase in spending (351%).
Does anyone on this list surprise you?
Taking a look at the 10 college football teams that spent the most on recruiting in 2018 who are you surprised made the list? For more news surrounding the college football world, be sure to check out our NCAA section.