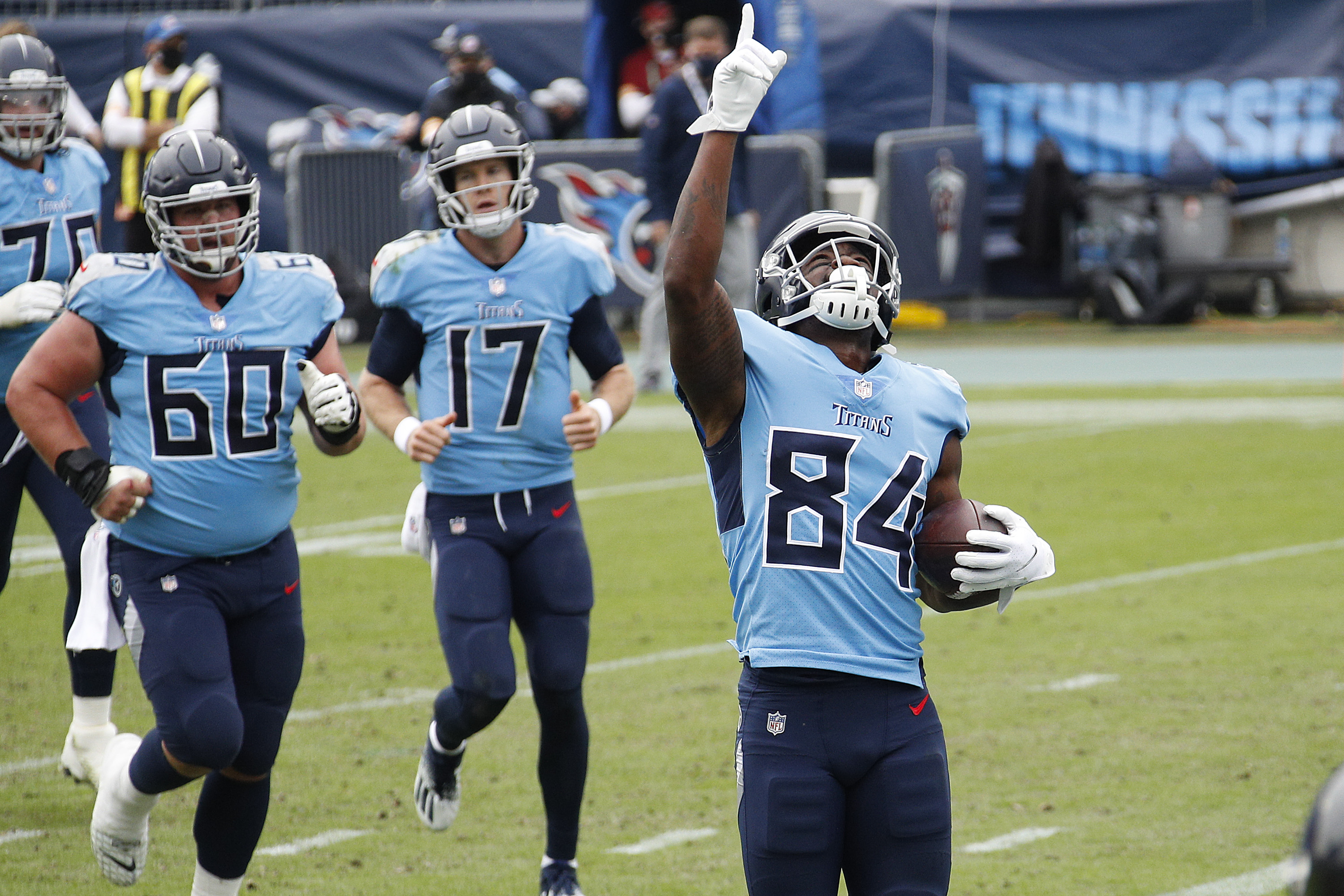 Corey Davis Plays With a Heavy Heart One Day After His Brother's Death
Tennessee Titans wide receiver Corey Davis will be playing with a heavy heart Thursday, one day after the death of his brother, Titus Davis.
When the Tennessee Titans host the Indianapolis Colts on Thursday, Titans wide receiver Corey Davis will have a lot on his mind. Maybe he's playing to clear his head. Maybe he's suiting up to honor his late brother. In any case, Davis is expected to play one day after his brother Titus Davis died Wednesday from a rare form of cancer at 27.
Corey Davis is making a name for himself
Although he hasn't quite lived up to the hype he received coming out of college, Corey Davis is getting noticed. Davis, in his fourth year in the NFL, after playing his college football at Western Michigan. Davis, a 6-foot-3 wide receiver, was the fifth player taken overall when the Tennessee Titans selected him in the 2017 NFL draft.
He struggled in his first season, battling through a hamstring injury. He started nine of the 11 games in which he played. Davis finished the regular season with 34 catches and no touchdowns. In the playoffs, however, Davis caught two touchdown passes in a first-round loss to the New England Patriots.
In 2018, Davis had his best season, racking up 891 yards and four touchdowns while starting all 16 games. He was targeted 112 times and caught 65 passes. This season, Davis is off to his best start. In six games, he has 29 catches for 369 yards and three touchdowns. He was out for two games after being placed on the reserve/COVID-19 list.
Titus Davis also played football
Titus Davis, the older brother of Tennessee Titans wide receiver Corey Davis, also played football, starring at Central Michigan. In college, Titus Davis broke school records of 37 touchdowns and 3,700 yards in a career. The records were previously held by Tampa Bay Buccaneers wide receiver Antonio Brown.
Titus Davis, a 6-foot-2, 190-pound wideout, wasn't drafted by an NFL team when he left college, but got an immediate free-agent with the San Diego Chargers. Right before the start of the 2015 season, he was released by the Chargers. Less than one month later, he was assigned to the New York Jets practice squad.
Titus Davis was cut by the Jets and wound up on the Buffalo Bills practice squad. After getting his release from the Bills, he landed back with the Jets. In 2016, he went back with the New York Jets, but then told head coach Todd Bowles he didn't want to play football anymore and left the team. In 2017, he was signed by the Chicago Bears, but waived before the season began.
Titus Davis dies from rare form of cancer
On Nov. 11, 2020, Titus Davis died after fighting renal medullary carcinoma, a rare cancer of the kidneys. He was 27. Corey Davis, according to Titans reporter Paul Kuharsky, will play one day after his brother's death when the Tennessee Titans host the Indianapolis Colts on Thursday Night Football.
Corey Davis has always looked up to his brother. When Corey Davis was a senior at Western Michigan and was one of the nation's top wide receivers, he gave a lot of the credit to his brother. Corey Davis said Titus was the reason he's playing football.
"He's the sole reason I'm playing this sport today," Corey Davis said to the Detroit Free Press in 2016. "We're always working and getting better together. He's helped me, even when I was at Western, and he was at Central. He's helped me find things I need to do better and improve on."