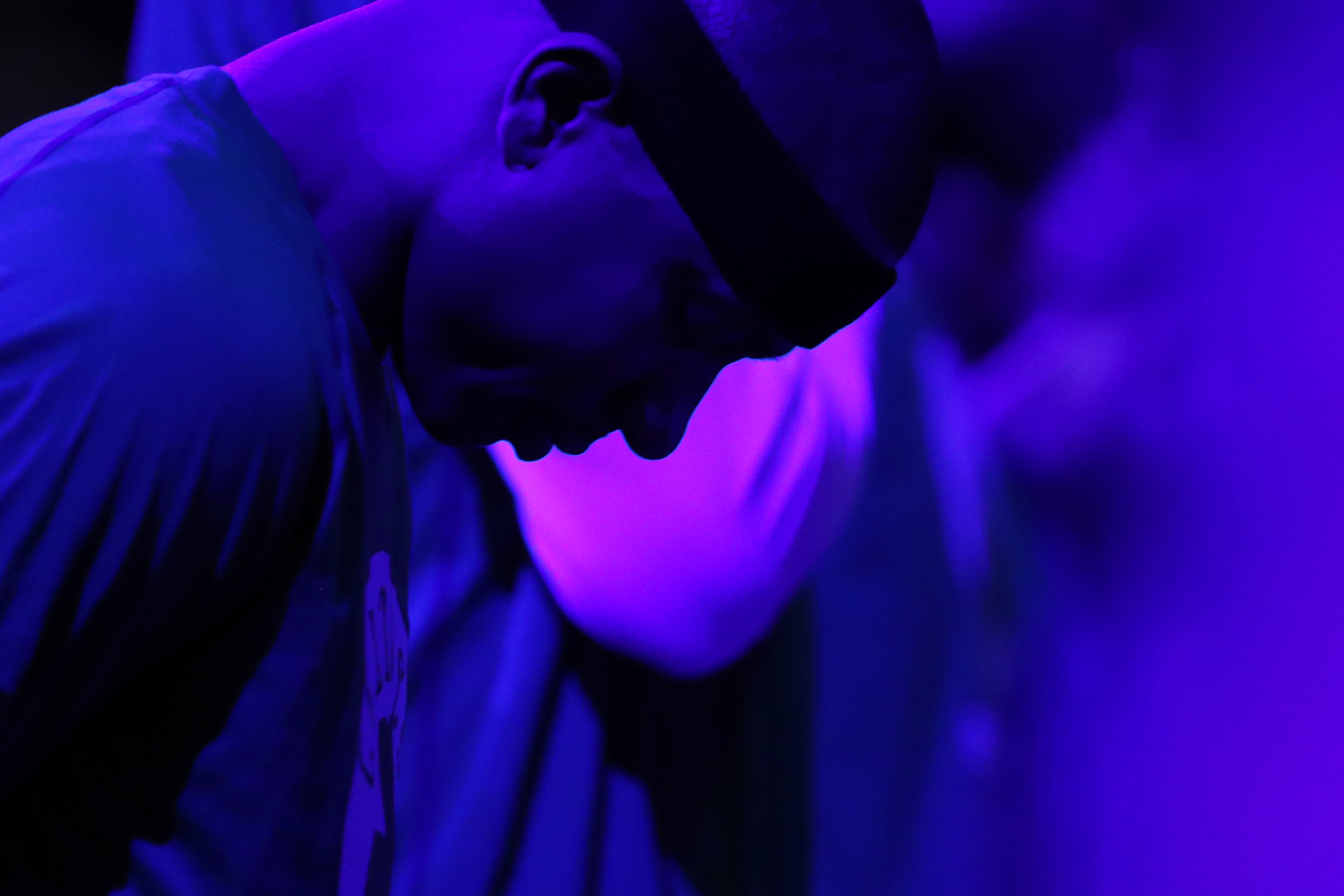 Emotional Isaiah Thomas Played for His Sister After Her Tragic Death
Former Boston Celtics all-star point guard Isaiah Thomas was playing for his sister after her death in a car accident in 2017.
He didn't have to play for the Boston Celtics that day. In fact, he probably shouldn't have. Isaiah Thomas, one day after finding out his little sister Chyna was killed in an automobile accident, played a playoff basketball game the following night. Anyone who questions the heart and the toughness of the 5-foot-9 point guard can put those questions to rest after what Thomas did the day after his sister died.
Isaiah Thomas' basketball career
Isaiah Thomas has had to work hard for everything he's accomplished. He's a little guy playing with the big boys. The 5-foot-9 point guard out of Washington was selected with the final pick in the 2011 NBA draft by the Sacramento Kings.
Despite his lack of size and lack of respect by being the final selection in the draft, Thomas won the uphill battle in the NBA. He played the first three years of his nine-year NBA career with the Kings. In his final season in Sacramento, Thomas averaged 20.3 points and 6.3 assists per game over 72 games. He was traded to the Phoenix Suns and played just 46 games for them before being dealt to the Boston Celtics.
In was in Boston where Thomas turned into an NBA All-Star. He played in two-plus seasons with Boston, making the NBA All-Star Game in both of his full seasons. With the Celtics, he averaged 24.7 points and six assists per game. He was their leader. A hip injury forced him to miss the playoffs during the 2016-17 season and Boston traded him to the Cleveland Cavaliers in a deal for Kyrie Irving. Since his time in Boston, Thomas has been with five different teams. The Los Angeles Clippers waived him Feb. 9, 2020.
The death of his sister
On April 15, 2017, Isaiah Thomas' sister, Chyna, was killed in a one-car accident in her home state of Washington. She was 22 years old. Thomas was notified of her death after the Boston Celtics' practice, according to USA Today. The team was preparing for its first-round playoff matchup with the Chicago Bulls the following day.
Like a true warrior, an emotional Thomas played in the game and finished with 33 points, six assists, and five rebounds in Boston's 106-102 loss to the Bulls. Thomas was the leader of a Celtics team that had visions of a deep playoff run. "He was incredible," Celtics coach Brad Stevens said after the game. "He's an amazing player, amazing person. And days won't get any easier for him, but he somehow plays like that."
Thomas had the support and the respect of his teammates for playing the game 24 hours after the death of his sister. "This is hard," former teammate Al Horford said at the time. "This was difficult, and I felt like our guys really dealt with it best. We knew (Thomas) was hurting…we have a lot of respect for him that he was able to come out."
Isaiah Thomas scored 53 points on his sister's birthday
After the Boston Celtics rallied to defeat the Chicago Bulls and advance in the playoffs, Isaiah Thomas was flying cross country for funeral arrangements and then flying back for basketball. The Celtics were now faced with a playoff series with the Washington Wizards. He admitted he wasn't all there during that first series with the Bulls. "Mentally and emotionally, I'm not here, so I just feed off what the guys give me," Thomas said, according to ESPN.
Immediately following Boston's Game 6 win over the Bulls on Friday that sealed the series, Thomas flew across the country for his sister's funeral and then he returned just in time for Sunday's Game 1 against the Wizards. In Game 2 against the Wizards, Thomas put up 53 points in an overtime win which just so happened to be on Chyna's birthday.
"It's my sister. It's her birthday today. Happy birthday. She would've been 23 today. Everything I do is for her, and she's watching over me, so that's all her," Thomas said after the game.