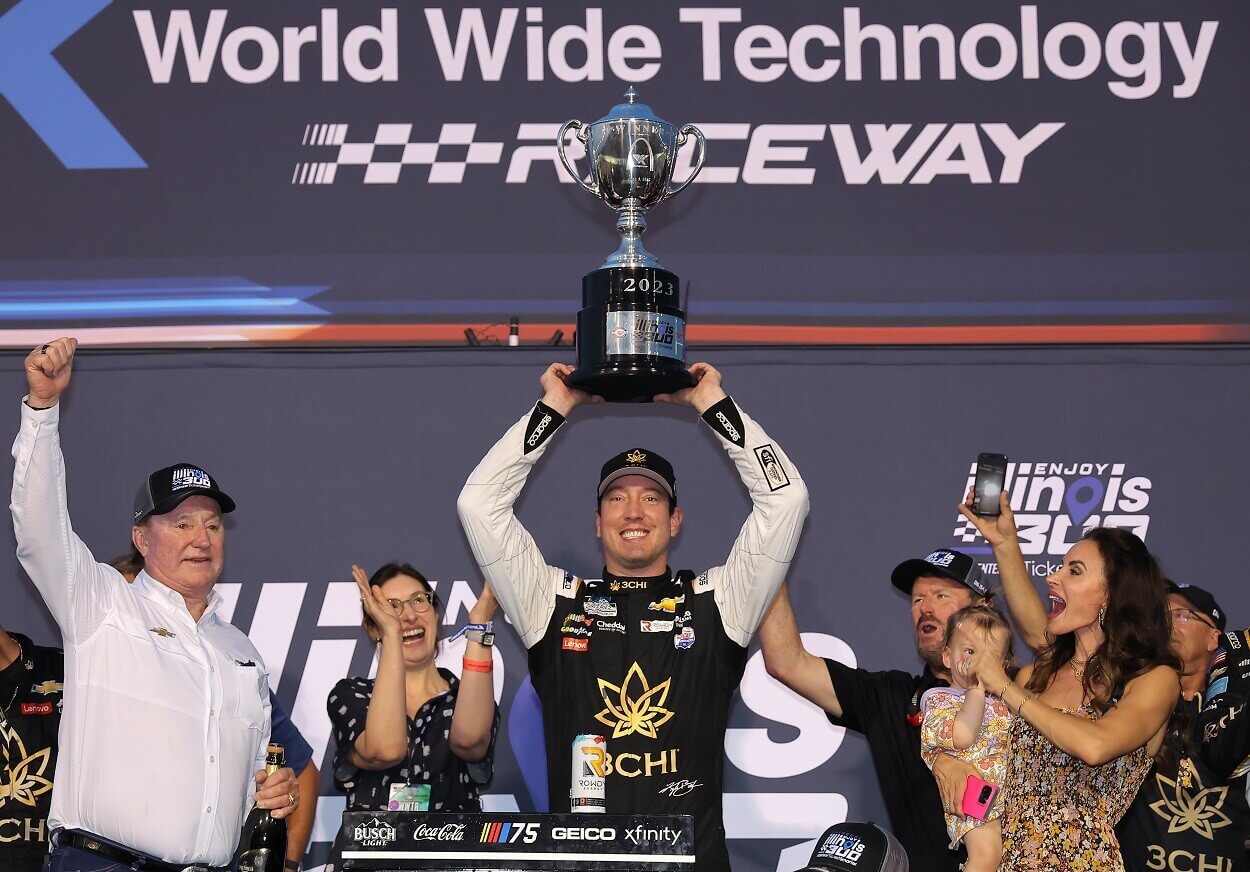 Could Kyle Busch Realistically Catch Dale Earnhardt on the All-Time NASCAR Cup Series Wins List?
Kyle Busch is just 13 wins behind Dale Earnhardt Sr. on the all-time NASCAR Cup Series victories list.
Kyle Busch has already long surpassed all other drivers with 228 total NASCAR national series victories, but his win Sunday in the Cup Series race at World Wide Technology Raceway near St. Louis has brought another historic mark in sight.
Busch now has three wins in his first season as the driver of the No. 8 car for Richard Childress Racing since he moved to the Chevrolet-backed organization in the offseason after 15 years in the No. 18 Toyota for Joe Gibbs Racing. He is tied with William Byron for the most wins in the series, ranks second with 16 playoff points, and sits seventh in the points standings, overall.
Kyle Busch is now within 13 Cup Series wins of tying Dale Earnhardt
Busch's domination at WWT Raceway when he led a season-high 121 of 243 laps also marked his 63rd triumph in his Cup Series career. The 38-year-old driver is now 13 wins shy of the 76-win total of Dale Earnhardt, who is one spot ahead of Busch for eighth on the all-time Cup Series wins list and fittingly spent the majority of his career with RCR, winning six Cup Series championships and 67 races with the organization.
Busch does not drive the No. 3 car that Earnhardt made famous in the parts of 19 seasons he drove for the organization. Childress' grandson Austin Dillon operates that machine, but Busch has received comparisons to Earnhardt with his outsized accomplishments and aggressive driving style.
Childress even drew a connection between the two drivers Sunday in his postrace press conference.
"Kyle has been really — he's such a pleasure to work with," Childress said. "Everybody says, 'Man, how y'all going to get along?' Same question they asked me about you and Dale won't last six months. We lasted 20 years. I want to keep Kyle there, and hopefully, we can end his career when he gets ready to."
Whether Busch finishes his career at RCR with more than 76 victories will be a fascinating addition to the final chapters of his career. 
For a time, Busch appeared destined to surpass Earnhardt and challenge for a top-five spot on the all-time wins list with 80-90 career victories. Busch won three-or-more races 10 times in his first 12 years with JGR from 2008-2019. He totaled 52 victories during that stretch, which would have placed him 12th on the all-time list alone had that been his entire career.
Busch won his second Cup Series championship in 2019, but then the COVID-19 pandemic severely impacted the 2020 season. NASCAR eliminated practice and qualifying sessions for most events, and Busch's performance notably dropped off.
He won just one race in 2020, two in 2021, and his gift-wrapped victory in the 2022 dirt race at Bristol Motor Speedway when leaders Tyler Reddick and Chase Briscoe crashed in the final turn was the only trip to Victory Lane he made in the Cup Series during his final season at JGR.
Age will play a role in whether Busch can catch Earnhardt
Even if Busch wins one of the final 21 races this season, he will still need to average at least three wins for the next four years to catch Earnhardt. It is a doable-yet-challenging task for one of the most successful drivers of his generation. Busch won three or more races in four straight seasons from 2008-2011 and five consecutive years from 2015-2019.
One of the issues, however, will be his age. He is approaching the point in his career when most drivers start to visit Victory Lane much more infrequently. Jimmie Johnson won exactly 13 races after the start of his age-39 season. Tony Stewart won 12, and Jeff Gordon won 11.
Kevin Harvick, the oldest active full-time driver in the series, and Mark Martin are two outliers that could give Busch some hope to surpass Earnhart's win total. Harvick, now 47, has won 32 of his 60 career Cup Series races since he turned 39. Martin, meanwhile, won 18 of his 40 career victories after turning 39 during his remarkable 31-year career that spanned from 1981-2013.
Busch has at least answered the question of whether or not he would still be competitive at a two-car organization that had not placed a driver inside the top 10 in the final points standings since Ryan Newman in 2014.
The four-car operation of JGR, by comparison, has had at least one driver finish inside the top five in the points standings for 10 straight years. Busch accomplished the feat six times during that span and should have a better-than-average chance to do so in his debut campaign with RCR, given the 16 playoff points he has already banked.
Kyle Busch may be in the opening stages of a career renaissance that could see him reach Earnhardt's wins mark that first helped make RCR a standout organization in the NASCAR record books.