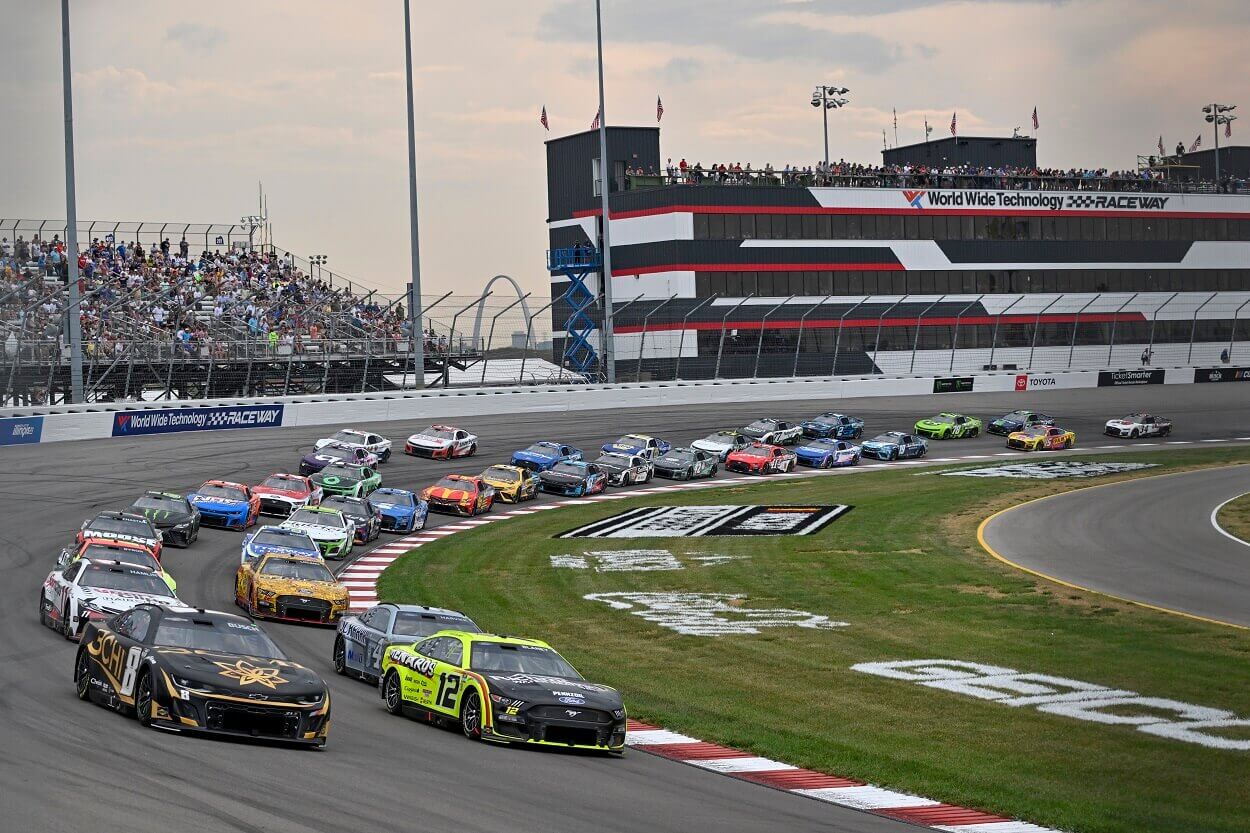 The NASCAR Cup Series Race at WWT Raceway Brought Back Memories of the Old Brickyard 400s
Sunday's NASCAR Cup Series race at WWT Raceway was remarkably similar to the old Brickyard 400 events in Indianapolis.
The prestige of winning a NASCAR Cup Series race at World Wide Technology Raceway is not nearly as great as a victory at the famed Indianapolis Motor Speedway, but Sunday's 300-mile race on the 1.25-mile oval near St. Louis was perhaps as close to a Brickyard 400-style race since IMS moved its annual event to the infield road course two years ago.
WWT Raceway has showcased the most accomplished drivers in its first two Cup Series races
Two-time Cup Series champion Kyle Busch triumphed Sunday at WWT Raceway to headline a top five that included drivers with a combined six series championships and 197 race victories.
Busch holds the most wins of the group with 63 victories, which rank ninth on the all-time Cup Series wins list. Runner-up Denny Hamlin is the only driver of the group without a Cup Series title, but he ranks 15th all-time with 49 wins.
Third-place finisher Joey Logano won both the race at WWT Raceway and his second Cup Series championship a year ago, and his 32 wins are tied with fifth-place finisher and 2017 series champion Martin Truex Jr. 2021 champion Kyle Larson finished in between those two and has 21 career victories in the sport's top series.
Busch also finished second to Logano in the inaugural event a year ago, with his older brother and 2004 series champion Kurt Busch behind in third.
WWT Raceway has several similar characteristics to Indianapolis Motor Speedway
WWT Raceway is similar to the Brickyard in terms of long straightaways and modestly banked turns. Turns 1 and 2 at WWT are banked at 11 degrees, and turns 3 and 4 have nine degrees of banking. All four of Indy's distinct corners are banked at 9.2 degrees.
A pair of two-time champions have won both of the first two Cup Series events at WWT, and championship winners were a common theme when NASCAR ran the Brickyard 400 on the oval at Indy annually from 2004-2020. All but five of the 27 editions of the Brickyard 400 featured drivers who had won at least one Cup Series championship in their career, including nine who went on to win the title the same year they triumphed at Indy.
Logano turned that trick last year with a championship run after he won at WWT Raceway, and Busch's three wins have him tied with William Byron for the most wins in the series this season. He also sits one playoff point behind Byron's total of 17 for the most in the series.
Sunday's race featured 11 cautions (along with various other delays for weather, power issues, and wall damage), which is in line with the 10.5 cautions the final four Brickyard oval races averaged. Several of those cautions resulted from mechanical issues, which was a common factor at Indy as well.
Four drivers had brake failures Sunday, which led to heavy impacts as they drove into Turn 1 at the end of the long frontstretch. Similarly, the final Brickyard 400 in 2020 had four cautions for single-car accidents when drivers had a part or tire fail. 
However, tires typically burst at the Brickyard rather than wearing steadily throughout a fuel run. Tires didn't blow out Sunday at WWT, but tire wear was also somewhat non-existent. Michael McDowell took two tires or only fuel on multiple pit stops throughout the race, and he spent the entire final stage inside the top 10 en route to a ninth-place finish.
The St. Louis race fills a void left by Brickyard's move to road course
IMS moved its race to the infield road course after the 2020 season after attendance had dwindled for years. NASCAR and tracks no longer announce official attendance numbers, but WWT Raceway has announced sellouts for each of its first two Cup Series events, which had similar races.
Assuming WWT stays on the schedule for next season, that might be a critical year to see if the delays Sunday will have any lingering effects on whether fans want to return on a weekend that traditionally features sweltering weather in the area. The Brickyard 400 never truly recovered from the 2008 race that had an announced attendance of 240,000 fans but also included six competition cautions because the tires were unable to withstand more than approximately 20 laps at race speed before they had a failure.
Sunday's event was not nearly that extreme. The race was largely competitive, although only three drivers combined to lead 234 of the 243 laps, and drivers struggled mightily to make a pass for the lead after the first few laps of a restart. Still, the turns had an outside lane that allowed drivers to race side-by-side and even occasionally make passes on the outside of their competitor.
For fans who decried the Brickyard's move from the oval to the road course, WWT Raceway has provided a very similar race each of its first two years on the Cup Series schedule, minus only the extra 100 miles and history of the hallowed oval in Indianapolis.