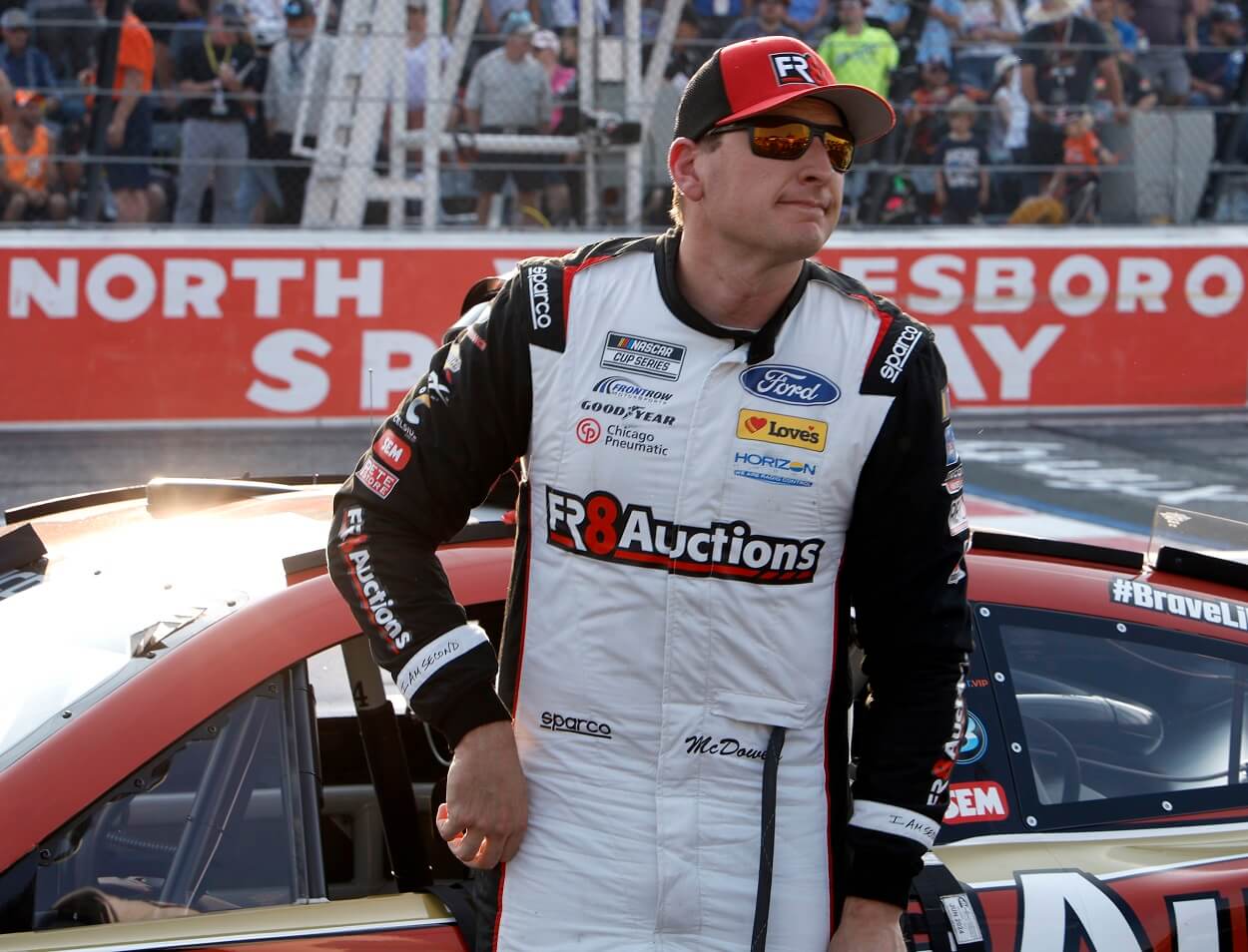 Michael McDowell Has Clearly Been Affected by the Loss He Suffered to Hendrick Motorsports
Losing his crew chief to Hendrick Motorsports was a big blow for Michael McDowell.
Veteran Michael McDowell had a career-best NASCAR Cup Series season in 2022. But the loss of the crew chief who ran the No. 34 Front Row Motorsports team a year ago has potentially ended McDowell's final chance to run near the front of the field even somewhat consistently.
McDowell drew some interest from reporters after the All-Star Open race Sunday at North Wilkesboro when he and Ty Gibbs had multiple on-track conflicts. Otherwise, however, McDowell has been largely irrelevant this season.
Michael McDowell has struggled after a career-best season in 2022
He managed a three-race run with finishes of 12th or higher from March 26 at the Circuit of the Americas through April 9 in the dirt race at Bristol Motor Speedway. McDowell has only one finish better than 18th in the other 10 races this season, including four straight results of 22nd or worse leading into the All-Star Race weekend. He has also led a grand total of seven laps on the season and sits 21st in the points standings.
His return to obscurity has come after his 2022 crew chief Blake Harris took the same position with the No. 48 Hendrick Motorsports team during the offseason. In his first full season as a crew chief, Harris had taken a driver who had never posted more than five top-10 finishes in any of his first 14 Cup Series seasons and helped him reach a career-high 12 in 2022.
McDowell finished 23rd in the points standings with a 100-point penalty from the July race at Pocono Raceway that also got Harris suspended for four races when officials found alterations to the seams and body filler of the No. 34 machine. NASCAR frowns heavily upon modifications of any kind with the Next Gen car model it debuted at the start of last season.
Still, the 38-year-old McDowell enjoyed by far his best overall season as a Cup Series driver. He led a career-high 67 laps and nearly won races at Sonoma Raceway and Talladega Superspeedway with third-place results at both facilities.
McDowell finished the season with a career-best 16.7 average finishing position, nearly a whopping four spots better than his previous best of 20.5 set in 2020 when he made his lone playoff appearance on the back of his Daytona 500 triumph. McDowell's average finishing position this season is back to 20.7 through the first 13 points-paying events.
Blake Harris had an excellent start as crew chief for Alex Bowman
Harris, meanwhile, had a fantastic start to the season with his new team and driver, Alex Bowman. They put the No. 48 machine on the pole for the Daytona 500 and finished fifth in The Great American Race. Bowman then finished inside the top 10 in five of the next six races, including a pair of third-place finishes at Las Vegas Motor Speedway and COTA. Bowman also led the points standings until a 60-point penalty from the April 2 race at Richmond Raceway dropped him from the top spot.
Harris also missed four races earlier in the season because of a suspension that stemmed from a penalty NASCAR issued for modifications to the hood vents on all four HMS cars at Phoenix Raceway. That penalty was ultimately reversed on appeal, but not before Harris sat out his four races.
Harris is currently working with replacement driver Josh Berry because Bowman suffered a back fracture in a sprint car race on April 25 after the Cup Series had raced the previous Sunday at Talladega. Bowman was ninth in the points standings at the time of his injury and will likely have to win a race to make the playoffs since he will have missed at least three races.
McDowell now works with crew chief Travis Peterson, who had five races of experience as a crew chief in NASCAR before this season during his five years at Roush Fenway Keselowski Racing.
Front Row Motorsports is always at risk of losing talent to larger organizations
The issue for FRM is that it occupies the same space in the sport as a mid-major program does in college basketball. Any rising star such as Harris will likely get hired away to a larger team the way promising head coaches regularly move to larger universities.
With McDowell approaching age 40, his chances of another season similar to 2022 are relatively small, especially with young FRM drivers such as second-year Cup Series driver Todd Gilliland posting three top 10s through the first half of the regular season, as well as reigning Craftsman Truck Series champion Zane Smith leading that series' points standing once again.
McDowell has had remarkable staying power in the Cup Series. He is in his 16th season and has just the one win on his record, even though it was in the biggest race of each season. He has spent much of his career with small teams and has driven for FRM since 2018. 
Michael McDowell will always have a chance to pull off another surprising win in a superspeedway race where the entire field runs in a large pack. But his last, best overall opportunity in the Cup Series has likely come and gone with Harris' move to the powerhouse that is Hendrick Motorsports.