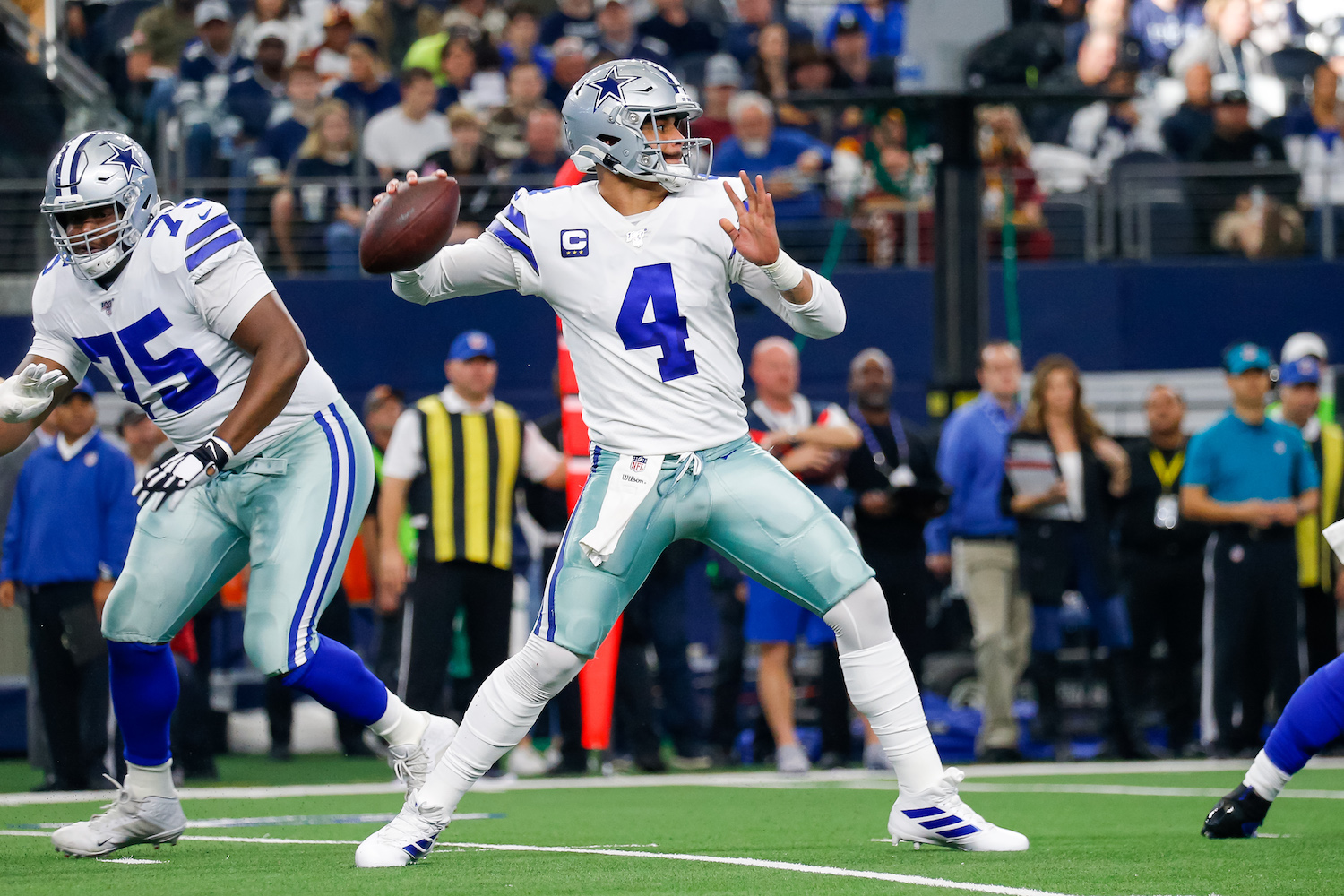 Dak Prescott Delivers Exciting News for Cowboys Fans and Warning Shot to Rest of NFL
Dak Prescott revealed he's been practicing with teammates on his new backyard football field, why he's excited to work with Mike McCarthy, and how he's slimmed down for 2020 season.
Dallas Cowboys quarterback Dak Prescott had, statistically, the best season of his young NFL career in 2019. He threw for over 4,900 yards, which included 30 touchdowns against 11 interceptions. Despite his individual stats, the numbers that matter most — wins and losses — didn't reflect a successful season. In Prescott's introductory press conference before the start of 2020 training camp, the fifth-year signal caller detailed how his game improved this offseason and his level of excitement in working with new head coach Mike McCarthy. All of it is a great sign for Cowboys fans, and a scary one for the team's opponents.
Dak Prescott's 2019 season
Dak Prescott and the Dallas Cowboys started off the 2019 season impressively with a convincing 35-21 defeat of the New York Giants. Prescott had one of the best performances of his career completing 25-of-32 for 405 yards and four touchdowns. It was a promising sign many hoped would be a continuation of 2018 when the Cowboys posted a 10-6 record and made it to the second round of the playoffs.
Prescott followed up his opening-day performance with a pair of solid starts the next two weeks, both ending in victories. Then, the Cowboys hit a three-game skid due in large part to Prescott's lackluster play on the field. During those three losses, he managed just two touchdown tosses and accounted for four interceptions. 
Those first six weeks of the season were a microcosm for the entirety of 2019. The Cowboys never sustained any consistent level of play on offense. As a result, the team finished with an 8-8 record and missed the playoffs for a second time in Prescott's four seasons in Big D. The front office viewed the season as a step back. Change was needed. 
Dak Prescott likes working with Mike McCarthy
In early January, the Cowboys fired long-time head coach Jason Garrett after 20 seasons of service with the organization as a player, assistant, and head coach. A couple of days later, Jerry Jones introduced former Green Bay Packers head coach Mike McCarthy as the new sheriff in town. Since his arrival, Prescott said it has been easy working with McCarthy.
"He's come in and brought in a lot of his tools and a lot of his knowledge to this offense. He's a very genuine guy. I think that's the first thing that hit off with the team in those early meetings. When he walks around the building, you feel it. When he talks, you hear it. And you see it in his actions."
While there had been rumors in recent months that Prescott was unhappy with Garrett's departure, the quarterback said that's not the case, and he's looking forward to working with McCarthy. 
"With his knowledge and the way he can help me grow as a quarterback, knowing all the guys he's coached before, it's nothing but excitement coming from my end and a lot of guys in this locker room."
Prescott worked with teammates on his newly installed football field
When most of the country went into lockdown months ago due to the pandemic, Dak Prescott said the shutdown inspired him to pursue something he had always dreamed about in building his own football field in his backyard. He did just that, and it's allowed him to spend a considerable amount of time working out with his teammates.
"It's been very beneficial having the guys out there, being able to throw, being able to get a lot of work. We're going to hit camp running because we've been working at it a good bit of time now." 
Prescott said the combination of working with his teammates as well as what he did in the offseason to improve his own game, has him excited for the 2020 season.  
"I was working on my mechanics all offseason long, just trying to make sure they stay right where I want them. Working with the guys being able to have them there and get them to the house and us work on timing and do all those things. It's been a pretty good offseason with everything that's been going on."
Despite all the chaos that ensued since Dak Prescott and the Dallas Cowboys last took the field, including the tragic death of his brother, the Dallas quarterback also appears to be slimmer (he says he hasn't lost any weight just redistributed it) and in better physical condition. Prescott's physical condition, combined with the relationship with his new offensive-minded head coach, and the offseason workouts with his teammates could be a very good sign for the Cowboys in 2020. 
Stats courtesy of Pro Football Reference.