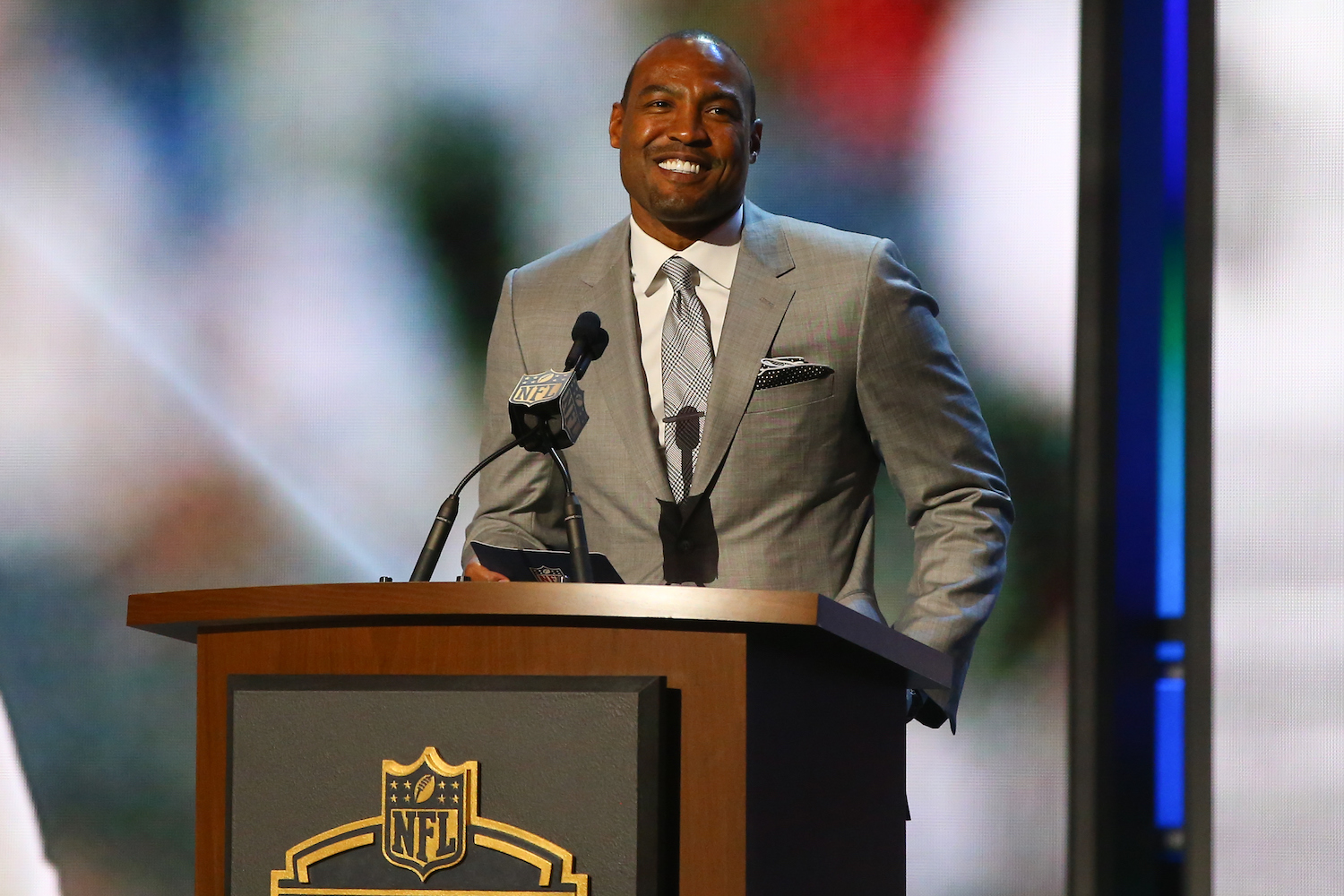 Dallas Cowboys Legend Darren Woodson Warns NFL Players of His 'Car Crash' Experience With COVID-19
Dallas Cowboys legend Darren Woodson knows what it feels like after delivering a big hit. Woodson has recovered from COVID-19 and said it felt worse.
Darren Woodson was known for his ferocious hitting during his 12 seasons as a safety for the Dallas Cowboys. He was so good at delivering punishment to opposing offenses he earned First-Team All-Pro honors four times. Woodson recently revealed that he was struck with COVID-19. And he means struck. The three-time Super Bowl champion described his bout with the virus and said it was as bad or worse than the effects of any football game he ever experienced.  
Darren Woodson's wife contracts virus
Like most families, Darren Woodson and his family have taken the coronavirus pandemic seriously. They've taken all the necessary precautions to try and stay completely safe and virus free. 
"So we did everything to prepare ourselves for COVID. We isolated ourselves. We basically quarantined ourselves," Woodson told WFAA-TV in Dallas. 
Everything was fine when his wife took a business trip to Houston with her business partner, who had COVID-19 at the time but didn't know it. Once they learned about the partner's positive test, Woodson's wife got tested despite showing no symptoms. The test came back positive. 
In response to his wife's test result, Woodson and his two sons went in and got a rapid test. The initial results came back negative. 
Darren Woodson says symptoms like a 'car crash'
Darren Woodson and his kids returned home from the testing relieved. They had dodged a bullet, or so they thought. In the span of a few hours, everything changed. Woodson said the symptoms came out of nowhere. 
"Then all of a sudden, five hours later, after a negative test, I had chills, 102 degree temperature, and had all the COVID symptoms," the former safety recalled. Woodson said his children had a few symptoms, but he wasn't as fortunate. He said the whole experience took a toll on him physically and mentally. 
"It felt like I was in a car crash. My body was aching, sore back, legs, hard to get out of bed for a day," he said. "It affected me more mentally than physically, the first couple of days, I just didn't know when I was going to get back to myself," he admitted. 
He said the severe symptoms lasted for a couple of days, but after almost 10 days, he felt close to normal.
Cowboys legend offers advice to others 
Darren Woodson said while it was a miserable couple of days for him personally, there was a much bigger lesson in the illness that he and his family took away from the whole experience. It's a lesson medical experts have been preaching for months—you can be a carrier with no symptoms and easily and unknowingly infect others. 
"But when I leave this house, it's not about me. It's about you. It's about everyone else," Woodson said. The former Cowboys star said he hopes all NFL players take the virus seriously and are responsible. He said that's going to require a lifestyle change.
"Guys can't go out. Things are different. Young veterans can't go out on the street or into a bar. They are going to have to take precautions going into the season."
For years Darren Woodson was a leader in the Cowboys secondary. Years later, he's hoping NFL players take his advice and follow his lead on the pandemic because they're going to suffer enough pain after each game.