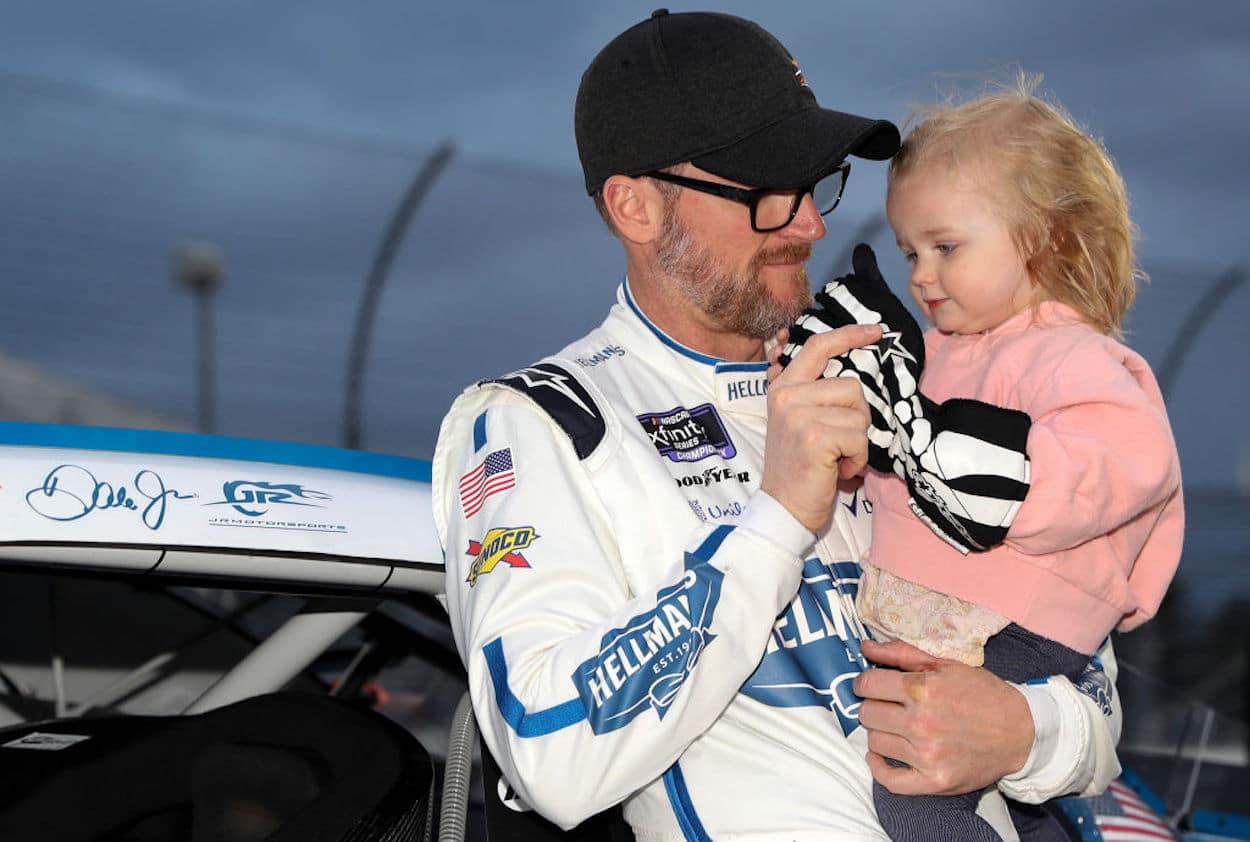 Dale Earnhardt Jr. Adds 'Children's Author' to Rapidly Expanding List of Achievements
Dale Earnhardt Jr. did just about everything imaginable on the NASCAR circut, and, in retirement, he hasn't been afraid to branch out.
When NASCAR drivers decide to hang up their gloves and driver's suit and call it a career, they typically ride off into the proverbial sunset — rarely to be heard from again aside from perhaps the occasional Twitter musing. Then there's Dale Earnhardt Jr. — the jack-of-all-trades renaissance man who one could argue has been busier in "retirement" than he was during his 18 years as a full-time Cup Series driver.
Earnhardt, the third-generation wheelman who won two NASCAR Xfinity Series championships and 26 Cup Series races, including two Daytona 500s, seemingly can't find enough to do on top of being a husband to his wife, Amy, and their two children.
His latest venture? Writing a children's book that was just released earlier this week and that's available for purchase just about anywhere books are sold.
Meet Dale Earnhardt Jr., children's author
Dale Earnhardt Jr.'s new book — titled Buster's Trip To Victory Lane — isn't his first foray as an author, but it's his first time penning a book for kids. Naturally, with two daughters under the age of 5, Earnhardt is no stranger to children's reading material — he says his girls have "a mini-library" of "hundreds and hundreds" of books — but it wasn't until fairly recently that he'd ever thought of becoming a children's author. 
To make a long story short, when the publishing company Earnhardt had worked with on his last writing project — Racing To The Finish: My Story, published in 2018 — reached out to gauge his interest in writing a children's book, the father of two little ones couldn't resist the idea.
"They said, 'Hey man, you wanna do a kids' book?'" Earnhardt recalled on this week's episode of The Dale Jr. Download podcast. "I'm like, 'Yes, let's give it a shot.'"
And so he did. The hardcover book for ages four to eight chronicles the journeys of a fictitious race car named "Buster" who takes on real-life qualities and teaches children important life lessons on subjects such as facing their fears and persevering when starting something new.
"The car itself is a bit of a nod to my grandfather, Robert Gee's car, that my dad actually drove a few times in the '70s — the dirt car, the Camaro," the son of the late seven-time NASCAR Cup Series champion Dale Earnhardt explained on this week's episode of his podcast. "Buster was Dad's nickname when he was a little boy, like 3, 4, 5 years old. There's two little Easter eggs. Jimmie Jam, who's one of the characters in the book, is a nod to Jimmie Johnson. Jimmie Jam is kind of Jimmie Johnson's alter ego. When Jimmie pulls an all-nighter, you'll meet Jimmie Jam. Coach Hog is kind of a nod to Gary Hargett, who was sort of my first real mentor when I started racing, when I ran Late Models. 
"The team they drive for is Punchy Motorsports. You'll remember Dr. Jerry Punch [longtime NASCAR broadcaster for ESPN]. His nephew, a good friend of mine who recently passed away, his nickname was Punchy. That's a nod to him. He was a buddy who would go with me to the race track when I raced Late Models, and he just recently passed away, so I wanted to name the racing team after him."
Earnhardt promised during Tuesday's recording of The Dale Jr. Download that he would soon visit some local bookstores in the Mooresville, North Carolina area to sign copies of the book. Within a day or two, he'd made good on that promise.
There's never a dull moment in Dale Jr.'s world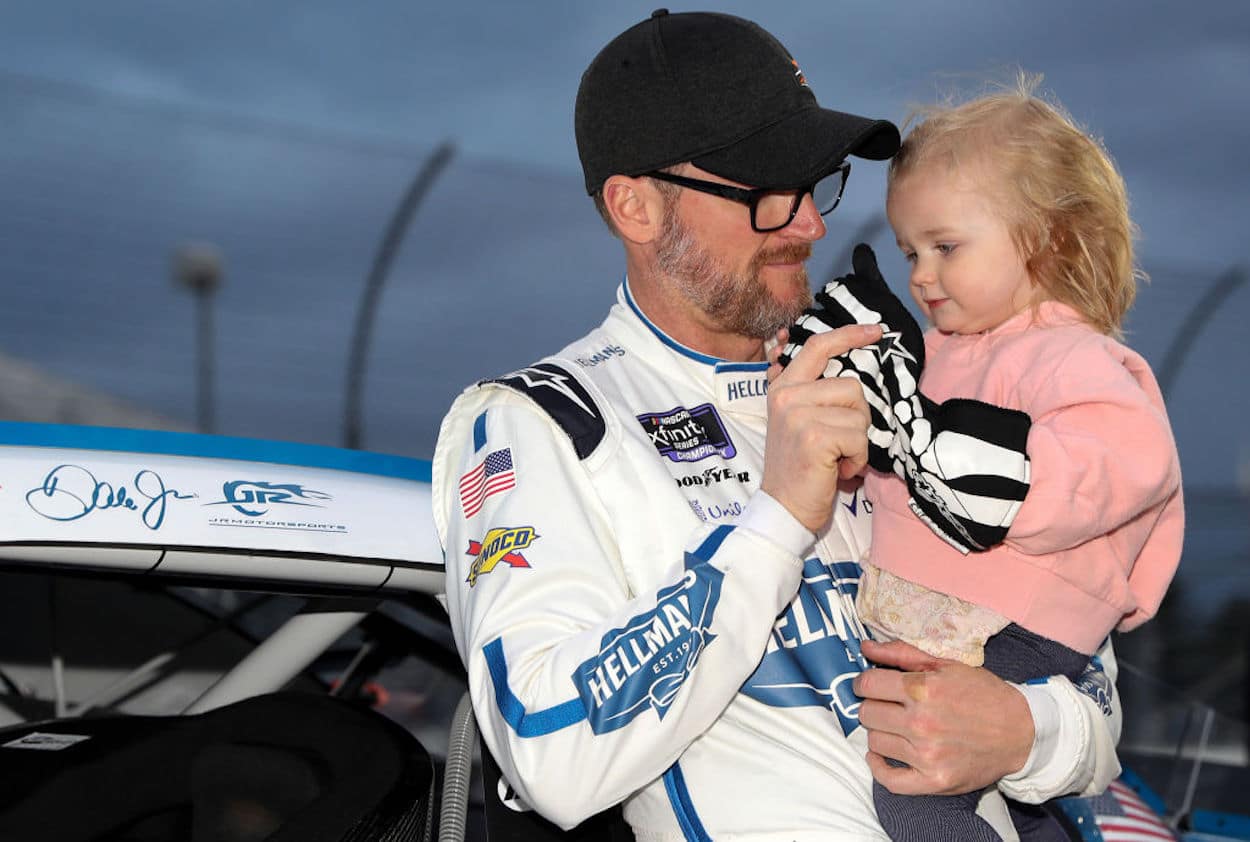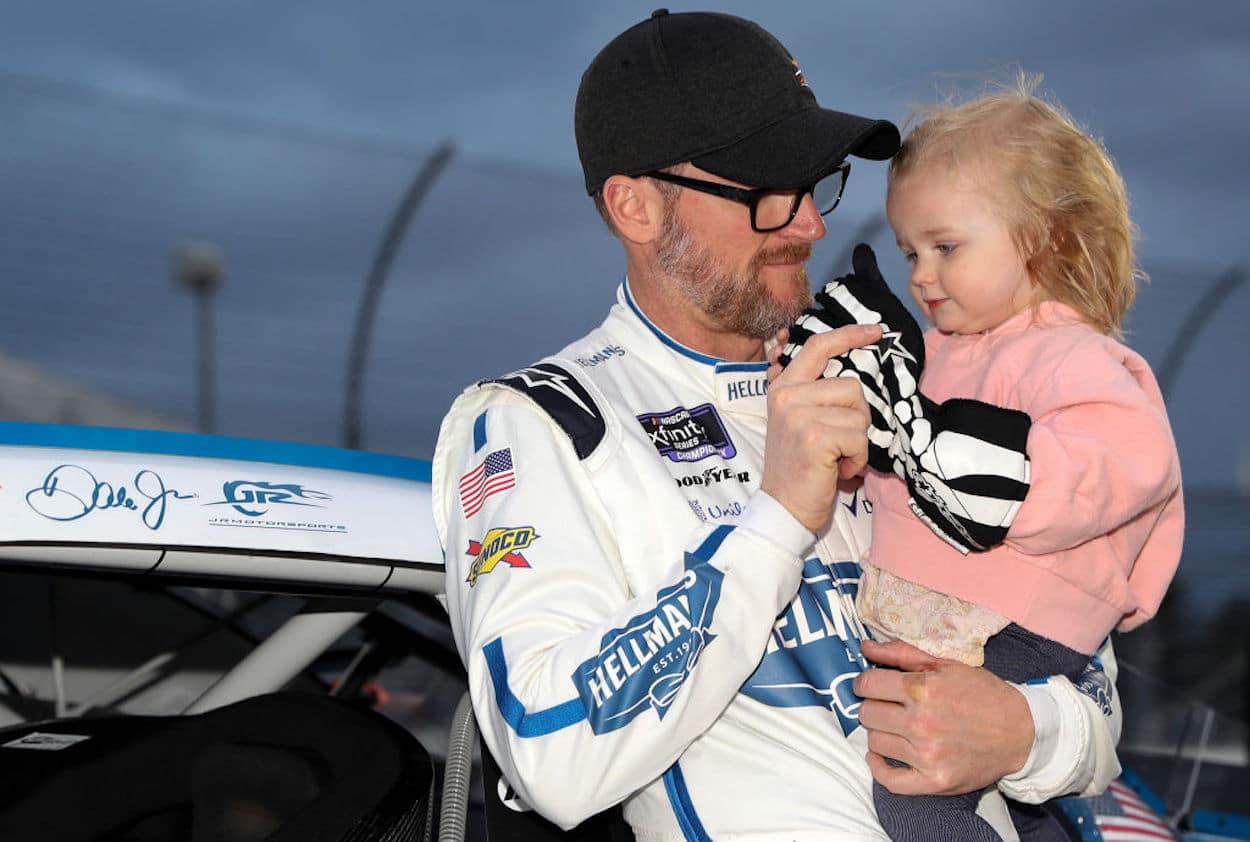 While NASCAR's 15-time Most Popular Driver authoring a new children's book — or any book, for that matter — is noteworthy in itself, what makes this borderline mind-boggling is the fact that Dale Earnhardt Jr. just keeps adding to an ever-growing list of pursuits that undoubtedly make him one of the busiest people in the entire motorsports world.
In addition to being the co-owner of a multi-car, championship-contending, and former championship-winning NASCAR Xfinity Series team in JR Motorsports, Earnhardt — as most NASCAR fans are aware — is an on-air Cup Series race analyst for NBC Sports during the second half of every NASCAR season. 
Meanwhile, a large chunk of his time these days is devoted to Dirty Mo Media, a multi-media company and digital content platform Earnhardt co-founded in 2013 with trusted friend and former road manager Mike Davis. Along with The Dale Jr. Download, Dirty Mo's flagship program, the company produces several other podcasts and has a growing video portfolio that includes Roots & Revival — a six-part series focused on how Earnhardt recently helped bring Late Model racing back to fabled North Wilkesboro Speedway. Speaking of North Wilkesboro, Earnhardt also played a major role in convincing NASCAR and Speedway Motorsports Inc. owner Marcus Smith to bring the Cup Series' All-Star Race to the .625-mile track in 2023.
As for Dirty Mo Media, the company will soon be expanding its offerings to include programming dedicated to sports beyond just NASCAR as it teams with Cadence13, an award-winning, New York City-based media company that specializes in growing and monetizing podcasts.
Even with all this going on, Earnhardt still manages his charitable enterprise, The Dale Jr. Foundation, and Whisky River — an airport bar — on top of co-owning the Tennessee-based High Rock Vodka brand and FilterTime, a company that offers air-filter subscriptions.
How does Earnhardt find time to be a husband, a dad, an elite team owner, a beloved broadcaster, an entrepreneur several times over, and — now — a children's author? You'd have to ask him. But this much is certain: It's a good thing his last name is one that's synonymous with going fast. Because there's no time to waste when you're Dale Earnhardt Jr.
Have thoughts on this topic? Keep the conversation rolling in our comments section below.