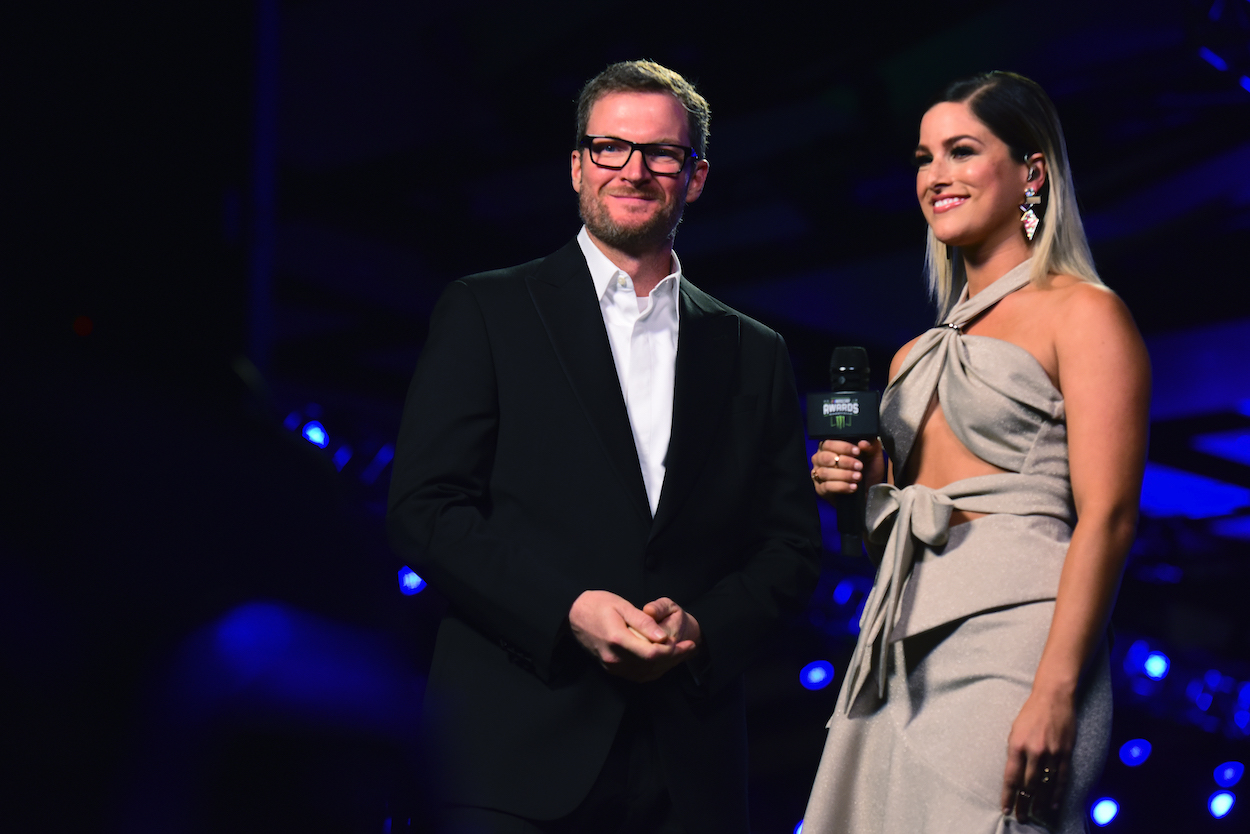 Dale Earnhardt Jr.'s Power Influenced NASCAR Hall of Fame to Backtrack, Fix Bad Policy, and Avoid 'Awkward' Induction Ceremony
Dale Earnhardt Jr. was concerned about feeling awkward at his upcoming NASCAR Hall of Fame induction with a current policy in place but his power influenced the Hall to make a much-needed change.
Dale Earnhardt Jr. is one of the most respected voices in NASCAR. This month, his legacy will forever be etched in the history books when he is inducted into the NASCAR Hall of Fame. While his induction will be incredibly special, the ceremony will take on an even more special meaning knowing that his influence made a huge difference in the enshrinement for one of his fellow inductees. 
Dale Earnhardt Jr. calls out NASCAR Hall of Fame for policy
Dale Earnhardt Jr.'s success on the track will be rewarded this month with his induction into the NASCAR Hall of Fame. He will be joined by Red Farmer and Mike Stefanik. 
Farmer, who still races today at age 89, won his first Modified title in 1956. A dozen years later, in the late 1960s, he became the dominant driver in the Late Model Sportsman Series (now Xfinity Series), winning consecutive titles from 1969-71. 
Stefanik was a legend in the NASCAR Whelen Modified Tour and raced from 1985 to 2014, winning an impressive seven championships. He also earned a couple of Busch North titles. He tragically died in 2019 in an ultralight aircraft accident. He was 61.
Recently, multiple voices in NASCAR circles began to speak up on social media and call out what they considered an injustice by the NASCAR Hall of Fame to Stefanik and his family. According to reports, Stefanik's wife Julie had written a speech for the ceremony, but she wouldn't be allowed to read it due to a policy that prevented family members from speaking on behalf of those inducted posthumously.
Earnhardt jumped in and shared his opinion.
"I've learned it's Nascar HOF policy that individuals enshrined posthumously are celebrated throughout the weekend with exception of someone giving a speech during the ceremonies," he tweeted. "I advocated for them to consider bypassing this rule for Julie. I hope they allow her some time."
Happy with NASCAR Hall for reversing course
After Earnhardt spoke out on the situation, most thought it was just a matter of time before NASCAR Hall officials made a course correction. That came earlier this week when Hall executive director Winston Kelley announced a change in format that would allow Julie Stefanik to speak on behalf of her husband. 
During an appearance on SiriusXM NASCAR Radio, Dale Earnhardt Jr. was asked his thoughts on the latest developments. He was understandably pleased with the decision.  
"I saw some other folks speak up about it and bring it to my attention and I was just chiming in to the conversation with any support that I could give especially being one of the inductees," a humble Earnhardt said. "It would have felt very uncomfortable and awkward for me to not be able to experience her sharing her emotions and feelings about it. I'm glad that they are going to allow her to do that. 
"Knowing the little that I do about her and her relationship with her husband, I think that she's the best person to be able to go up there and tell everyone what this would mean to Mike and who he was. I'm glad that they're going to allow that to happen and I think it's going to make the whole experience for everybody better having her as a part of it. Hopefully going forward they'll look at that protocol and some adjustments, changes to it."
Dale Earnhardt Jr. wishes he could influence NASCAR in 1 other area
While Earnhardt's voice influenced the NASCAR Hall of Fame's decision on Stefanik's speech, the governing body itself hasn't been as willing to acquiesce to some of his requests in the past. For years, he has asked NASCAR to incorporate more short tracks into the schedule. During an episode of his Dale Jr. Download podcast this past year, the two-time Daytona 500 winner brought up the topic yet again. 
"I was hoping for some more, I guess," he said. "More short tracks. I've been saying that for years. I'm kind of even tired of hearing myself say it. We need some more short tracks just cause they're fun." 
The Clash at the Coliseum in LA next month would certainly be considered a short track at just a quarter-mile, but it's an exhibition and more of a gimmick than an established short track with a consistent date on the schedule. 
It is, however, a start. Maybe there will be more added to the schedule in the upcoming years. But Earnhardt knows all too well from past experience and he isn't holding his breath.
Like Sportscasting on Facebook. Follow us on Twitter @sportscasting19.