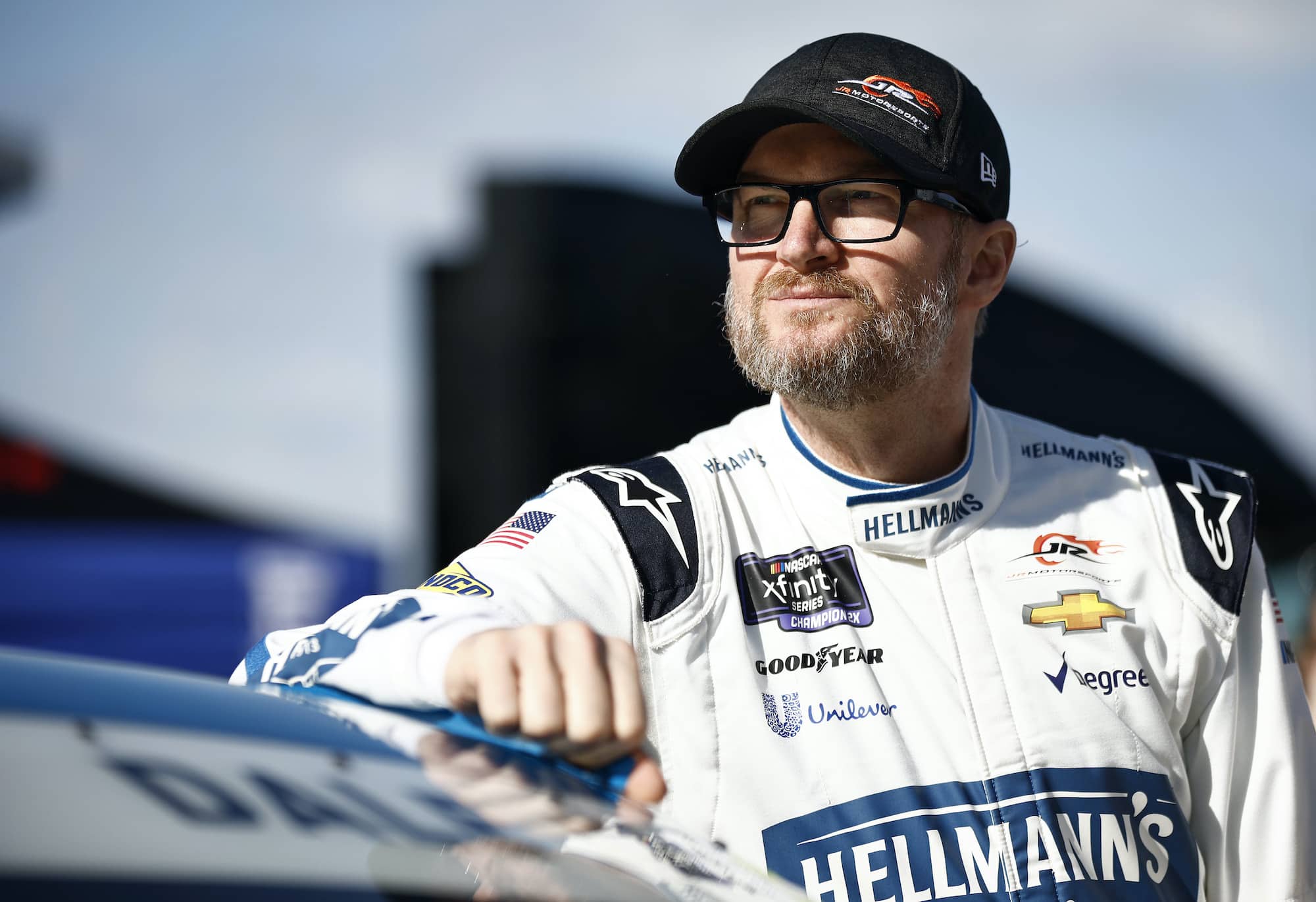 Dale Earnhardt Jr. Makes Surprising Remarks About Desire to Run More Races and How Controversial NASCAR Decision Is Preventing It
Dale Earnhardt Jr. admitted recently that he's interested in running more NASCAR races, but a controversial decision several years ago won't allow it to happen.
Dale Earnhardt Jr. has found himself behind the wheel more in the last year, running in late model stocks in addition to what has become his traditional one-off Xfinity Series race. The NASCAR Hall of Famer recently revealed on his podcast that there could be even more chances for fans to see him compete, but a single controversial decision by NASCAR several years ago is preventing it from happening.     
Dale Earnhardt Jr. has raced once a year in Xfinity since retiring
Since retiring from full-time Cup Series racing after the 2017 season, Dale Earnhardt Jr. has started a new tradition, competing in a single Xfinity Series race each year. Unsurprisingly, the two-time Daytona 500 winner has been successful. 
In 2018, he scored a fourth-place finish at Richmond. The next two years, he recorded a pair of fifth-place results at Darlington (2019) and Homestead (2020).  
Earnhardt has experienced a slight decline over the last couple of seasons, finishing 14th at Richmond in 2021 and 11th at Martinsville last year.    
Earnhardt racing more lately
Earnhardt announced earlier this year that for the first time since 2017, he would compete in multiple national series events. Bristol in September is the only confirmed event as of now, but the additional race is a trend for the 48-year-old, who has found himself behind the wheel more in recent months.
He competed in a late model stock car at Florence Motor Speedway in November for the first time since the mid-1990s. He did it again last month, racing in the Icebreaker at the same circuit. 
This summer, he will race a late model at North Wilkesboro with the CARS Tour in an event that is part of a week's worth of activities leading up to the Cup Series All-Star Race at the historic track, which has been renovated due in large part to Earnhardt's tireless efforts.
Admits he'd race more if it weren't for stages
During a recent episode of the Dale Jr. Download, a fan questioned if the former driver had any interest in running the All-Star Race at North Wilkesboro. He immediately squelched the idea but then surprisingly revealed how he does have an interest in racing more NASCAR national series events, but there's a single reason why it won't happen.
"I don't know that I've had an invite to do it. I'm not going to run it it," Earnhardt said. "I'm going to run our late model stock car on Wednesday. There's a super late model race on Tuesday, I believe, a CARS Tour pro, and a CARS Tour late model stock race on Wednesday. So two races that day. 
"The trucks. I would be interested. I'll tell you this. If the trucks didn't have stages, I would run that race. I would have already ran at Martinsville if the trucks didn't have stages. But the stages at Martinsville in the truck race — what is it 40 laps? 
"They beat the s*** out of each other. They run over each other and dump each other in every corner, and the stages confine them to being all over the top of each other. You can't get away from each other. The races and the stages and all that stuff. I'd probably run the truck race if I knew I was going to get a good long run, wear some tires out, sliding around, chance to really put some distance on some people or whatever. That kind of is a turnoff for me is stages. Short races that are already short. The trucks, the Xfinity, and stages at short tracks, it just to me, none of that works."
Many fans have been critical of stage racing since it debuted in 2017. They suggest it takes away from the authenticity of the sport. It's now evident it's also taking away a chance for fans to see the former most popular driver compete and make a few more lasting memories in the process.
For the latest breaking news and information about NASCAR's three national series, check out @kdsportswriter on Twitter.