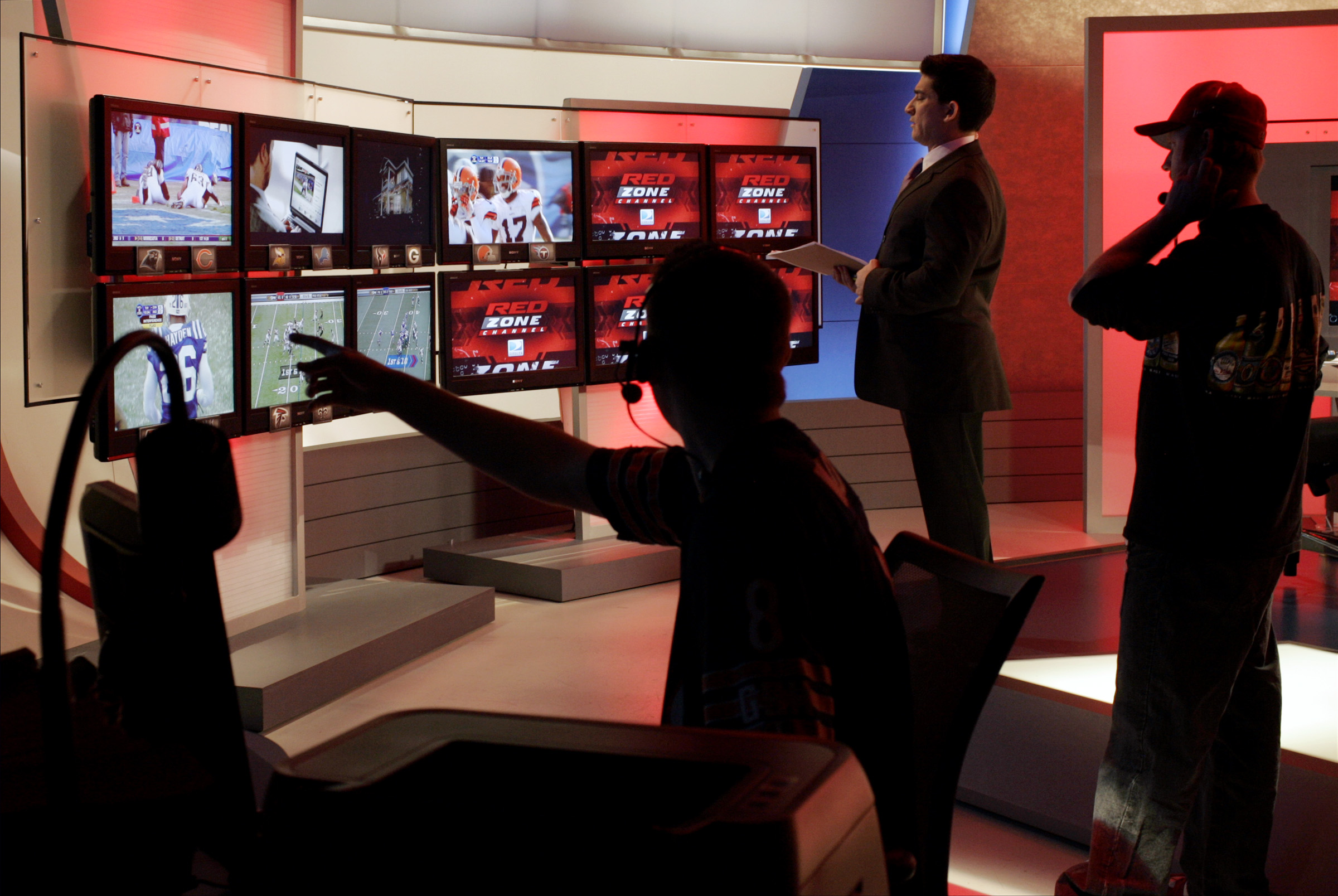 Dan Le Batard Once Tried to Get RedZone Hosts Scott Hanson and Andrew Siciliano to Fight
Radio host Dan Le Batard once tried to get RedZone competitors Scott Hanson and Andrew Siciliano to fight each other.
Watching the National Football League games on television has gotten a whole lot easier with the invention of the RedZone Channel. The RedZone is perfect for the lazy fan. No remote control is needed. There are two RedZone Channels, one via DirecTV and hosted by Andrew Siciliano, and the other hosted by Scott Hanson. The competing hosts are friends, but radio host Dan Le Batard once tried to get them to fight each other.
How the RedZone works
The RedZone Channel is the perfect way to watch NFL games on Sunday without flipping back and forth to find out how your favorite team is doing. The action begins at 1 p.m Eastern on Sunday and goes through the end of the late afternoon games. As each team inches closer to the end zone, the RedZone captures the action of that particular game.
There are two RedZone Channels and both are commercial-free. Andrew Siciliano is the host of the RedZone that can be found on DirecTV. Siciliano is the fast-talking, witty host. DirecTV debuted its RedZone in 2005 and Siciliano said he knew something was going right about three years after it came on the air.
"I knew the Red Zone Channel was finally catching on when I had multiple players approach me separately at the Super Bowl, about three years after we started, and tell me they watched the show when they were on their bye week," Siciliano said to Bleacher Report in 2014. "I figured, at that point, we were probably doing something right."
NFL RedZone debuted in 2009
Four years after DirecTV made its RedZone debut, the NFL RedZone came out for the 2009 season. The NFL RedZone is hosted by Scott Hanson. Hanson, like DirecTV's Andrew Siciliano, is faced with fast-paced action for roughly seven hours each Sunday during football season.
When multiple teams are approaching the end zone, Hanson and Siciliano often go to a double box, or triple box to show all the action. Hanson said every Sunday is action-packed and he's always one his toes. "Every Sunday is a thrill ride, honestly," Hanson said last year, according to The Sporting News. "At least one, two or three games are guaranteed to have a jaw-dropping moment.
"That said, there was a moment during Week 6 of 2012: Robert Griffin III's rookie year when (he) scored a 76-yard touchdown… Seconds later, rookie Russell Wilson threw a game-winning touchdown pass to beat Tom Brady… Seconds later, Jay Feely (Arizona's kicker) hit the upright on a potential game-winning field goal. We did it in a triple box and the hairs stand up on my arm just thinking about it today."
Dan Le Batard once tried to get Siciliano and Hanson to fight
Andrew Siciliano and Scott Hanson get along just fine. Sure, they are competitors, but there is no animosity toward each other. Radio host Dan Le Batard did, however, try to get them to fight once. "(Dan) Le Batard had us on and he tried to get us to fight," Siciliano said on The Rich Eisen Show. "He tried to get us to fight. It did not happen."
Back in 2018, Le Batard had Hanson on as a radio guest. Hanson is a love-everyone type of guy, and Le Batard was trying to get him to find someone he hated. While Hanson was talking about being a Christian and not having time to hate anyone, Le Batard's crew was busy getting Siciliano to come on the show at the same time. Le Batard introduced Siciliano as the host of the "real" RedZone. When Siciliano came on the air, Le Batard asked him if he hated Hanson.
"Oh yeah," Siciliano said. "Is that what you want me to say? Every day when we go to work, I have a picture on the wall of him and I throw darts at it. No, I don't hate the guy. There's going to be a natural competition…" Le Batard interrupted Siciliano and said, "tell me how much you hate him." "I DON'T HATE HIM," Siciliano said. Le Batard did his best to get the two hosts to go at it, but they didn't bite.