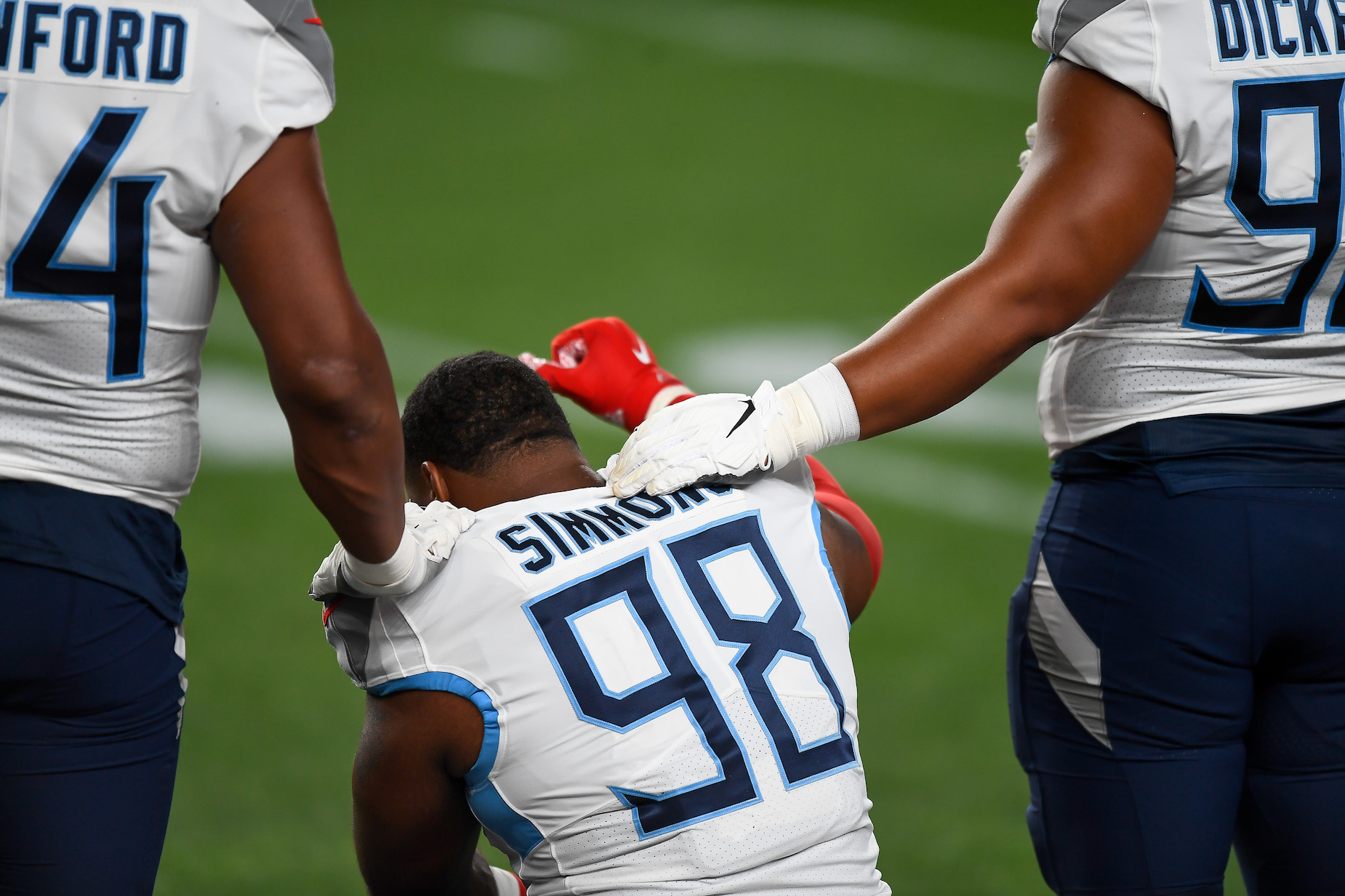 For All the Talk of an NFL Boycott, Most Fans Won't Stop Watching Football
While there's been talk of an NFL boycott, it doesn't seem like national anthem protests will inspire fans to stop watching pro football.
Under ordinary circumstances, the start of the NFL season is like an unofficial national holiday. After a long summer without pro football, fans can't wait to grab some wings, hit the couch, and spend Sunday watching the action. 2020, however, has been a bit different; in fact, there's been talk of a fan-driven NFL boycott.
While the Week 1 television ratings were a mixed bag, it might be a bit premature to connect those numbers to an NFL boycott. According to a recent survey, it doesn't seem like many fans will be willing to ignore pro football once Sunday rolls around.
The NFL is embracing social justice (at least outwardly)
Given the realities of the coronavirus pandemic, the 2020 NFL season was always going to look a bit different. During the offseason, however, the league also changed its tone in regards to racial and social justice issues.
Earlier this year, a former NFL executive came forward and admitted that the NFL owners decided Colin Kaepernick was bad for business; that reality, not his on-field ability, kept him from landing a job. After George Floyd's death, Roger Goodell also said that "Black Lives Matter" and encouraged teams to consider signing the former 49ers quarterback.
There were also some notable differences when Week 1 rolled around. Games were proceeded by both the national anthem and "Lift Every Voice and Sing," which is referred to as the Black national anthem. The end zones will be painted with anti-racism messages, and players can player can wear the name of "a victim of systemic racism" on the back of their helmet.
Not everyone is happy with those efforts, though
As the cliche says, you can't please everyone all of the time. Roger Goodell is currently learning that the hard way; their efforts are irking people on both sides of the spectrum, potentially inspiring an NFL boycott.
Some feel that the NFL is only paying lip service to anti-racism efforts without actually making any legitimate changes; painting messages on the field, at the end of the day, can only do so much. Colin Kaepernick himself even called the league's efforts "propaganda," since Eric Reid, for all of his on-field success, can't get a job. The safety agreed, tweeting that the NFL's actions were "half-hearted at best."
Others, however, believe the league is taking things too far. In a position championed by Donald Trump, some fans feel that national anthem protests are disrespectful; others resent seeing political messages and gestures during their leisure time and have threatened to boycott pro football.
An NFL boycott, however, doesn't seem too likely
Given those criticisms, there has been some talk of NFL fans boycotting the season. While some bars around the country are choosing not to show pro football, it doesn't seem like there will be a mass movement anytime soon.
During Week 1 of the season, TV ratings were somewhat of a mixed bag. As laid out by USA Today, some games, particularly the Saints-Buccaneers matchup, drew massive audiences; others, like the Sunday night's Rams-Cowboys contest, fell short of expectations.
Despite those changes, though, a large-scale NFL boycott doesn't seem to be on the cards. At the end of August, GamblersPick surveyed 1,003 NFL fans, trying to gauge their sentiments on Black Lives Matter, Colin Kaepernick, and similar issues. 88.6% of fans said that they would keep watching football, even if players "protest or show solidarity with BLM." 52.8% of the respondents, however, indicated that they would stop watching a particular team or player.
At the end of the day, though, we'll need more time to properly parse what's going on with sports ratings. With all four major sports playing at the same time, are fans overwhelmed? Has the pandemic inspired people to spend less time in front of the TV and more time with their families?
No matter what happens, though, one reality seems clear: even if some fans are driven away, the NFL, as of now, is simply too popular for there to be a widespread fan boycott.