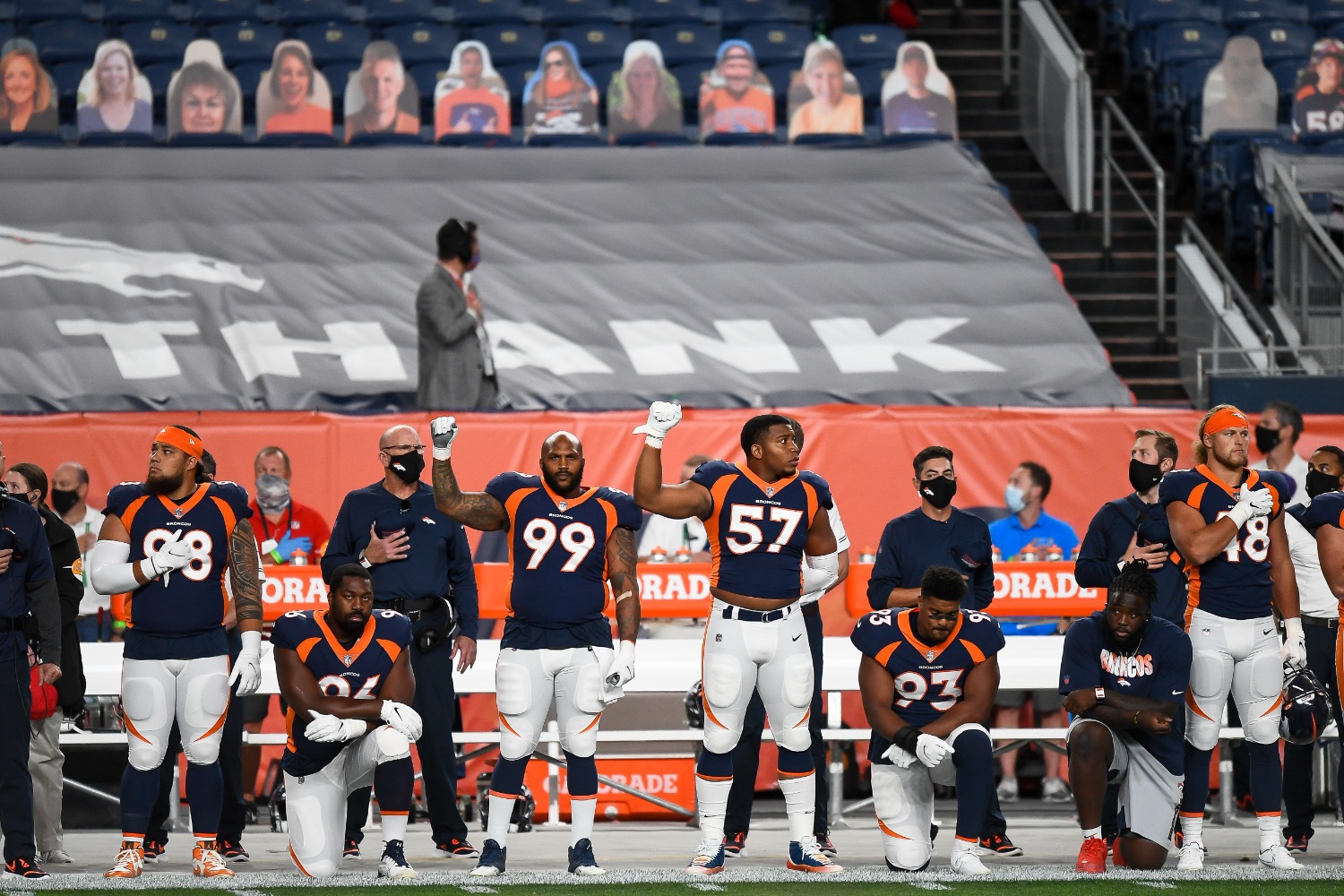 Donald Trump Just Sent a Crystal Clear Message to NFL Players Protesting National Anthem
On Tuesday, President Donald Trump sent a crystal clear message via Twitter to NFL players who have been protesting the national anthem.
When it comes to the topic of national anthem protests by NFL players, strong opinions exist on both sides. Some view kneeling during the anthem as a sign of disrespect to the military, flag, and the country. Others see it as a way to bring awareness to issues such as police brutality and racial inequality. In the case of Donald Trump, he has never been shy about expressing strong opinions about anthem protests.
Recently, the president took to Twitter to send a crystal clear message to NFL players about that very subject.
NFL players have been outspoken about national anthem protests
Four years ago, Colin Kaepernick drew widespread attention for kneeling during the national anthem. He did so in order to raise awareness about police brutality—a significant issue within the Black community. Though his peaceful form of protest essentially cost him his NFL career, Kaepernick inspired countless people to continue standing up (or in this case, kneeling) to send a message.
In the wake of George Floyd's death, the discussion about anthem protests intensified. The Jacob Blake shooting that occurred in August only added another layer to the conversation surrounding police brutality against the Black community.
As a result, NFL players have continued to speak up about social justice issues. Cam Newton sent a powerful message following the Blake shooting. So did Aaron Rodgers, who specifically cited the "systemic problem" that exists in our country.
In Week 1, many NFL players took a knee during the national anthem. Dontari Poe became the first player in Dallas Cowboys history to kneel as "The Star-Spangled Banner" played. The Miami Dolphins actually went back into the locker room instead of remaining on the field for the anthem.
Donald Trump hasn't been shy about sharing his views about anthem protests
NFL players and other athletes may view national anthem protests as effective, but Donald Trump does not support the measure. In fact, the president has been abundantly clear about where he stands when it comes to athletes kneeling or taking part in other forms of protest during the playing of the national anthem.
Just a few years ago, Trump said NFL players who protest the anthem should be fired. He described the act as "disgraceful" and said he was "ashamed" of the protests.
In June, after Drew Brees apologized for making insensitive comments about anthem protests, Trump criticized the New Orleans Saints QB on Twitter.
In his message, the president wrote, "I am a big fan of Drew Brees. I think he's truly one of the greatest quarterbacks, but he should not have taken back his original stance on honoring out magnificent American flag. OLD GLORY is to be revered, cherished, and flown high…"
Needless to say, Donald Trump's views on anthem protests certainly run counter to how some NFL players feel.
President Trump sends a crystal clear message to NFL players protesting the anthem
Following the first NFL Sunday, Donald Trump took to Twitter to send a crystal clear message to NFL players protesting the national anthem.
He wrote, "Players take knee, raise fist, stay in locker room, during National Anthem". @FoxNews No thanks, tell them to "protest" some other time!"
President Trump may want NFL players to "protest" at another time, but he stands little chance of having his wish come true.
The NFL has fully embraced the Black Lives Matter movement and has instituted several changes this season to draw attention to social justice causes. Players, coaches, and even Roger Goodell seem more motivated than ever to push for change.
Ironically, that all started because Kaepernick took a knee in 2016.
And while Donald Trump does not support anthem protests, expect NFL players and other athletes to continue kneeling to draw attention to key issues.
Like Sportscasting on Facebook. Follow us on Twitter @sportscasting19.