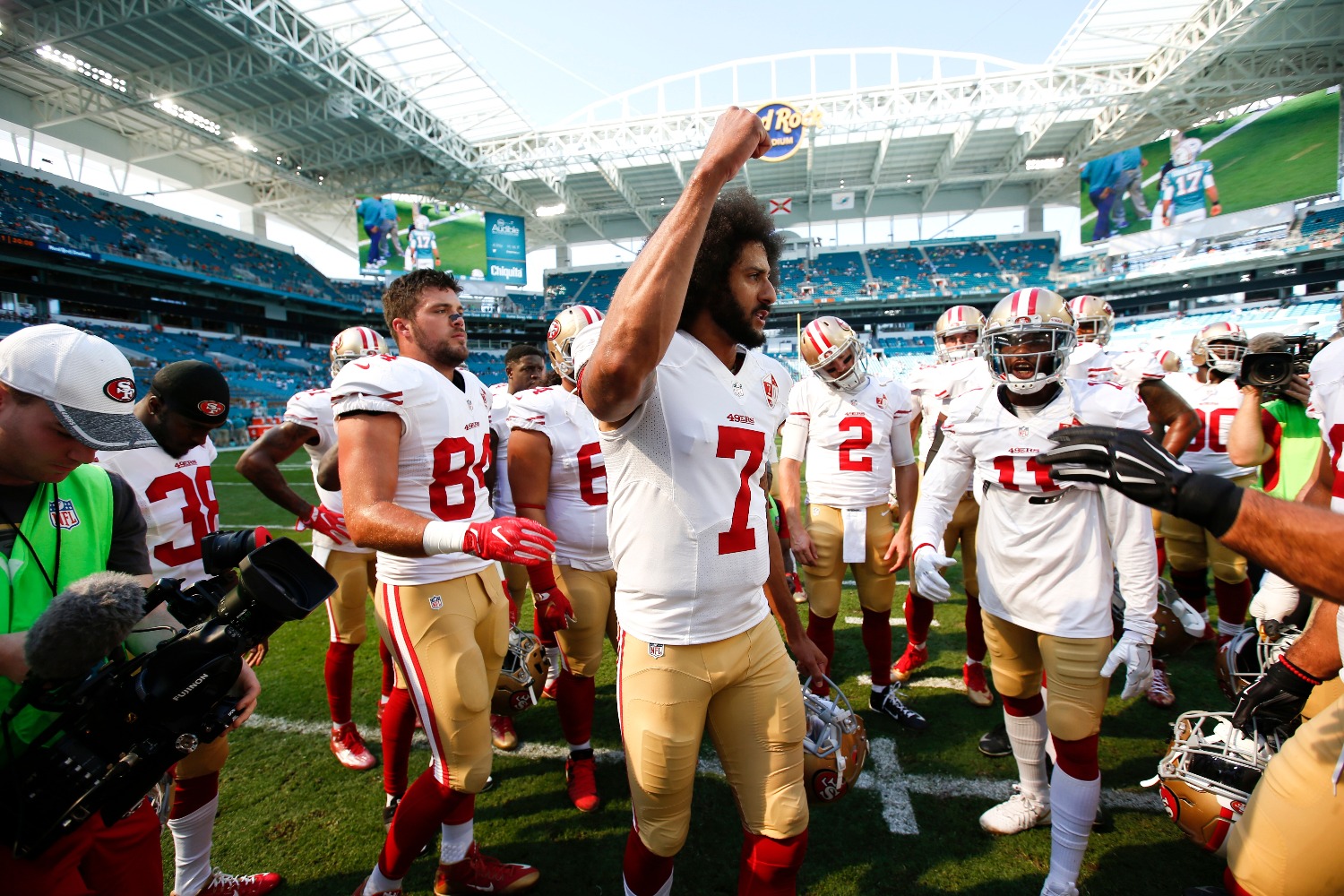 Colin Kaepernick Just Completed His NFL Comeback in an Unexpected Way
Colin Kaepernick has spent the last four years away from football, but he just completed his NFL comeback in an unexpected way.
Colin Kaepernick has not taken an NFL snap in four years. Yet, he still remains as popular as ever due to his activism efforts. The former San Francisco 49ers quarterback has generated little interest from NFL teams over the last few years. And despite recent support from players, coaches, and even Roger Goodell, he still hasn't scored a contract. Yet, Kaepernick just completed his NFL comeback on Tuesday in an unexpected way.
Colin Kaepernick went from starting for the 49ers to out of the NFL
The 49ers appeared to have found their franchise quarterback when they selected Colin Kaepernick 36th overall in the 2011 NFL draft. After sitting behind Alex Smith, he took over as the team's starting quarterback. Immediately, he provided a boost to the offense thanks to his dual-threat capabilities.
In his first full season as a starter, Kaepernick went 12-4 with 3,197 passing yards, 524 rushing yards, and 25 total touchdowns. Though his skills as a quarterback still needed refinement, he clearly showed he belonged as one of the NFL's 32 starters.
Yet, after taking a knee in 2016 to bring awareness to issues such as police brutality and racial inequality, Kaepernick cost himself his NFL career. Following a disappointing 2016 campaign in which the 49ers finished with a 2-14 record, he opted out of his contract. Kaepernick has never played another NFL down or signed a deal with another team.
In light of the social justice movement, he has received support from NFL players and coaches in his quest to make an on-field comeback. Still, no team has taken a flyer on the 32-year-old QB.
Kaepernick completes his NFL comeback in an unexpected way
On Tuesday, Colin Kaepernick completed his NFL comeback…sort of. EA Sports announced on its website that for the first time since 2016, Kaepernick will be featured in its Madden NFL video game. Despite not playing football for four years, the former 49ers quarterback is now the highest-rated free agent quarterback available in Madden NFL 21 with an overall rating of 81.
In a statement released via Twitter, the company explained its rationale behind adding Kaepernick back to the game.
"Knowing that our EA SPORTS experiences are platforms for players to create, we want to make Madden NFL a place that reflects Colin's position and talent, rates him as a starting QB, and empowers our fans to express their hopes for the future of football. We've worked hard with Colin to make this possible, and we're excited to bring it to all of you today."
Users can utilize Kaepernick in either Franchise or Play Now modes. In addition, by his own choosing, Kaepernick's big-play/touchdown celebration will feature him raising his first as a symbol of Black power, which he did during the 2016 NFL season.
While gaining his spot back in the digital form of football represents a massive win for the quarterback-turned-activist, it still does not change the fact that he does not have an NFL contract. But could that change?
Will an NFL team take a chance on the former 49ers QB?
It's been a busy year for Colin Kaepernick. From scoring major support from Serena Williams' husband to getting a board of directors seat with Medium to landing his own Netflix series, he has made tremendous progress in his activism journey.
However, his journey back to the NFL has featured little movement. Though he has been loosely connected to a few teams, none have pulled the trigger.
Considering some of the awful quarterbacks who have NFL jobs, it seems silly that Kaepernick has never received another chance to make a team. After all, his skill set would be ideal for teams like Seattle, Baltimore, and Arizona that employ mobile starting quarterbacks.
But in an offseason drastically altered by the COVID-19 pandemic, Kaepernick would have a difficult time learning a new system and making an impact in 2020. Ultimately, if he does make an on-field return, it probably won't come until next season, if ever.
Then again, it takes just one team to take a leap of faith.