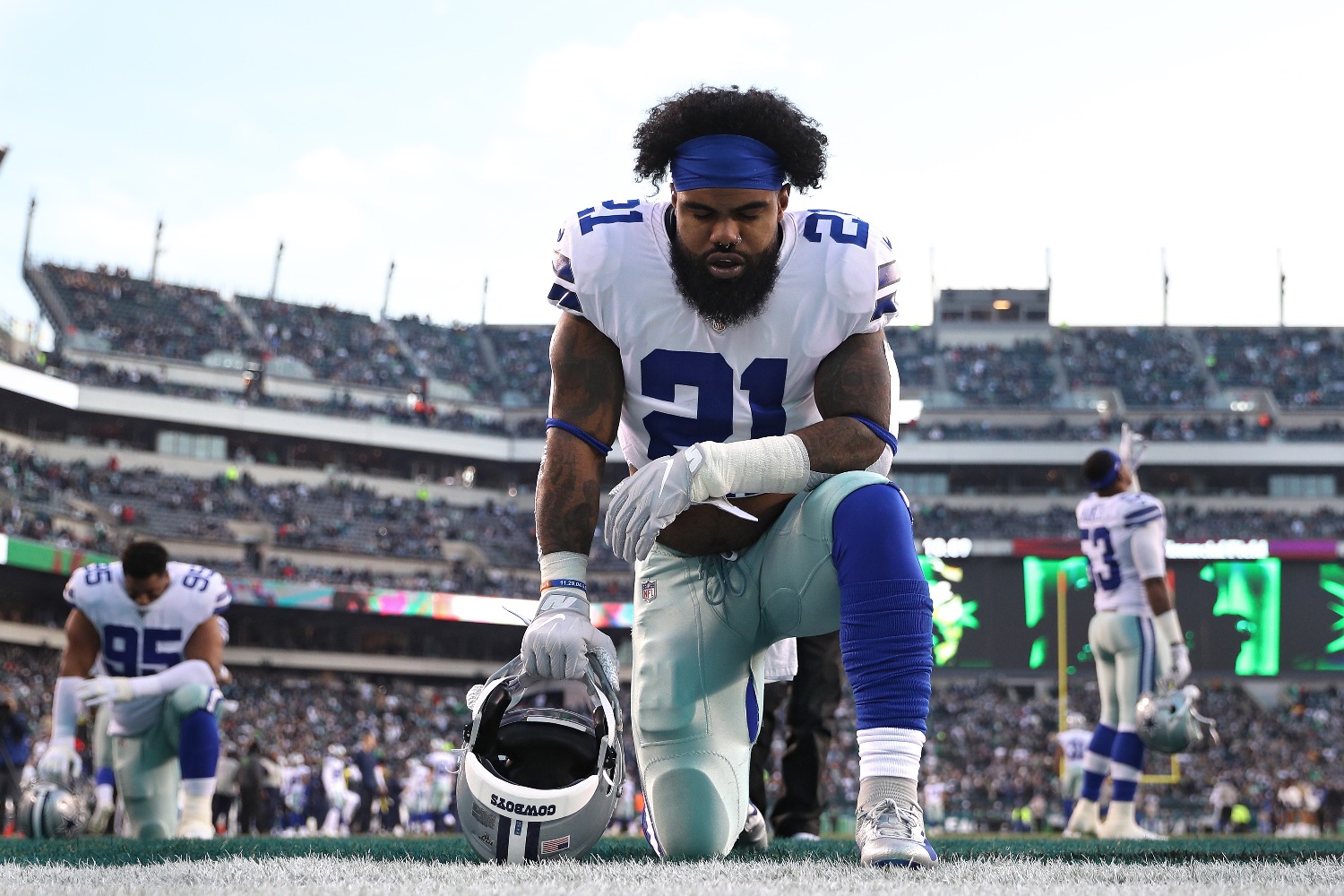 Ezekiel Elliott Just Revealed Cowboys' Anthem Protest Plan
Ezekiel Elliott just revealed the Cowboys' anthem protest plan. But will Elliott and his teammates be able to take down the Rams in Week 1?
In light of George Floyd's death and the Jacob Blake shooting, NFL players have expressed strong opinions about police brutality, social justice, and racial inequality. For many athletes, kneeling during the national anthem has become a popular form of peaceful protest. But for Dallas Cowboys players, deciding whether to take a knee during the anthem could be difficult given Jerry Jones' previous comments. However, Ezekiel Elliott just revealed the Cowboys' anthem protest plan.
Ultimately, no matter what happens before kickoff, Elliott and his teammates must stay focused on a formidable Week 1 opponent. After all, a team with legitimate Super Bowl potential cannot afford to stumble out of the gate in the first year of the Mike McCarthy era.
National anthem protests have been a big topic in the NFL this offseason
The topic of national anthem protests generates strong opinions in the NFL community. Last month, Green Bay Packers legend Brett Favre sent a strong message about NFL players kneeling as a form of peaceful protest.
"If one guy chooses to stand for his cause and another guy chooses to kneel for his cause, is one right and the other wrong?" Favre asked. "I don't believe so. We tend to be fixed on highs."
From the Cowboys' perspective, Jerry Jones already has at least one player who has declared his intention to kneel during the national anthem. Dontari Poe criticized Jones for staying silent following the death of George Floyd. He also reiterated his plan to take a knee during "The Star-Spangled Banner."
That could prove problematic given Jones has expressed his desire to obtain a similar compromise like the one he reached with his team in 2017. At that time, Jones joined Ezekiel Elliott and his teammates in kneeling before the anthem played. The Cowboys then stood with their arms locked during the anthem. It still remains to be seen whether Jones will fully support his players if they elect to kneel.
Ezekiel Elliott reveals Cowboys' anthem protest plan
As one of the Cowboys' biggest stars, anything Ezekiel Elliott says or does generates ample attention. On Tuesday, he revealed the Cowboys' anthem protest plan during an appearance on the Pro Football Talk PM podcast.
"I think we're going to have guys kneeling, we're going to have guys standing, and the biggest thing is that we're all supporting each other," Elliott said. "We're all supporting each other and that's what's going to bring us all together."
Of course, the big question remains: Will Jerry Jones be one of those supporters? According to Elliott, he thinks the Cowboys owner will back his players who engage in the peaceful form of protest.
"I think everyone in the locker room feels that we're going to get support from ownership, coaching staff, and from each other," Elliott explained. "I think everyone is going to feel free to express themselves however they choose to."
Elliott and his teammates face a major challenge in Week 1
No matter if one player kneels or the entire team does, Ezekiel Elliott and the Cowboys cannot afford to lose focus as they begin their season Sunday night. Once kickoff begins, Dallas will have to contend with an LA Rams team that features plenty of star power of its own.
While the Cowboys boast arguably the best offensive line in football, the Rams counter with a terrific defensive line anchored by Aaron Donald. The two-time Defensive Player of the Year no longer has to face Travis Frederick, who abruptly retired in March. Joe Looney will be tasked with slowing down the defensive tackle who has earned five consecutive first-team All-Pro selections.
On offense, the Rams no longer feature Todd Gurley. However, the team returns a solid set of weapons for Jared Goff, including Cooper Kupp, Robert Woods, and promising rookie Van Jefferson. Dallas counters with a potentially dominant defensive line headlined by DeMarcus Lawrence and former Vikings star Everson Griffen.
The Cowboys have the talent on both sides of the ball to compete for a Super Bowl title. It will be critical to get off to a fast start Sunday night, no matter what happens before the first whistle blows.
Like Sportscasting on Facebook. Follow us on Twitter @sportscasting19.