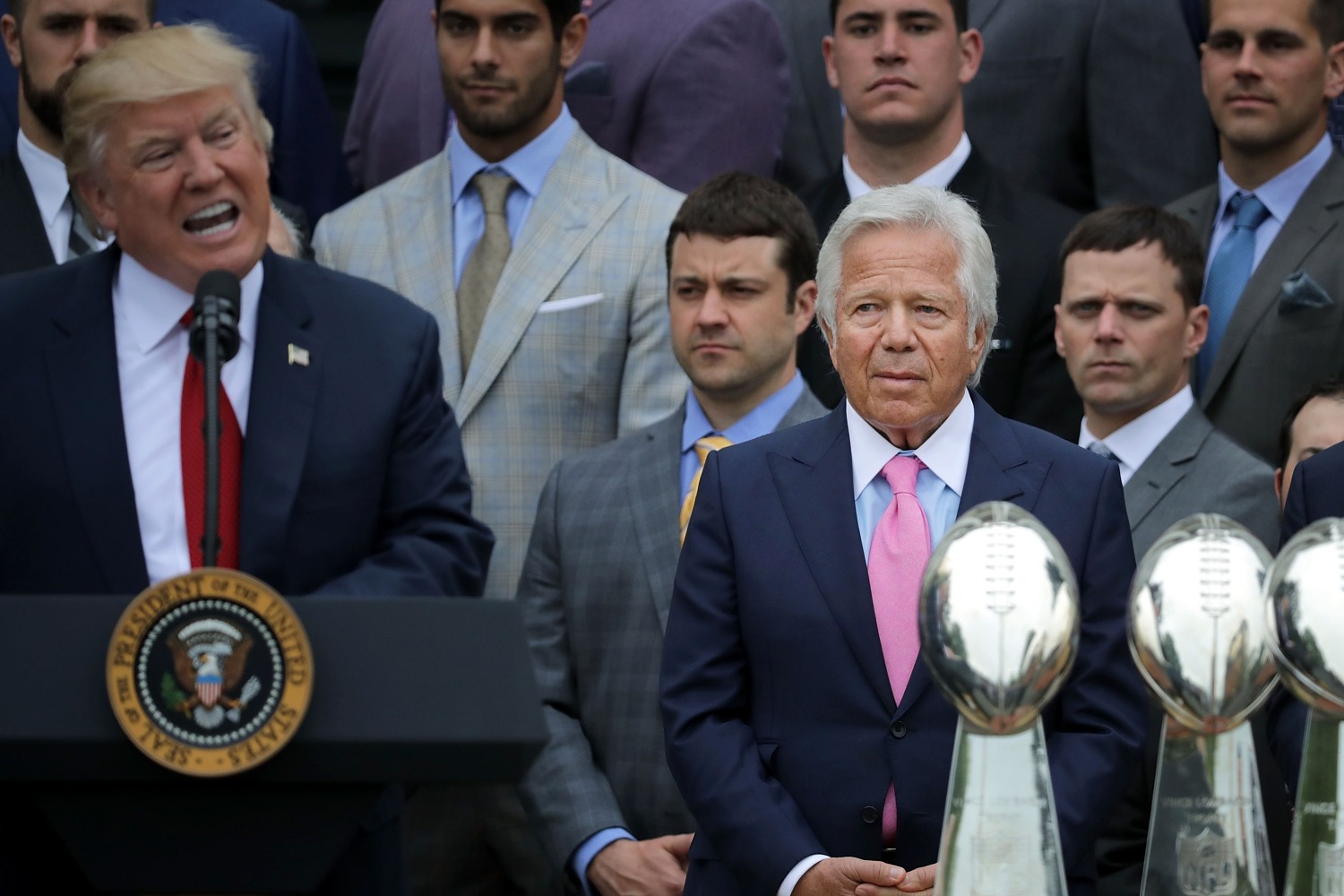 Donald Trump Just Fired a Warning Shot at the NFL by Blasting the NBA
Will NFL players follow in NBA players' footsteps by protesting and speaking up after Donald Trump fired a warning shot at the league?
Donald Trump certainly has never been shy about expressing his opinion. And when it comes to sports—particularly the conversation surrounding players kneeling during the national anthem—the president has made it quite clear where he stands. However, with the social justice movement gaining further traction after the Jacob Blake shooting, NBA players have refused to just "shut up and dribble" as the playoffs continue.
That has not been lost on Trump, who took to Twitter to blast the NBA while also firing a warning shot at the NFL, and by extension, NFL players. But in a league full of dedicated advocates for social change, his words could fall on deaf ears.
NBA players have refused to "shut up and dribble"
The NBA is a star-driven league. So it should come as no surprise that players like LeBron James and Steph Curry have vocalized their opinions about issues such as police brutality, racial inequality, and social justice.
In a year where George Floyd and Jacob Blake have become recognizable names, NBA players have used their words and actions to raise awareness and effect change.
In June, James scored a $100 million investment to launch a media company dedicated to letting Black voices be heard. The LA Lakers star also refused to stay silent about social justice after his team clinched the No. 1 seed earlier in August.
"You think about 8 minutes and 46 seconds, an officer having his knee on someone's throat for that long. Video or no video, it doesn't matter," James said. "No one deserved to lose their life when it could have been prevented from what I've seen and from what the world has seen."
Of course, NBA players have also taken a knee during the national anthem this season. That led to some strong comments from Donald Trump, who said anytime he witnesses a player kneeling during the anthem "the game is over for me!" J.J. Reddick fired back by saying he couldn't care less about losing a spectator like Trump.
NFL players continue to speak up about social justice issues
Though NFL players have yet to begin their season, that has not stopped them from speaking up about social justice, either. In fact, some of the league's biggest stars have delivered powerful statements about police brutality and the criminal justice system.
Following the Blake shooting, Cam Newton sent a powerful message about what needs to change in our country.
"What's going on in this country of ours at times is extremely disgusting," Newton said. "And until we find a fix, then more than ever we have to unify as one as much as possible. From the Black Lives Matter campaign to the social injustice, bringing awareness with that, to just everybody becoming more aware of certain things, and not necessarily turning their ear, turning their face with things that are extremely blatant."
Aaron Rodgers also weighed in on the Blake shooting. The Green Bay Packers star provided a blunt assessment of the situation.
"There's a systemic problem, and until the problem is fixed, this is going to be an all-too-common sighting in this country," Rodgers said.
Plus, the topic of kneeling during the national anthem has continued to generate ample discussion. Jerry Jones may seek a compromise similar to the one he got in 2017, but several Dallas Cowboys players have already expressed a desire to kneel this season. The 77-year-old owner could have a huge problem on his hands if his players follow through with their anthem protest plan.
Donald Trump fires warning shot at NFL by blasting the NBA
With NBA and NFL players expressing their opinions in such public fashion, that has not sat well with Donald Trump. In fact, the president fired a warning shot at the NFL while blasting the NBA in a tweet on Tuesday.
Trump wrote, "People are tired of watching the highly political @NBA. Basketball ratings are WAY down, and they won't be coming back. I hope football and baseball are watching and learning because the same thing will be happening to them. Stand tall for our Country and our Flag!!!"
According to Sports Media Watch, NBA TV ratings have fallen short compared to last year's numbers. However, millions still tune in to watch the playoffs, especially in a year where fans cannot attend games in-person.
With the 2020 NFL season right around the corner, it will be interesting to see if players and the league as a whole take Trump's tweet into consideration. The NFL has already implemented a new policy that will allow players to wear the names of police brutality victims on their helmets. Plus, all end zones will feature two slogans this season: "It Takes All of Us" and "End Racism."
In addition, players may do more than just kneel during the anthem. Some have even discussed boycotting games, which would certainly send a strong message. Ultimately, Donald Trump does not have any control over how athletes express themselves. Expect plenty of NFL players, and athletes from other leagues worldwide, to continue speaking up about social justice no matter how it affects TV ratings.
Like Sportscasting on Facebook. Follow us on Twitter @sportscasting19.