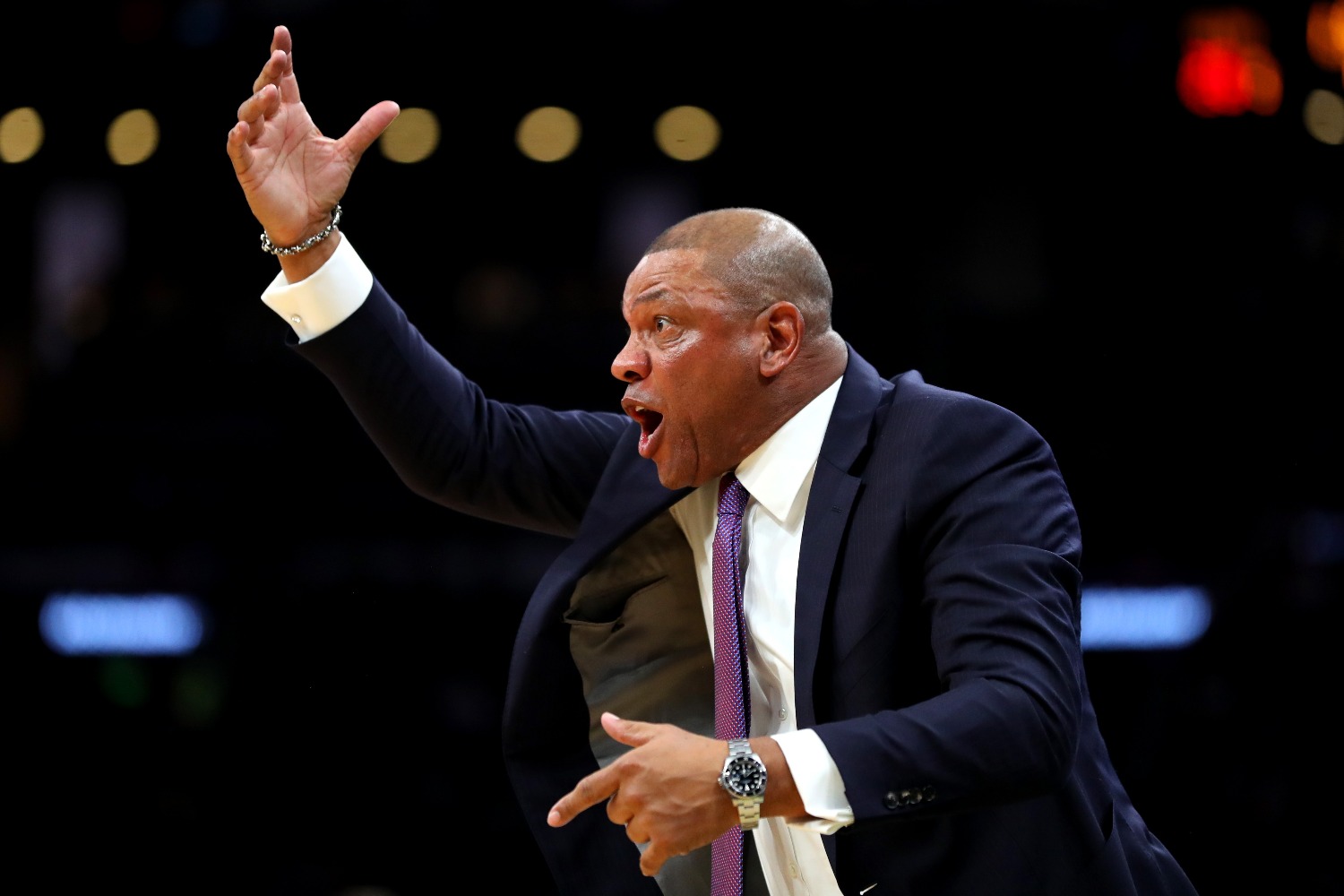 Doc Rivers Just Sent a Powerful Message to Donald Trump About Voter Suppression
Clippers coach Doc Rivers filed a veiled shot at Donald Trump over the voting suppression controversy in the United States.
Doc Rivers gets paid to coach basketball. But the man who captured an NBA title with the Boston Celtics has also never been afraid to use his platform to speak up on key issues. So it should come as no surprise that the LA Clippers head coach sent a powerful message to Donald Trump over the voter suppression controversy that has captivated the nation.
However, Rivers also has another adversary to worry about as the NBA playoffs get underway.
Doc Rivers hasn't been afraid to criticize Donald Trump
Let's just say Doc Rivers has not been afraid to vocalize his opinion about Donald Trump. Recently, the president shared his thoughts on NBA players kneeling during the national anthem. Trump called the act "disgraceful" and said he turns off a game when he sees players kneel, which he views as disrespecting the flag and the anthem.
As one of the most respected voices in the NBA, Rivers responded to Trump's comments with a strong stance of his own while speaking to the media on Aug. 5.
"We lost one guy. Like really, I don't even care," Rivers said. "We know that justice is on our side, right?"
Rivers made his remarks while donning a hat with "VOTE" on the front. He explained that the word signifies "what our president is trying to get us to not do" and that he finds that to be just as disgraceful as players kneeling.
However, that wouldn't be the last time Doc Rivers disagreed with Donald Trump.
Clippers coach sends strong message to Trump
Just over a week after speaking up about NBA players kneeling, Doc Rivers once again found himself in the midst of another Donald Trump-related discussion. In a recent interview, the president stated that he opposes funding the USPS because it would lead to more mail-in votes. Some people view that measure as a form of voter suppression.
Whether that is the case or not, Rivers sent a powerful message to Trump with some strong words about voter suppression while speaking to reporters on Thursday.
"It's funny, I've been sending mail out all my life and it's never been a problem. Now all of a sudden, it's a problem," Rivers said. "This is not new. Voter suppression has been happening my entire life. And it's been done by the same people to the same people."
Rivers added, "So it's something that someone, and I'm just gonna say it that way, wants us to believe that's not there."
The veiled shot at Trump illustrates the frustration that some Americans feel. For those who depend on mail-in voting, the issue of USPS funding could have drastic effects on their ability to participate in the upcoming election. On the other hand, mail-in voting could result in voting fraud. Overall, the voter suppression issue certainly sparks an interesting conversation.
But for Doc Rivers, his eyes should be set on another adversary other than Donald Trump. After all, his job depends on it.
Rivers has a new adversary to worry about on the court
The Clippers finished the abbreviated NBA season as the No. 2 seed in the Western Conference. They will take on the Dallas Mavericks in the first round of the NBA playoffs. While the Clippers went 4-3 since the NBA returned to action, the Mavericks posted a 3-5 record.
Dallas lost its final two games, including a 128-102 route against the Phoenix Suns. The Mavericks feature two terrific talents in Luka Doncic and Kristaps Porzingis. The former averaged 28.8 points, 9.4 rebounds, and 8.8 assists in an MVP-caliber campaign. The latter averaged 20.4 points and 9.5 rebounds after missing the entire 2018-19 season.
Rivers' team boasts a two-headed tandem in Kawhi Leonard (27.1 points per game) and Paul George (21.5 points per game). LA also has two players averaging more than 18 points per game in Lou Williams and Montrezl Harrell.
Ultimately, the Clippers should prevail in the series with Leonard and George headlining a star-studded matchup. Then again, Doncic has the rare ability to completely take over a game at any moment. Let's just see if Doc Rivers has an answer for one of the NBA's top young superstars.