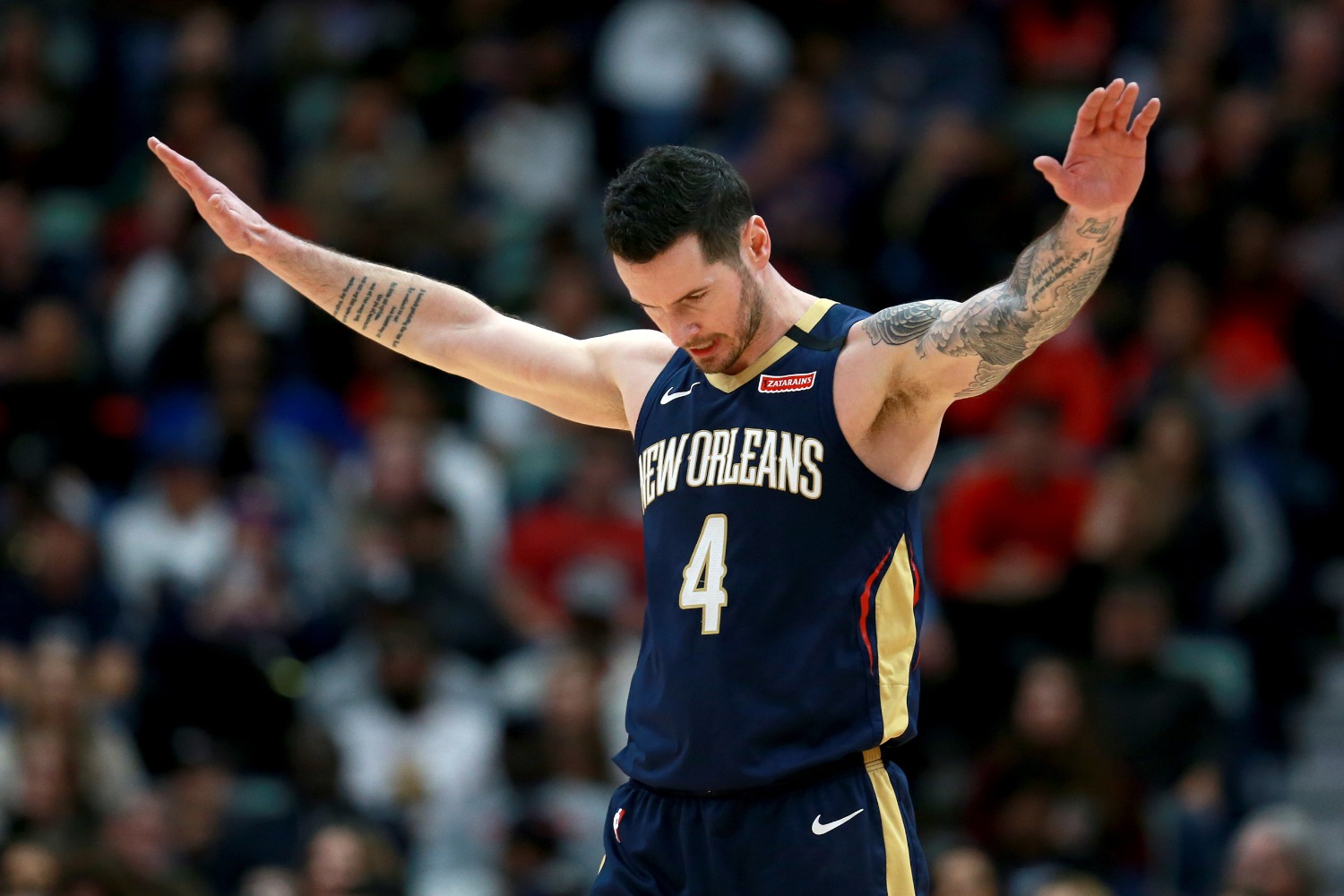 JJ Redick Slams Donald Trump's Stance on Not Watching Basketball
New Orleans Pelicans guard JJ Redick slammed Donald Trump for his stance on not tuning in to watch basketball if players kneel.
JJ Redick has seen a lot in his lengthy NBA career. The sharpshooting guard entered the league at a time when Donald Trump made headlines as a reality TV star rather than as the president of the United States. With the NBA season resuming on Thursday, the New Orleans Pelicans guard slammed Trump's stance on not watching basketball.
And while Redick spent a few moments speaking about the president, he and the Pelicans have bigger problems to worry about on the court if they plan on contending for an NBA championship.
JJ Redick is a widely respected NBA veteran
As one of the greatest players to ever suit up for Mike Krzyzewski, JJ Redick became a legend at Duke University. Arguably the greatest 3-point shooter in college basketball history, Redick took his talents to the NBA after being named the best player in college basketball in his final season with the Blue Devils.
Selected 11th overall by the Orlando Magic, the 3-point specialist spent the majority of his time coming off the bench. Still, he earned plenty of respect as a clutch shooter and capable defender.
However, Redick's career really took off when he landed with the Los Angeles Clippers. He became a full-time starter right as he approached age 30. Since joining LA in 2013, he has developed into one of the NBA's top 3-point shooters while playing a valuable role as a veteran leader.
Redick took on that role with the Philadelphia 76ers. As the elder statesman on a team chock-full of young talent, he became an invaluable member of a team with title dreams. Of course, the 76ers failed to live up to their potential.
The outspoken veteran signed with the Pelicans last summer. New Orleans has an intriguing young core built around Zion Williamson, Brandon Ingram, and Lonzo Ball, so having a player with Redick's experience and maturity certainly gives the Pelicans a valuable asset on and off the court.
Redick slams Donald Trump for his stance on not watching basketball
With the NBA season resuming Thursday night, that gave sports fans a huge morale boost. After all, the COVID-19 pandemic put sports on pause and has led to widespread changes across all leagues. However, even without live sports, the topic of the national anthem and kneeling has still persisted.
The issue has become even more prominent in light of the Black Lives Matter movement and the death of George Floyd. Colin Kaepernick first peacefully protested police brutality in 2016 by taking a knee during the national anthem. Since then, countless athletes have joined Kaepernick in kneeling during the playing of "The Star-Spangled Banner."
Donald Trump has never been shy about voicing his displeasure for athletes kneeling during the anthem. In July, he published a tweet that said, "Looking forward to live sports, but any time I witness a player kneeling during the National Anthem, a sign of great disrespect for our Country and our Flag, the game is over for me!"
Last night, all four teams that played, which included the Pelicans, Clippers, Los Angeles Lakers, and Utah Jazz, kneeled around the Black Lives Matter logo on the court. While that may not have pleased the president, that didn't matter to JJ Redick.
"First of all, I don't think anybody in the NBA cares if President Trump watches basketball. I couldn't care less," Redick told Yahoo Sports on Thursday night after a 106-104 loss to the Jazz. "As far as his base, I think regardless of the specificity of tweeting about the NBA, every tweet of his is meant to divide, every tweet is meant to incite, every tweet is meant to embolden his base. So [last week] was no different."
Redick's comments about Trump's stance on not watching basketball certainly raised some eyebrows. But for the Pelicans, bigger issues exist from a basketball perspective that could jeopardize their NBA title dreams.
The Pelicans have bigger issues to worry about than Trump
If JJ Redick and the Pelicans plan on making a legitimate title run, they will have to get better performances out of their starters. Ball scored just four points on Thursday and committed three turnovers. Brandon Ingram shot 35% from the field and missed a number of big shots down the stretch.
Plus, Zion Williamson played just 15 minutes as the team takes it slowly with their young star. Can New Orleans make a title run with Zion's minutes restricted? How will his conditioning improve as the season goes on?

Ironically, Redick was the Pelicans' best player on the floor Thursday night. His 21-point performance showed that the 36-year-old still has something left in the tank. And if JJ Redick can continue to provide sound leadership and clutch shooting, the Pelicans stand a much better chance of succeeding this season no matter who's watching.