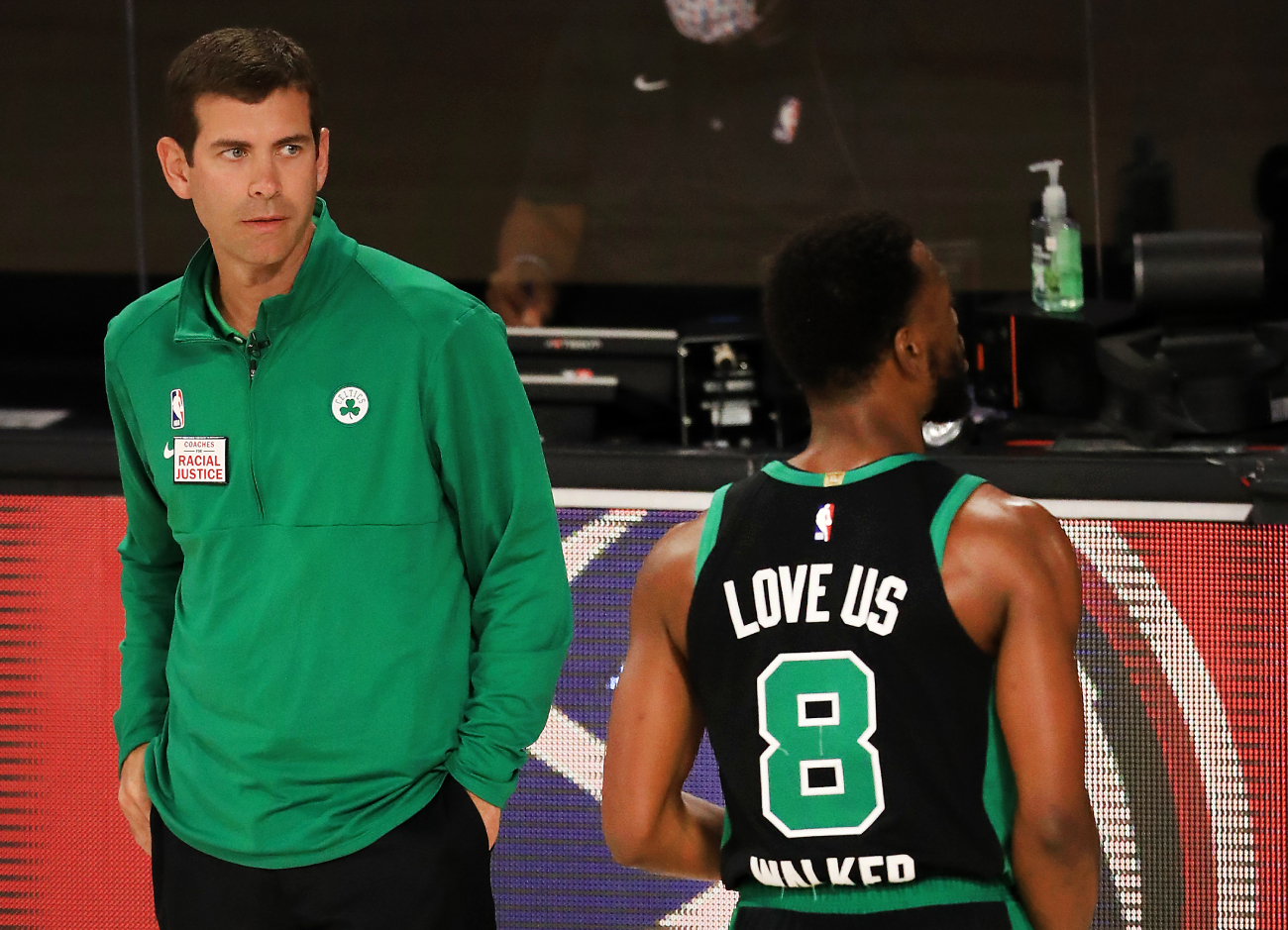 Danny Ainge Comments on Brad Stevens During Boston Celtics' Playoff Collapse
Boston Celtics general manager Danny Ainge is backing coach Brad Stevens despite the team's recent playoff collapse.
The Boston Celtics are one game away from being eliminated from the Eastern Conference Finals. The fifth-seeded Miami Heat hold a 3-1 series edge over the third-seeded Boston Celtics, who have completely fallen apart. The Celtics have blown multiple double-digit leads, including a 14-point lead in the fourth quarter of the series opener. Many have pointed the finger at Boston coach Brad Stevens. Celtics GM Danny Ainge offered his thoughts on the coach.
The Celtics have blown significant leads
Have the Boston Celtics choked or have the Miami Heat earned this 3-1 series lead? Boston has made a habit of watching double-digit leads evaporate in the series and are now one game away from elimination. In Game 1, the Celtics held a 13-point lead early and then led by 14 in the fourth quarter, only to lose 117-114.
The Celtics outdid themselves in Game 2 as they blew a 17-point lead en route to a 106-101 loss. Boston was outscored 37-17 in the third quarter. It was another embarrassing loss by the Celtics. Boston coach Brad Stevens said the reason for the loss was that his team wasn't playing well on both ends of the court.
"We pulled apart and we didn't play well," Stevens said, according to ESPN. "And they did a good job. We're not beating this team if we're not completely connected on both ends of the court. So, got to get back to being that, which we've been at times. But right now, they're a better team. We're going to have to fight to get back in this series."
Boston's frustrations boiled over after Game 2
After the Boston Celtics blew their second double-digit lead to trail 2-0 in the series, emotions ran high in the Boston locker room. According to The Athletic's Shams Charania, Marcus Smart and Jaylen Brown had a heated conversation.
"Sources told The Athletic that Smart stormed into the Celtics postgame locker room saying that other players needed to be held accountable and not simply point the finger toward him when things are going wrong," Charania wrote. "As Smart continued and his voice grew louder, sources said Brown snapped back and shouted that Celtics players must stay together and that their actions must come as a team, not individually, and that Smart needed to cool off."
With multiple double-digit leads being blown and tension in the locker room, fingers were pointed at Boston coach Brad Stevens. Stevens has taken some heat for not having control over his players. He's also been criticized for not making in-game adjustments.
Danny Ainge puts no blame on Brad Stevens
During an appearance on 98.5 The Sports Hub's "Toucher and Rich" radio show Thursday, Danny Ainge was asked if he was disappointed in Stevens in any way. "Not even a little bit," Ainge said. "Last night, we had so many good stretches in the course of the game, you can see that our players are prepared. It's just being able to sustain it. The turnovers, there were so many of them that were just unforced turnovers. And so that is frustrating. I've always been a person that has taken blame as a player."
Ainge brought up his time as a coach in the NBA. "I've coached in the NBA and understand how hard coaching is," Ainge said. "I've sat on the bench watching one of my players shoot free throws, and thinking, 'If he makes these free throws I'm a great coach and if he misses I'm a terrible coach,' and it's just obviously not the way. That's just the way that we look at it sometimes. If we had squeaked out a win last night we don't question anything, but when you lose by three points, you question everything."
Ainge said Stevens is taking the losses very hard. "I know Brad is the first one to take responsibility and accountability for us not playing well," said Ainge. "He got the least amount of sleep as anybody last night."