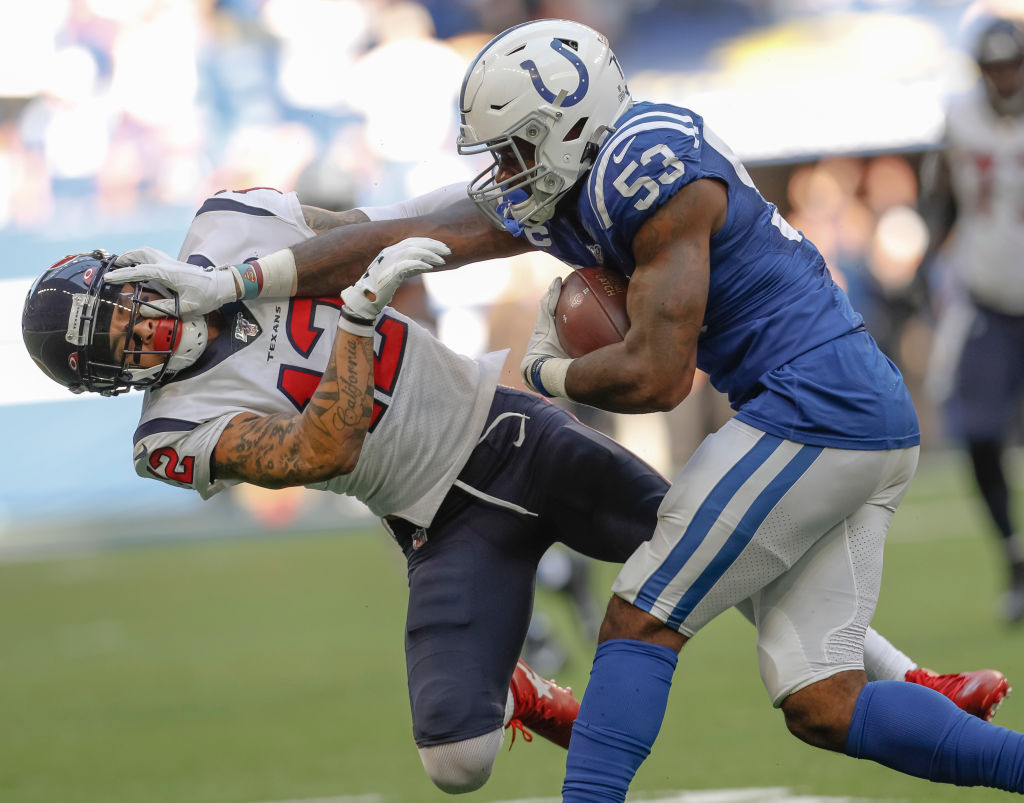 Darius Leonard Tops Best Small-School NFL Draft Picks Since 2015
Darius Leonard came from a small school but has delivered big results. He's one of the best small-school NFL draft picks since 2015.
When scouting for the NFL draft, everyone knows about the star players from Alabama, Ohio State and Georgia. Big schools often compete in big games and get far more exposure than their smaller counterparts. And while it can be easy to evaluate players from traditional powerhouses, finding small-school standouts is the real challenge.
Every year, a few small-school players become household names once they get an NFL opportunity. While many players from smaller programs have to settle for a free-agent contract, others have been lucky enough to get drafted.
Indianapolis Colts linebacker Darius Leonard perfectly exemplifies how a small-school standout can become a big-time NFL star. Let's take a look at the five best small-school NFL draft picks since 2015.
Cooper Kupp, WR, Los Angeles Rams
Since the day he stepped foot on campus at Eastern Washington, all Cooper Kupp has done is catch passes. The Washington native stepped into a starting role as a true freshman, broke records and won the Jerry Rice Award, which is given to the top freshman player in the Football Championship Subdivision (FCS). By the time he graduated, Kupp had totaled 428 catches, 6,464 receiving yards and an FCS-record 73 touchdowns.
Despite a ridiculous track record of production, Kupp's physical testing numbers did not impress. He ran a 4.62 40-yard dash and managed just a 31-inch vertical jump. Kupp slid to the third round of the 2017 NFL draft, where the Rams smartly scooped him up.
The 6-foot-2, 208-pound wideout made an immediate impact with 62 catches, 869 yards and five touchdowns as a rookie. He unfortunately tore his ACL in 2018 before storming back with a 94/1,161/10 line last season. Not only is Kupp one of the best small-school draft picks in NFL history but he is also one of the best receivers in the league right now.
Ali Marpet, OL, Tampa Bay Buccaneers
A second-round pick in the 2015 NFL draft, Ali Marpet displayed all the physical tools necessary for the NFL level. However, there were valid questions about the level of competition he faced at Division III Hobart College. The 6-foot-4, 307-pounder has more than answered those in his five-year NFL career.
A day-one starter in Tampa, Marpet has played all along the interior. After filling in at center in 2017, he shifted to left guard, where he has started 32 consecutive games. Offensive linemen may not get a ton of recognition, but Marpet deserves a spot on this list as one of the best at his position.
Aaron Jones, RB, Green Bay Packers
The Green Bay Packers routinely find talented small-school players in the mid- and late-rounds. They did it again in the fifth round of the 2017 NFL draft by selecting University of Texas at El Paso running back Aaron Jones. Though small in stature, he has more than elevated his game at the next level.
Operating in a rotational role, Jones averaged 5.5 yards per carry as a rookie before earning more playing time in 2018. However, his breakout 2019 campaign deserves much more attention. Jones started all 16 games, racked up more than 1,500 total yards, and tied for the league lead with 16 rushing touchdowns. Another big year should lead to a big payday for the small-school running back.
Matt Judon, LB, Baltimore Ravens
Grand Valley State isn't exactly known for producing elite NFL talent. However, Matt Judon is the exception to that rule. The lengthy edge rusher impressed at the combine with his combination of speed (4.73) and strength (30 reps on the bench press). Surprisingly, the Baltimore Ravens spent two earlier picks on the same position before taking a shot on Judon in the fifth round.
Fortunately for the Ravens, Judon ended up developing into the best of the bunch. The 6-foot-3, 261-pounder went from a situational pass-rusher to a full-time starter and rewarded Baltimore for its patience. Judon racked up eight sacks in 2017, seven more in 2018 and hit a career-high with 9.5 last season. The Ravens just utilized the franchise tag on their top pass-rusher, which means he's in line for a serious raise in 2020.
Darius Leonard, LB, Indianapolis Colts
When it comes to small-school draft selections, no one has been more impressive than Darius Leonard. Blessed with speed, physicality and intelligence, the former South Carolina State star overcame concerns about his size and has turned out to be one of the most well-rounded linebackers in the NFL.
The 36th overall pick in the 2018 NFL draft, Leonard's rookie season will go down as one of the most impactful in NFL history. The 6-foot-2, 230-pounder led the NFL with 163 tackles while also adding seven sacks, four forced fumbles, two interceptions, and eight passes defended. Leonard proved he wasn't a fluke by following up with another sterling season in 2019 with 121 tackles, five sacks and five interceptions.
With two seasons under his belt, the two-time All-Pro has already established himself as an elite linebacker and the best small-school player to emerge from the NFL draft in the last five years.