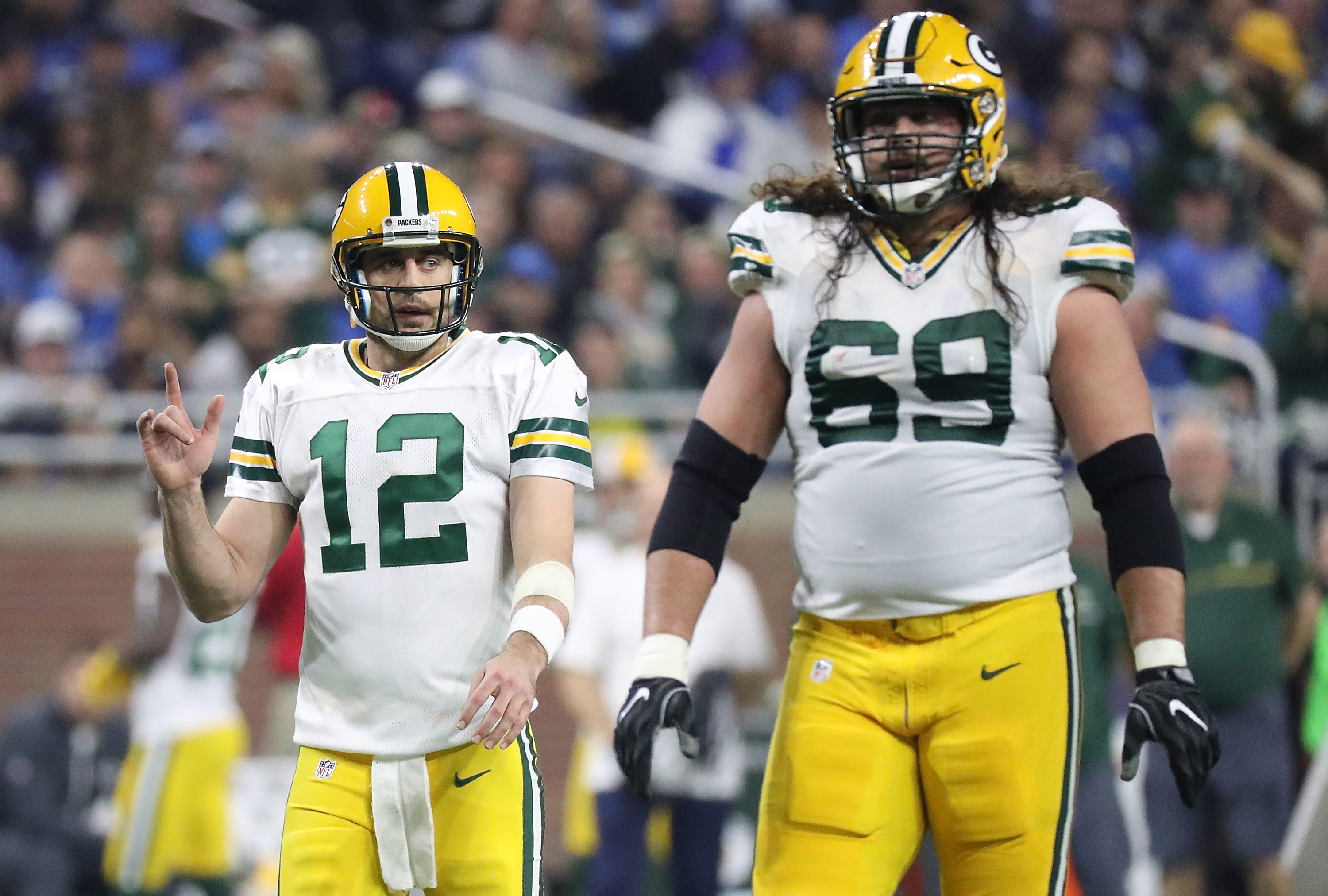 David Bakhtiari Doesn't Hold Back In Blasting the NFL After Aaron Rodgers Injury
Green Bay Packers offensive tackle David Bakhtiari had plenty to say after his former teammate, Aaron Rodgers, went down with a season-ending injury Monday.
David Bakhtiari spent plenty of years with the Green Bay Packers protecting quarterback Aaron Rodgers. The veteran offensive tackle took care of his QB and good friend during their 11 years together as NFL teammates. Even though Rodgers left to play for the New York Jets this year, Bakhtiari was still in protective mode Monday after Rodgers went down with a season-ending Achilles injury by blasting the NFL.
David Bakhtiari slams the NFL on social media after Aaron Rodgers injury
Just four snaps into his first season with the New York Jets, Aaron Rodgers suffered a season-ending injury. He was sacked by Buffalo Bills defensive end Leonard Floyd during New York's first series of the game. Bakhtiari was quick to point out that Rodgers' injury was artificial turf-related.
"WTF!!!! That injury is TURF related," Bakhtiari posted to X (formerly Twitter) at 9:04 p.m. "Can we put an end to this s*** already."
Six minutes later, he blasted the NFL for not playing all games on grass.
"Congrats @nfl. How many more players have to get hurt on ARTIFICIAL TURF??!" he wrote. "You care more about soccer players than us. You plan to remove all artificial turf for the World Cup coming up. So clearly it's feasible. I'm sick of this..Do better!"
Bakhtiari pulled out all the stats regarding turf vs. grass
Bakhtiari wasn't done after ripping the NFL. He backed up his argument with stats. He posted a graphic of injury rates on turf against injury rates on grass to prove his point.
Bakhtiari has been vocal about turf fields before, and he's not alone. Back in 2020, the San Francisco 49ers had several players go down with an injury on turf. In fact, that game was also played against the Jets at MetLife Stadium.
 Nick Bosa, Jimmy Garoppolo, Raheem Mostert, and Solomon Thomas all suffered leg injuries in that game. According to CBS Sports, Niners coach Kyle Shanahan said there were "as many knee injuries and ankle stuff and people getting caught on the turf that I've ever been a part of."
Playing on turf has always been a controversial topic, and most players are against it. Bakhtiari made that loud and clear Monday night.