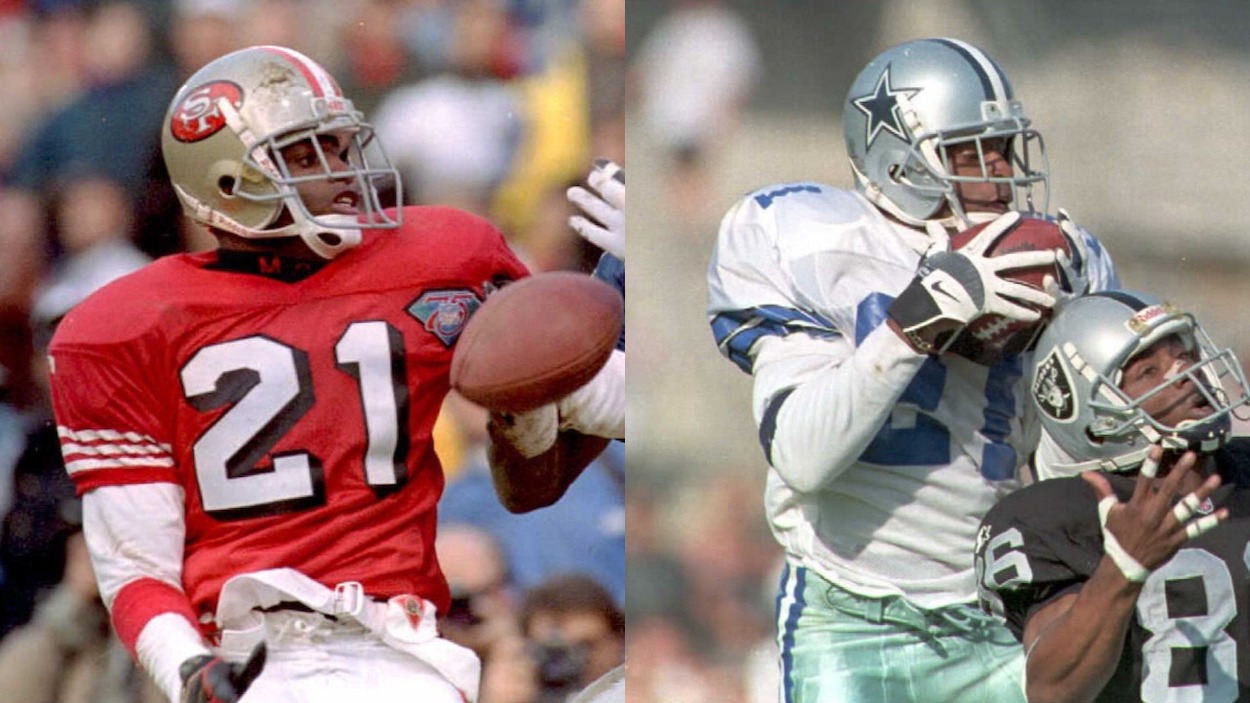 Was Deion Sanders Better for the Dallas Cowboys or San Francisco 49ers?
Hall of Fame CB Deion Sanders won Super Bowls with both the Dallas Cowboys and San Francisco 49ers, but which team got the better Prime Time?
Neon Deion. Prime Time. Leon Sandcastle. No matter what you call him, the fact is, Hall of Famer Deion Sanders is one of the best cornerbacks in NFL history and one of the most exciting players the game has ever seen. As two of his former teams, the Dallas Cowboys and San Francisco 49ers, face off during 2021's Super Wild Card Weekend, let's look at Sanders' career and decide whether he was better with the Cowboys or 49ers.
Deion Sanders career
Deion Sanders burst onto the scene in 1985 as a cornerback and punt returner for Bobby Bowden's Florida State Seminoles. During his four years in Tallahassee, Sanders intercepted 14 balls and took three back for touchdowns, including a 100-yard return his Freshman season.
He also returned punts for the 'Noles. In his four seasons, Sanders returned 126 punts for 1,429 yards and scored three touchdowns. His work at FSU earned him Consensus All-American honors in 1987 and 1988 and the Jim Thorpe Award for the nation's best defensive back in '88.
The Atlanta Falcons selected Sanders No. 5 overall in the 1989 NFL Draft. 
He became a superstar and played 14 NFL seasons for the Falcons, San Francisco 49ers, Dallas Cowboys, Washington Football Team, and Baltimore Ravens (returning for this last stint after a three-year retirement).
On his way to enshrinement in the Pro Football Hall of Fame, Sanders made eight Pro Bowls, received six All-Pro nods, and won two Super Bowls (one with the 49er and one with the Cowboys). He also finished with 53 interceptions, nine defensive touchdowns, and nine punt/kickoff TDs.
And, just for good measure to prove that he is one of the best athletes in the history of American athletics, Sanders also played nine years of Major League Baseball. The centerfielder finished his career with a .263 average, 39 home runs, 168 RBI, and 186 stolen bases.
Prime Time in San Francisco 
During Deion Sanders' first five seasons in the NFL — despite three Pro Bowl and two All-Pro appearances — the Atlanta Falcons weren't very good. The team was 30-50 with just one winning season and a single playoff berth.
In 1993, Sanders became a free agent and decided to take his talents to the Bay Area and sign a one-year, $1.13 million contract with the San Francisco 49ers.
What followed was arguably the best season of Sanders' career.
Prime Time lived up to his nickname, becoming the best player on a star-studded defense stocked with Pro Bowl and All-Pro players. The '94 49ers defense included Rickey Jackson, Dana Stubblefield, Bryant Young, Ken Norton Jr., and Charles Mann in the front seven. The Sanders-led backfield featured Merton Hanks, Tim McDonald, and Eric Davis.
During the season, Sanders tied his career-high in INTs with six and nearly doubled his career-best INT return yards with 303. He also scored a career-high three defensive TDs. This performance won Sanders his first (and only) NFL Defensive Player of the Year Award.
Sanders added two more picks during the 49ers playoff run, including one during the Niners' 49-25 victory over the San Diego Chargers in the Super Bowl.
Neon Deion in Dallas
After hoisting the Lombardi Trophy with the San Francisco 49ers at the end of the 1994 season, Sanders decided to move in free agency again. This time, the superstar chose to join forces with the 49ers' NFC archrival, the Dallas Cowboys.
Cowboys owner Jerry Jones gave Sanders a seven-year, $34.98 million contract to lure him to America's Team.
After an offseason knee procedure, Sanders didn't suit up for the Cowboys until Week 9 of the 1995 season against his old mates on the Atlanta Falcons. Sanders still chipped in two INTs in the regular season and one in the postseason that year.
He also lined up on offense occasionally. Sanders caught two balls and rushed twice in the regular season, and, in the Cowboys' Divisional Round matchup with the Philadelphia Eagles, he scored on an electrifying 21-yard reverse.
Sanders won his second consecutive Super Bowl when the Cowboys defeated the Pittsburgh Steelers in the Big Game, 27-17.
The superstar cornerback played four more seasons in Big D after that. He made three more Pro Bowls and three more All-Pro teams during this time and filled up the stat sheet across the board. His final numbers in Dallas looked like this:
61 games started
14 interceptions
4 fumble recoveries
3 defensive touchdowns
4 punt return touchdowns
49 receptions
624 receiving yards
1 receiving touchdown
After signing a five-year, $51 million contract in 1999, the Cowboys cut Sanders for salary cap reasons before the 2000 season.
The Verdict: Was Deion Sanders Better for the Dallas Cowboys or San Francisco 49ers?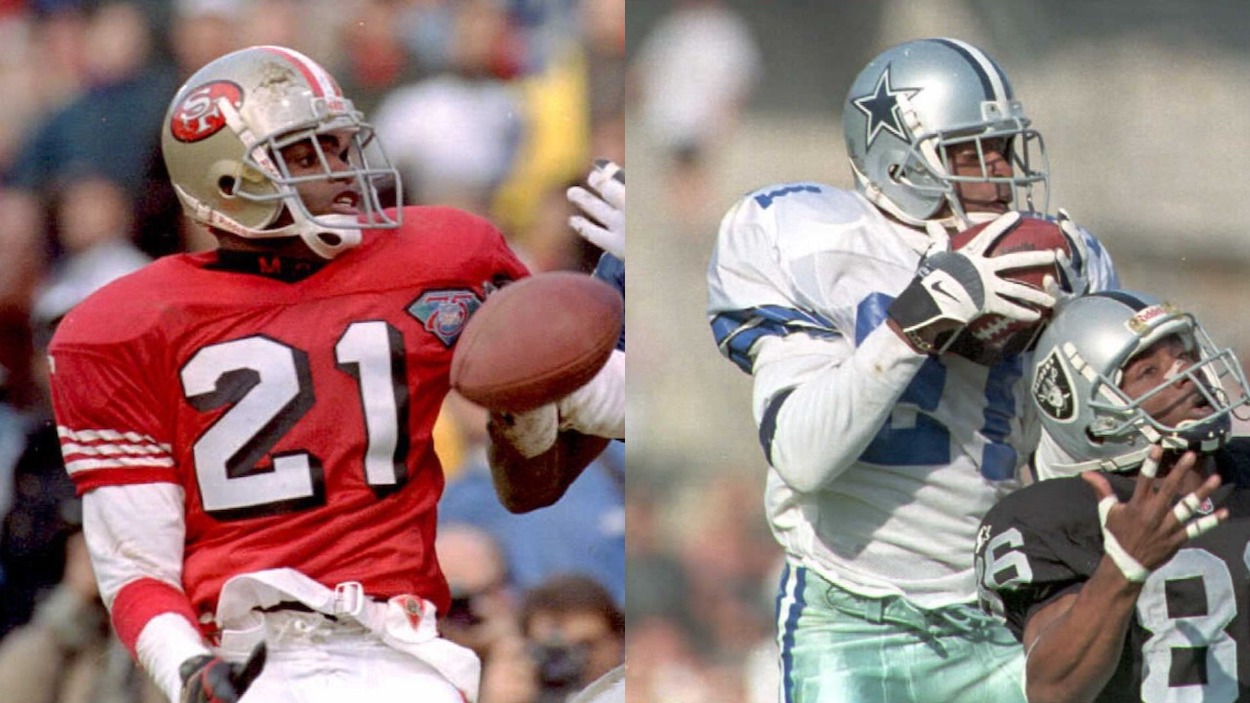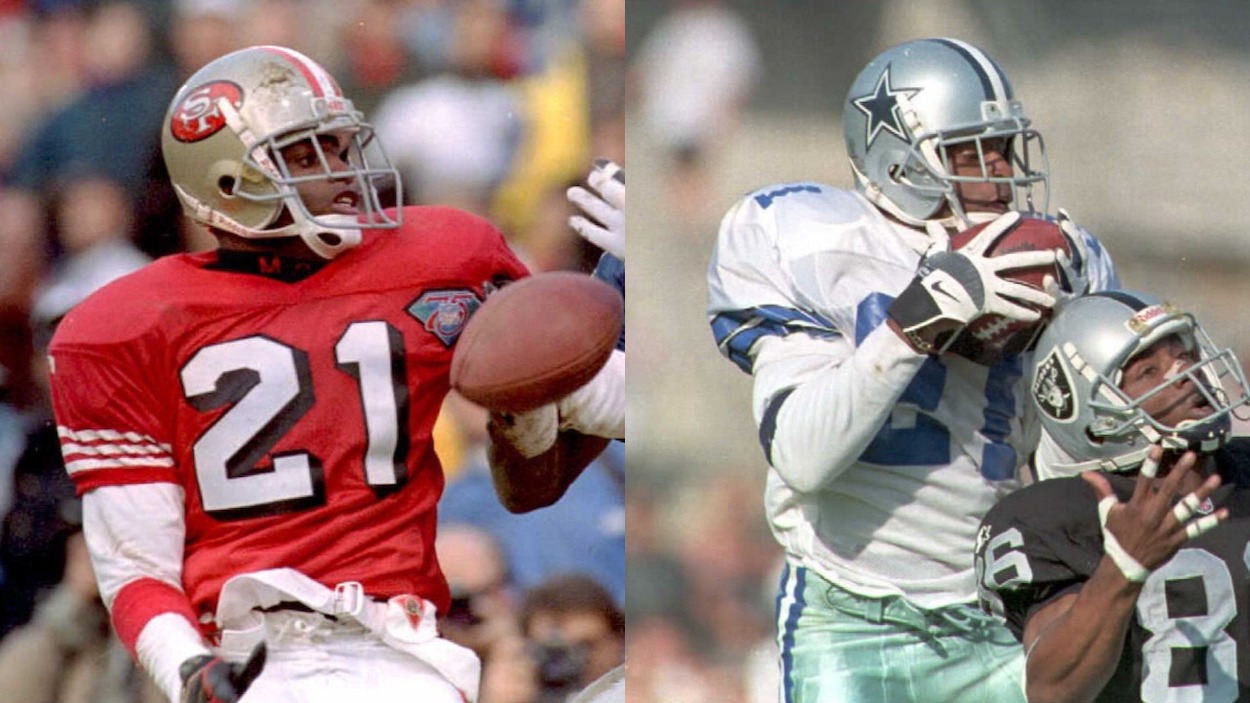 Anytime Deion Sanders stepped on an NFL field — even during the past-his-prime days in Washington and Baltimore — something spectacular could happen. And at his best (from '91-'98), few, if any, were better.
Sanders won Super Bowls, made Pro Bowls, and picked up All-Pro nods for both the San Francisco 49ers and Dallas Cowboys. Along the way, he not only helped define that fierce early 90s rivalry, he became the key figure in it.
It's hard to argue that one All-Pro season is as impressive as three consecutive ones, so many will claim that Sanders was better in Dallas than in San Fran and, in totality, he probably was.
However, picking up Defensive Player of the Year on his way to a Super Bowl win in 1994 was peak Prime Time.
The verdict is: Deion Sanders was better overall as a Dallas Cowboy, but the best all-time version of the Hall of Fame CB is 1994 Neon Deion during his solitary season with the San Francisco 49ers.
All stats courtesy of Pro Football Reference, Baseball Reference, Sports Reference, and contract figures courtesy of Spotrac