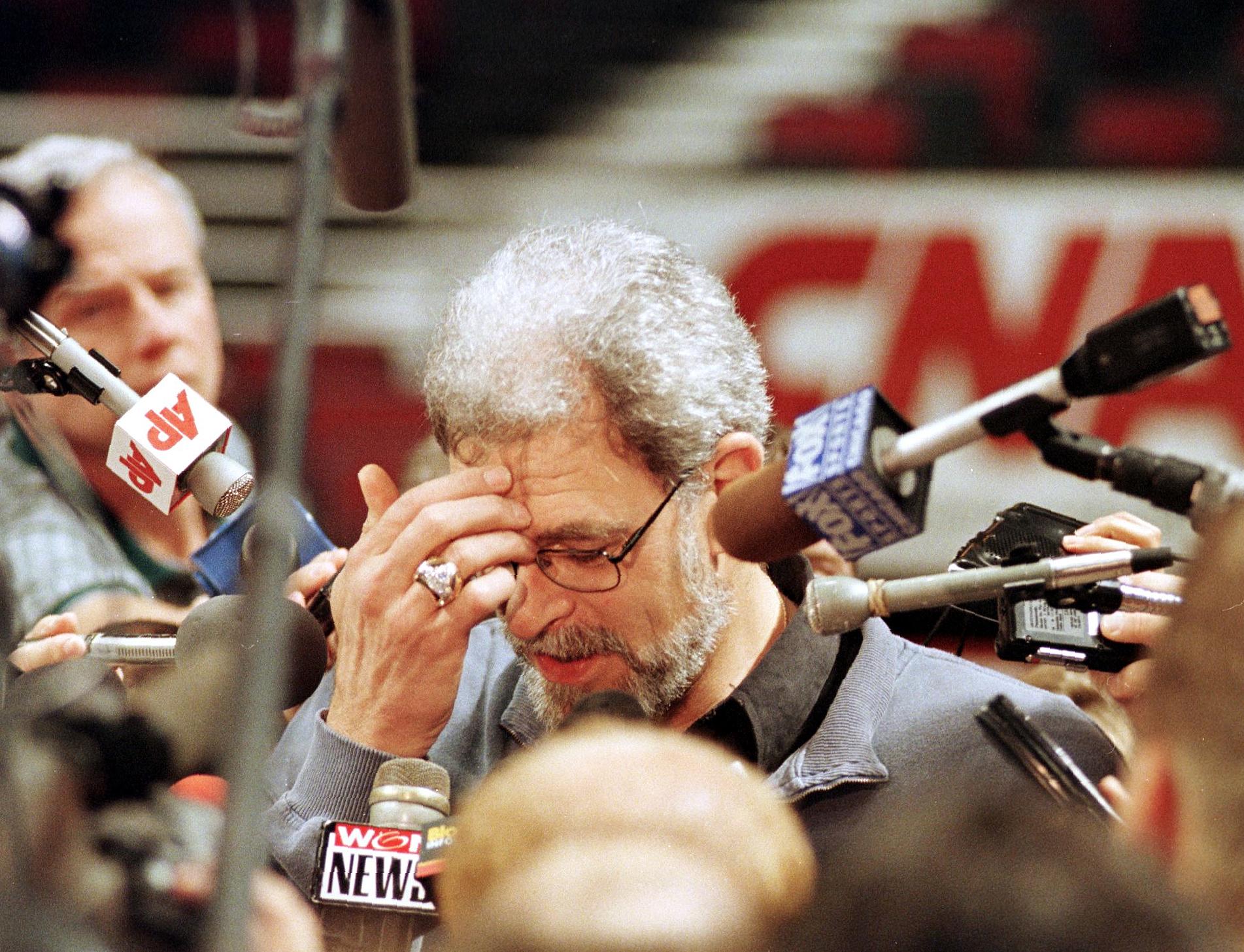 Dennis Rodman Triggered a 1-Way Phone Call With Phil Jackson After Missing Practice During the 1998 NBA Finals
Phil Jackson found himself doing all the talking on a phone call with Dennis Rodman after Rodman missed practice during the 1998 NBA Finals.
Dennis Rodman lived by his own rules in the NBA. Chicago Bulls head coach Phil Jackson even allowed him to break away for 48 hours during the season, although Rodman took a little more time than expected. He also skipped practice without warning before Game 4 of the 1998 NBA Finals. The result of that missed practice was a phone call between Jackson and Rodman that left the coach doing all the talking.
Dennis Rodman and his Vegas excursion highlighted a strange 1998 title run for the Chicago Bulls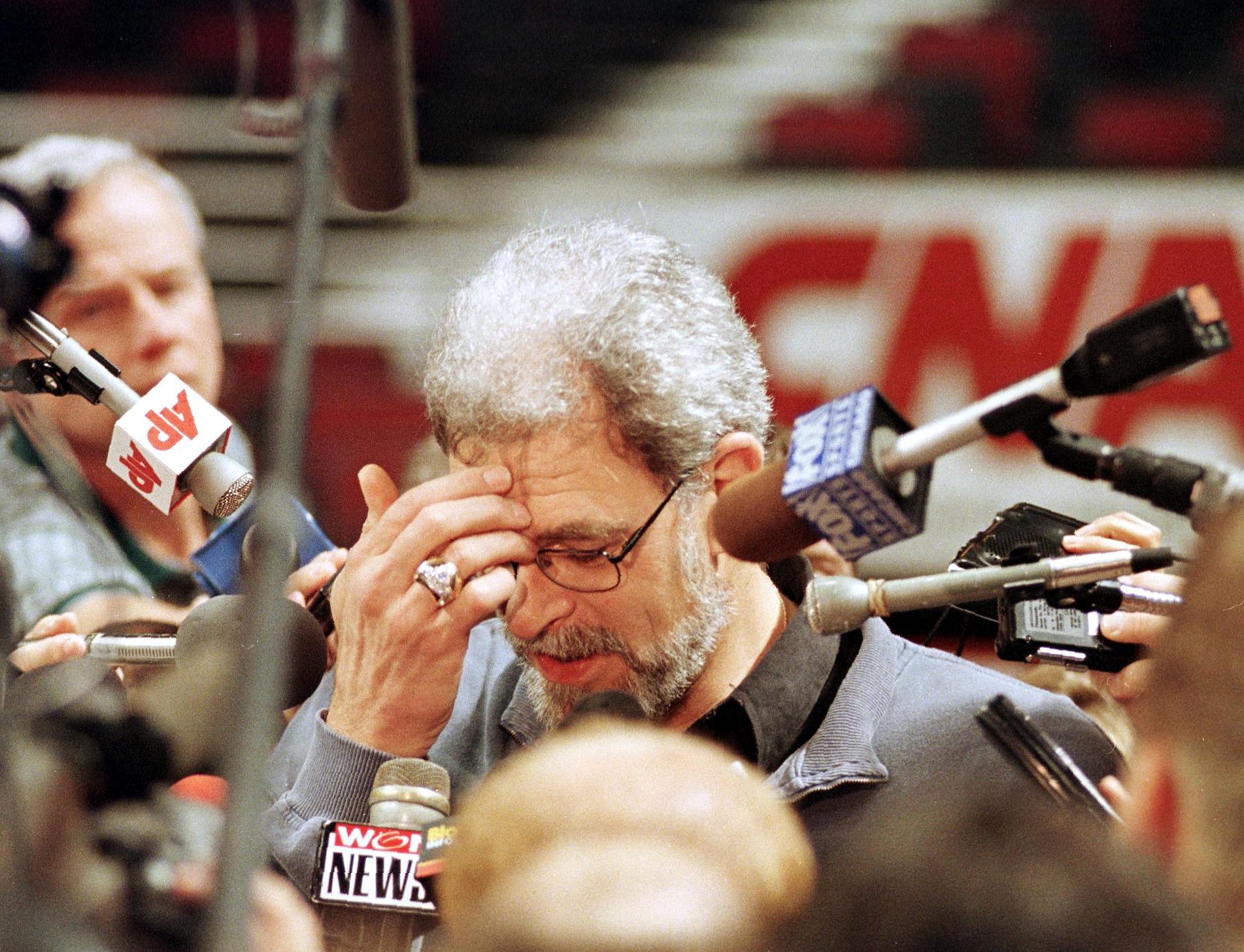 It was tough to know what you were getting with Rodman. On the court, Rodman brought hustle and competitiveness. Despite being 6-foot-7 and 210 pounds, no NBA player outrebounded him for seven straight seasons. His multi-colored hair made him stand out physically, but his aggressive style and drive to win set him apart on the hardwood.
Off the court, Rodman was a different story. He's famous for dressing in a wedding gown and marrying himself. Rodman also took a break from the team during their 1997-98 championship season to go on a wild Las Vegas excursion. The Last Dance highlighted that Vegas trip, which is now the subject of an upcoming movie titled  "48 Hours in Vegas," according to The Sporting News.
Bulls star Scottie Pippen had been injured for a part of the season, and Chicago needed Rodman to step up. He filled in admirably, but the pressure seemingly got to him to the point where he needed a break. When Pippen returned, Jackson gave Rodman 48 hours on his own. Instead of being alone, he went to Vegas and partied heavily.
"When Scottie was out, Dennis was a model citizen, to a point where it was driving him f****** insane," Michael Jordan said on The Last Dance. "So, when Scottie came back, Dennis wanted to take a vacation."
Dennis Rodman missed practice before Game 4 of the 1998 NBA Finals, leaving Phil Jackson talking to himself
The Bulls were in the process of trying to complete their second three-peat. After splitting the first two games on the road against the Utah Jazz, Chicago returned home and embarrassed the Jazz in Game 3. The Bulls held Utah to 54 points as they cruised to a 96-54 win to take a 2-1 series lead.
The following day, Rodman was a no-show at practice, according to United Press International.
Scheduled was a short workout followed by a media session, and Rodman was nowhere to be found. Jackson told reporters he spoke with Rodman on the phone but didn't get any answers. In fact, he didn't even get a response.
 "I talked to Dennis (on the phone), he did not speak back," Jackson said at his team's press conference after practice. "I asked him, 'Dennis, what do you think I should say to the press?' And then, he hung up on me." 
Jackson didn't seem bothered by Rodman's no-show. In fact, he joked about it as he stared into one of the cameras during his press conference and said, "By the way, Dennis, practice is at 10:30 tomorrow morning." 
So where was Rodman that day?
Rodman didn't show for the Monday practice ahead of Wednesday's Game 4, but where was he? He reportedly called an assistant trainer to say he wouldn't be able to make the practice or speak with the media. Jackson notified the team and then told the media it's not uncommon with Rodman.
"That's what we do. We go on without him and he catches up," Jackson said then, according to UPI. "Everybody on the team kind of understands that this is a guy who has trouble concentrating all the time on what the mundane part of this game is all about."
Instead of being with the Bulls, Rodman was at the Palace of Auburn Hills in Michigan. He attended a wrestling match and was with World Championship Wrestling president Eric Bischoff, and wrestlers Hulk Hogan, Bret Hart, and Paul Wight II.
Rodman was fined $10,000 by the NBA, and Jackson said Rodman didn't hide anything.
"He rarely offers an excuse for this," Jackson said. "He never tells me he had a flat tire or something happened or the dog ate his keys or something like that."