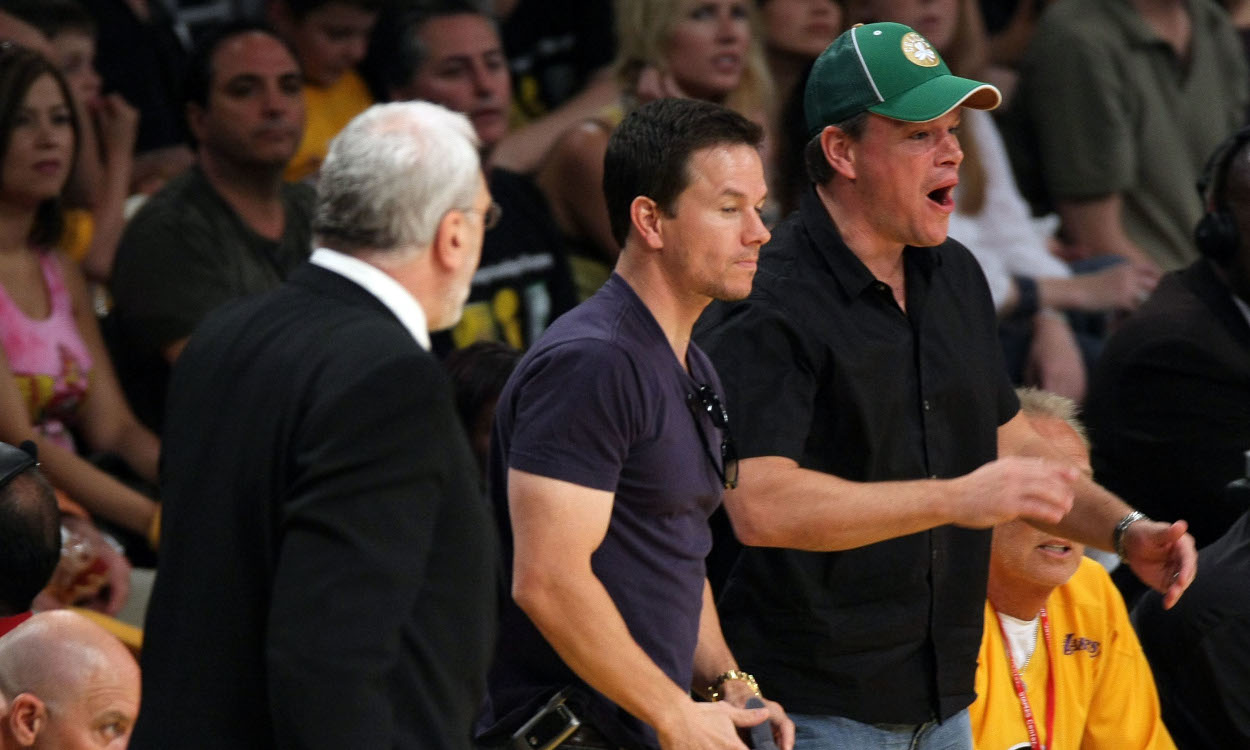 Phil Jackson Was Called the Zen Master, but He Lost His Cool and Cursed out a Couple of Hollywood Stars During the NBA Finals
Phil Jackson has long been nicknamed the Zen Master. But actors Matt Damon and Mark Wahlberg saw a more fiery side of the longtime NBA coach during the 2008 NBA Finals.
Phil Jackson won more titles than any coach in NBA history, amassing 11 rings in 20 seasons with the Chicago Bulls and Los Angeles Lakers. He's also the only coach with a winning percentage better than .700 for his career. While critics pointed to his star-studded rosters, the fact remains only Jackson won championships with Michael Jordan and Scottie Pippen as well as with Shaquille O'Neal and Kobe Bryant.
Known as the Zen Master, it's not a nickname Jackson ever embraced. Through 12 seasons as a player, 20 as a coach, and three as an executive (hey, nobody's perfect), he's as fierce a competitor as there is. He showed a couple of Hollywood stars that side of his personality during a contentious NBA Finals in 2008 between his Lakers and the Boston Celtics.
The 2008 NBA Finals were 1 of only 2 Phil Jackson lost as a coach
Phil Jackson won the most titles as an NBA coach, but he also reached the Finals more often than any other bench boss. In 13 tries for the Larry O'Brien Trophy, his teams reached the pinnacle 11 times.
One of the losses came in 2008 against the Boston Celtics. The Lakers are Hollywood glitz and glamour. Boston is a blue-collar working city by comparison. And the two franchises have been rivals for decades.
A couple of Hollywood A-listers made their way to Staples Center in LA for Game 5 of the 2008 NBA Finals. But they weren't there to root on the purple-and-gold. Boston natives Matt Damon and Mark Wahlberg bleed green.
Boston won the first two games of the series at home before the Lakers struck back with a victory in Game 3. The Celtics took a commanding 3–1 lead with a 97–91 Game 4 triumph. LA had its back to the wall entering Game 5.
Not only did the Lakers need that game, but they also needed to win twice at TD Banknorth Garden. That was a tough ask. Boston went 35–6 in their home arena during the regular season and was 12–1 in the playoffs when the series shifted to Staples Center.
Damon and Wahlberg incurred the wrath of the Zen Master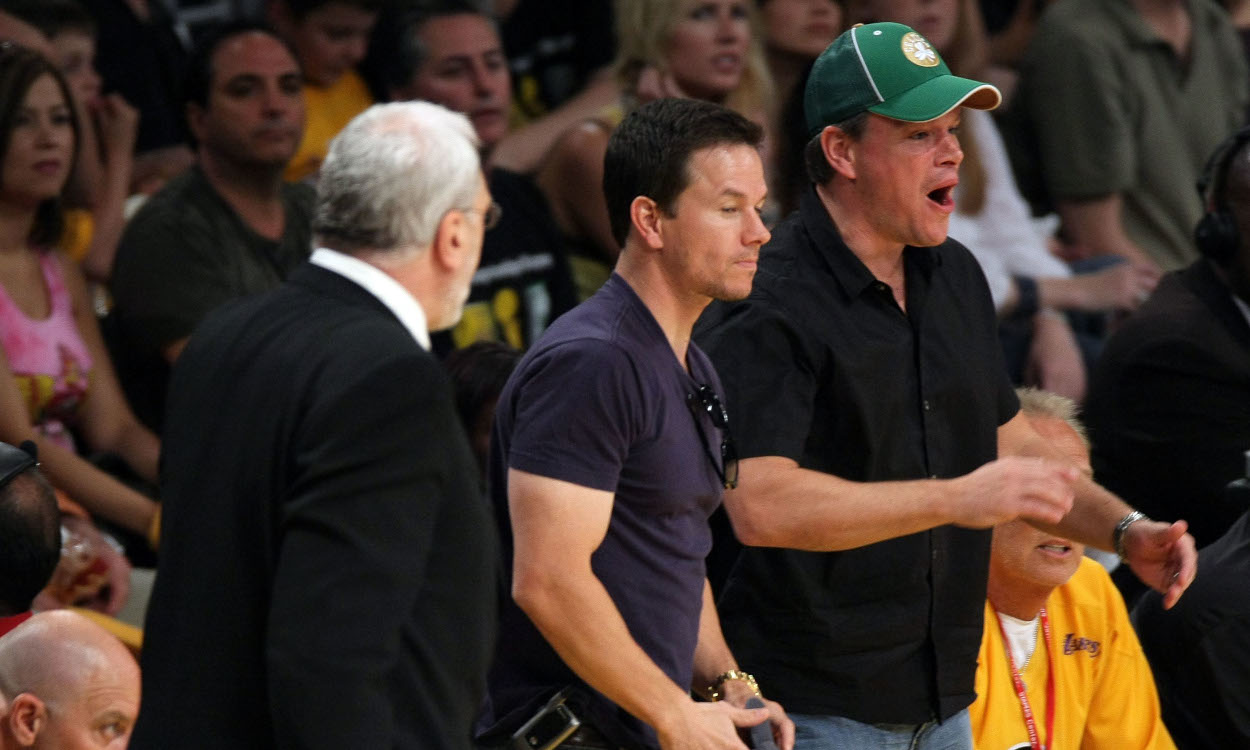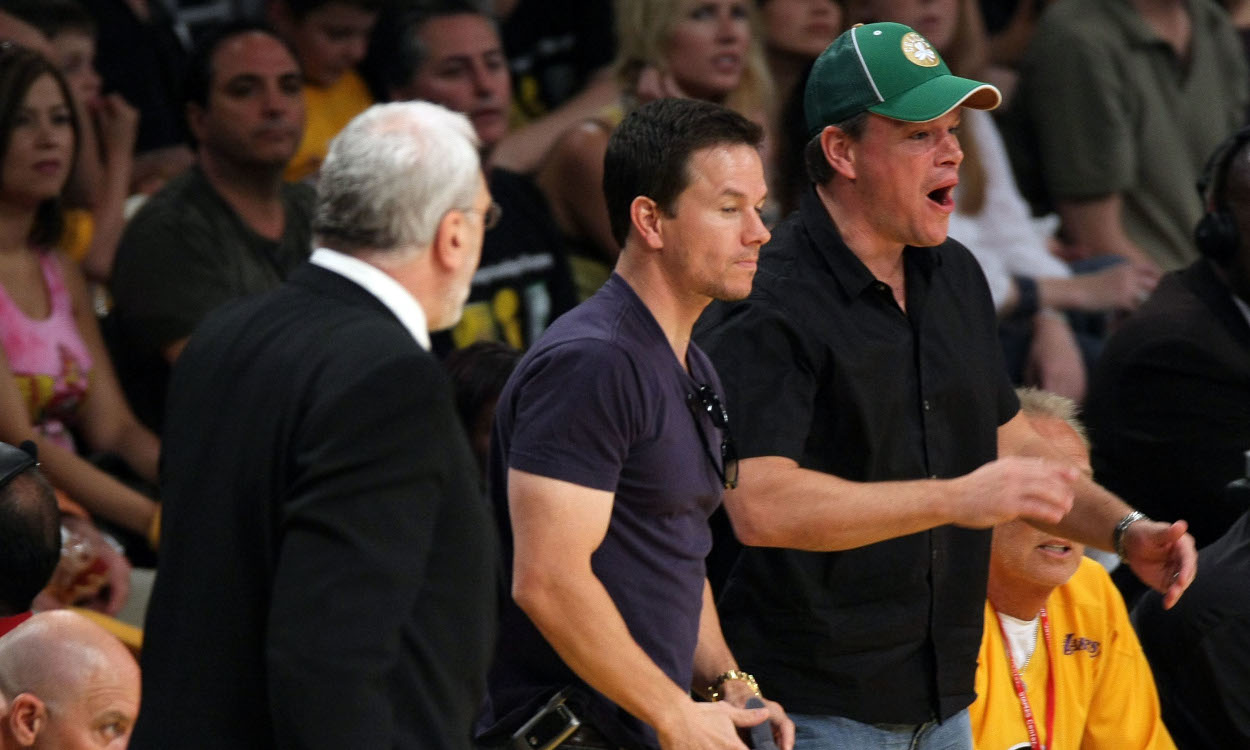 Game 5 was going well for the Lakers, but a 19-point lead early in the second quarter was erased after halftime. The Celtics stormed back to take a brief two-point lead before LA re-established itself. With 9:17 remaining in the game, a 14-point lead seemed secure for the Lakers.
Boston had an answer. The Cs capped a 16–2 run with a game-tying jumper from Kevin Garnett with 4:35 left. LA reclaimed the lead with a Pau Gasol bucket before Garnett split a pair of free throws. Up by just one with 3:31 left, Jackson took a timeout.
That's when Damon and Wahlberg let the Zen Master have it, per an appearance on The Bill Simmons Podcast in 2019. Damon recalled the scene:
"Phil Jackson calls a timeout. Mark Wahlberg and I are, 'Oh, my God,' and as he calls timeout, he just spins on us and goes, 'Sit down and shut the f*** up. He was so mad, which I get. I was like, where is the Zen stuff working for you? It was great."
It didn't end great for the Celtics fans, though.
Kobe Bryant followed up Phil Jackson's outburst, then helped seal a win
Damon remembered a second warning from the Lakers' bench. Phil Jackson barked at the two actors before the timeout. Kobe Bryant stepped in afterward:
"And when the game started, [Bryant] ran past us and goes, 'Not tonight, mother***ers, which was great. That's what you want."
Bryant hit a pair of free throws with 2:14 to go to give LA a four-point lead.
Paul Pierce answered with two from the line before Bryant helped seal the deal with a dunk. The Celtics trailed 99–95 with 37.4 seconds remaining and lost 103–98.
Boston got the last laugh, blowing out the Lakers 131–92 in Game 6 for the franchise's 17th championship and (more significantly) its first in 22 years.
Phil Jackson won the battle in Game 5 but delivered a lifelong memory to Matt Damon in the process. Damon and his friend Wahlberg won the war, however, courtesy of the Game 6 pummeling.
Statistics courtesy of Basketball Reference and NBA.com.