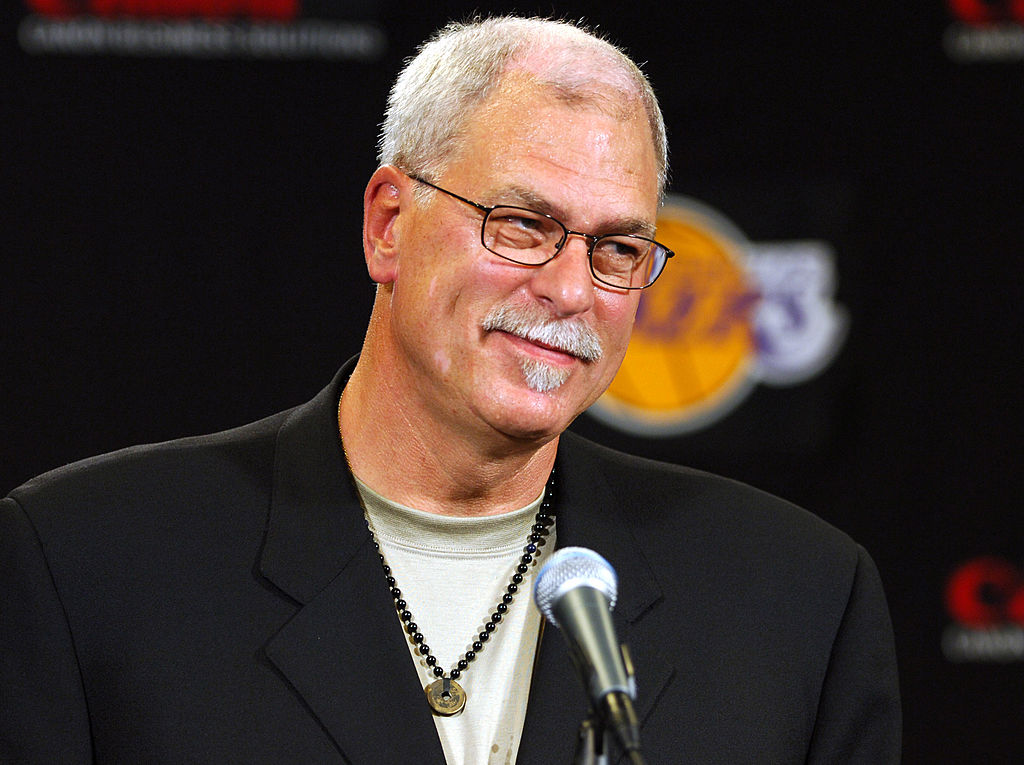 Since 1957 These 4 Men Have Won 72% of All NBA Championships
There are four men connected to 72% of the NBA's championships. Can you name all four of these legends?
When you think about NBA championships, who are the first people to come to mind? More than likely, Michael Jordan, Bill Russell, or Magic Johnson are at the forefront of any championship conversations.
It doesn't just take players making plays on the court to win championships for franchises, did you know that there are four men connected to the NBA that have won over 72% of the league's championships? Today we will talk about those four and determine why they are the NBA's version of Mount Rushmore.
Red Auerbach- 16 championships
The Boston Celtics dynasty of the '50s and '60s is easily one of the most dominant runs in professional sports. They won 11 championships in 13 seasons. He took a chance on drafting Bill Russell out of the University of San Francisco, and Russell is regarded as one of the best players to ever play the game.
After he stepped out of the coach's chair, he took over the Celtics front office operations and was in charge of all roster management. His most cunning move as the NBA executive? It had to be drafting Larry Bird out of Indiana State in the 1978 draft, even though he wouldn't declare until after his senior season in 1979. Bird would go on win three NBA championships for the Celtics.
Phil Jackson- 13 championships
Not everyone can win with Michael Jordan, Shaquille O'Neal, and Kobe Bryant. This makes Jackson's ability to connect with his players so important to the team.  Jackson's dominance as a coach was present during the 1990s. He won six NBA championships with the Chicago Bulls, after winning a championship as a player with the New York Knicks.
Jackson then coached the Lakers, achieving his third three-peat, as the Lakers dynasty seemed unstoppable during Shaq's prime. He would return to the Lakers and help coach Kobe Bryant to two more championships in 2009 and 2010. Phil Jackson is widely regarded as the greatest basketball coach to ever come into the NBA.
The triangle offense has always been Jackson's forte, so having two excellent shooting guards at his disposal made his team's seemingly impossible to stop.
Pat Riley- 9 championships
Pat Riley has been the most popular front office executive during his time with the Miami Heat. Before joining Miami in 1999, he was a head coach and coached the Los Angeles Lakers to five NBA championships. He then went on to lead the Miami Heat championship team in 2006, with Dwyane Wade being named NBA Finals MVP.
He also convinced LeBron James to leave Cleveland. Miami then went to four straight NBA Finals, winning two. In total, Riley is accountable for nine NBA championships, and he is currently in the process of trying to restore Miami back to their championship days. 
Gregg Popovich- 5 championships
The San Antonio Spurs have been the gold standard for basketball over the last two decades. The team went 18 consecutive seasons winning 50+ games, and Popovich has led the team to five NBA championships. Popovich has amassed a career record of 284-170 in the playoffs, and the Spurs' last championship was in 2014 over Pat Riley's Miami Heat.
Popovich has coached hall-of-fame caliber players, but it was his ability to call out any player regardless of league status, that allowed everyone to buy into his system.
They have a solid foundation and could be a sneaky team to defeat in the Western Conference playoffs this season, so Popovich could be looking at his sixth NBA championship ring.
What do you think of our basketball Mount Rushmore?
After looking at the four men responsible for 72% of the NBA's championships, who were you surprised made the list? For more news from around the association be sure to check out our NBA section every day.