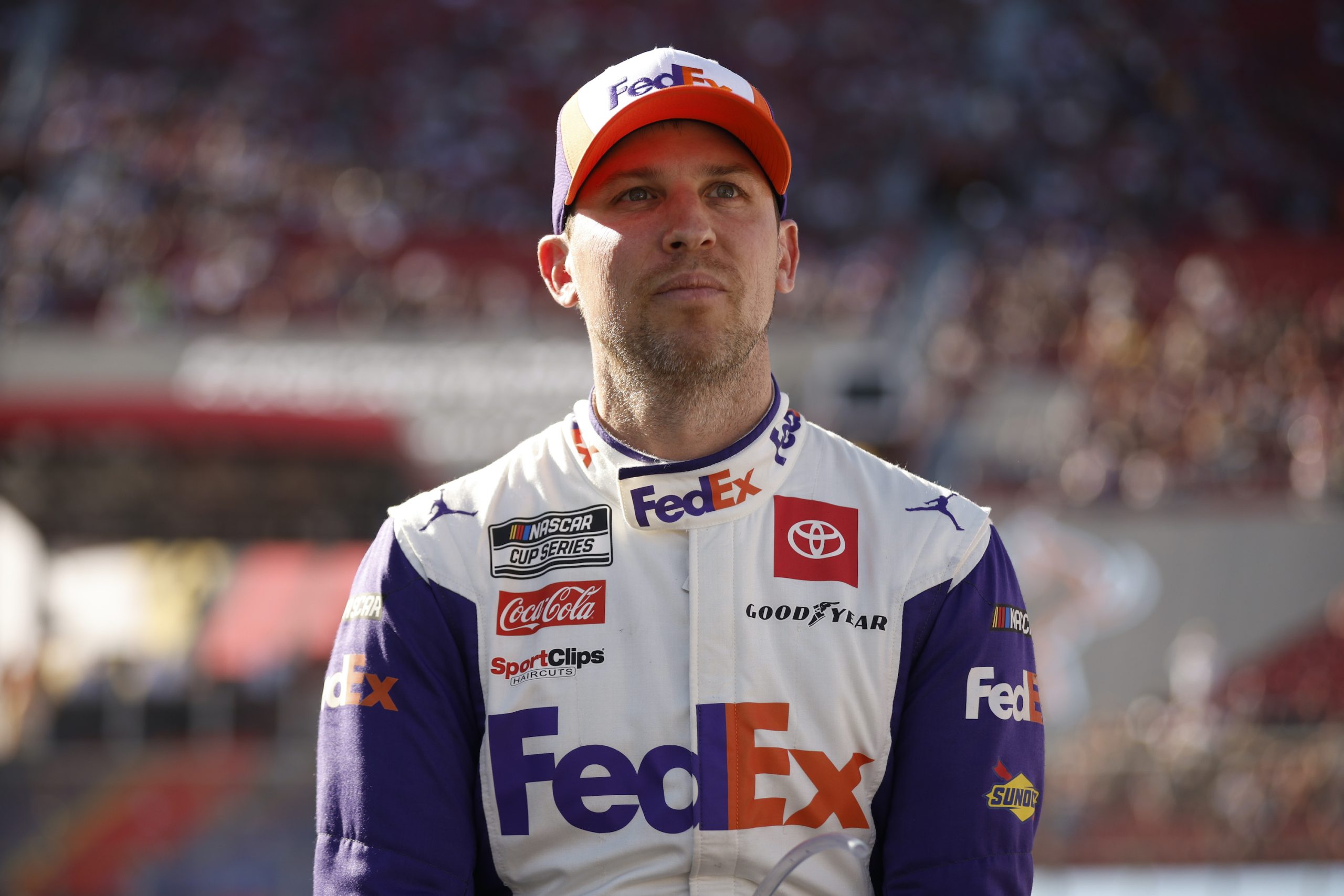 Denny Hamlin Fires Major Shot at NASCAR Fans and Suggests Rest of World Views Them as Boring
Denny Hamlin doesn't hold back and calls out NASCAR fans for being vanilla and how others view them as boring.
Denny Hamlin and NASCAR fans didn't exactly see eye-to-eye in 2021. The three-time Daytona 500 winner found himself on the receiving end of boos on multiple occasions throughout the season. 
The 41-year-old driver is used to it now. He's not concerned about hurting anyone's feelings. That became quite evident this week on the eve of the 2022 Cup Series season when the Joe Gibbs Racing driver responded to a Jeff Gordon tweet and proceeded to call out NASCAR fans for being boring.  
Denny Hamlin fires major shot at NASCAR fans
This week, Adam Stern of the Sports Business Journal reported that Jeff Gordon plans on working with the Hendrick Motorsports drivers to market themselves and the sport by getting out of their comfort zones and doing more mainstream things like he did when he hosted Saturday Night Live during the prime of his career. 
Denny Hamlin saw Gordon's tweet, responded directly to it, and then took an aggressive swing at a large contingent of the NASCAR fan base.  
"Can't force a star to happen," Hamlin wrote. "It's gotta be organic. But in our sport the CORE fans don't like anything different. They prefer their ice cream to be vanilla, rarely with even a topping. 
"The rest of the world who doesn't watch racing just sees that as boring."
Denny Hamlin booed by fans at Bristol
To many fans, it doesn't matter whether or not what Hamlin says is true. That's because Hamlin and many fans developed a contentious relationship last year and aren't likely to agree on anything. 
It started when he walked onto the stage during driver introductions at the Bristol September race, and fans heartily showered him with a chorus of boos. 
"I love you all, too," he responded, which produced a collective laugh from the NBC broadcast team. 
"That's perfect," Kyle Petty said.
"What a great line. I think the boos caught him off guard," Marty Snider responded.
Unfortunately for Hamlin, the boos at Bristol were just the beginning.
Booed in final races of 2021 season
In the second-to-last race of the season at Martinsville, Hamlin's home track, the JGR driver upset many fans when he surprisingly interrupted Alex Bowman's postrace celebration at the start-finish line in response to the Hendrick Motorsports driver knocking him out of the race lead late and claiming victory. 
During the postrace interview, Hamlin called Bowman a "hack," which produced an even more boisterous response from the crowd. It got so loud the driver had to ask the interviewer to repeat a question. 
Minutes later, Hamlin shared what he thought about the boobirds in the postrace press conference. 
"It's just Chase Elliott fans, man. They don't think straight," he said. When asked if it bothered him, he never hesitated. "No, not at all. They're going to boo the s*** out of me next week I can tell you that."
Hamlin was right. Fans had an extended opportunity to voice their displeasure for him during the Championship 4 race in Phoenix when a mistimed driver introduction left him standing alone on the stage for almost a minute. He embraced the villainous role, held his hand up to his ear, and encouraged the crowd. 
Based on his latest comments, Hamlin will have a much bigger villainous role to play in 2022. And the HMS fans will more than likely be the ones leading the charge.  
Like Sportscasting on Facebook. Follow us on Twitter @sportscasting19.