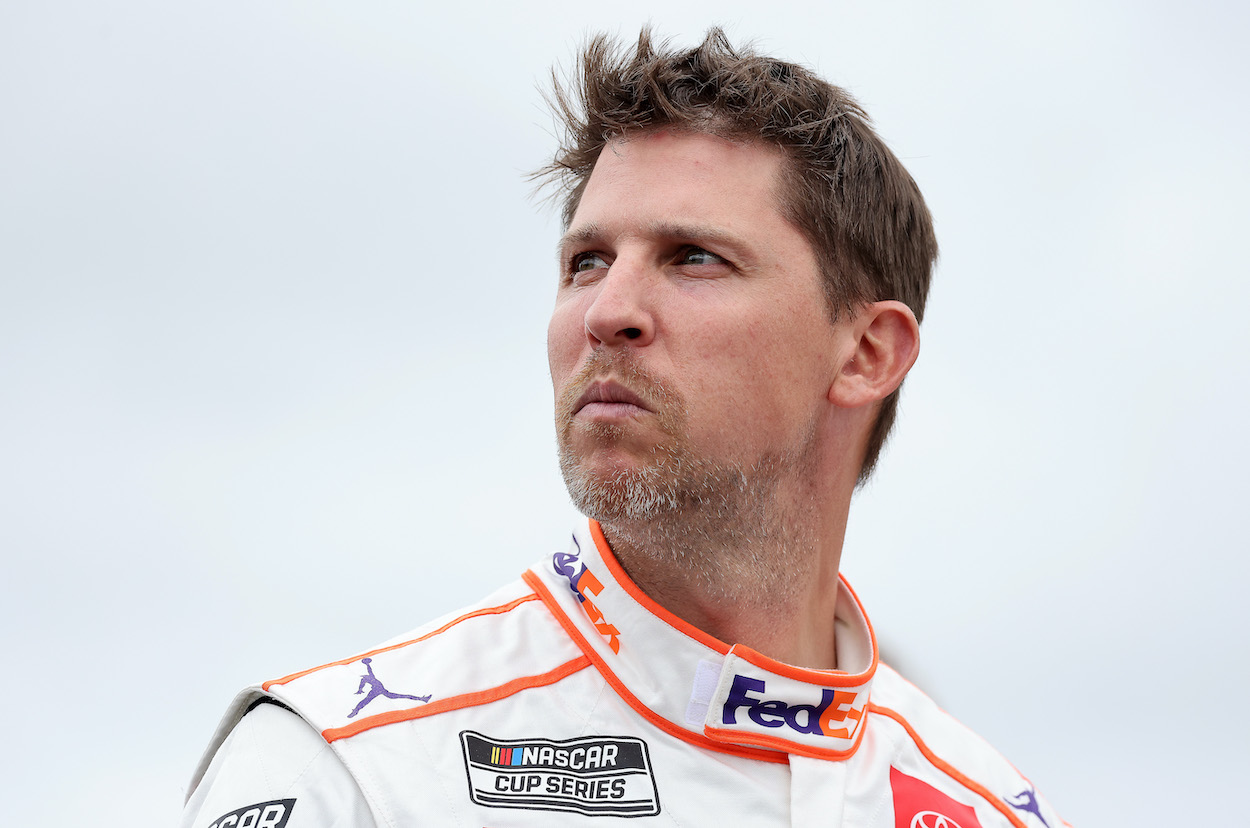 Denny Hamlin and Drivers Now Officially Have Seat at the Table and Could Make Difference in NASCAR's Future
Denny Hamlin, Kurt Busch, Joey Logano and other drivers will make up new Drivers Advisory Council that plans to have a seat at the table for future NASCAR decisions.
Last year, Denny Hamlin, Kevin Harvick, and numerous other drivers were vocal in their criticism of NASCAR and its transparency over safety issues with the Next Gen car. At the time, multiple drivers admitted there was a major disconnect with NASCAR officials.
This week, Hamlin and the drivers took a big step in closing that communication gap with the announcement of a new Drivers Advisory Council. Hamlin will be joined by Joey Logano, Kurt Busch, and several other drivers on the board of directors, and former driver and NBC analyst Jeff Burton will serve as the group's director.
Denny Hamlin on Board of Directors of new Drivers Advisory Council 
This week, just days before the official start of the 2022 NASCAR Cup Series season at the Daytona 500, Denny Hamlin and multiple other drivers announced a new Drivers Advisory Council, formed to develop an open line of communication with NASCAR, track operators, and industry stakeholders.
Sitting on the Council's board of directors will be the three-time Daytona 500 winner, Cup champions Kurt Busch and Joey Logano, Austin Dillon, Corey LaJoie, Daniel Suarez, and Kyle Petty. NBC analyst and former driver Jeff Burton, who is nicknamed, "The Mayor of NASCAR," will appropriately serve as the group's director. 
"The drivers have always had a voice, the question is how was that voice best used to positively influence the sport," Burton told the media. "Times have changed. The sport isn't run the way it was run in the late '90s. It's different. Because of that, the drivers need to be different. 
"This, in no way, is going to become a firewall between a driver and NASCAR, a driver and an owner, a driver and a track operator. We don't want to stop that line of communication directly between a single driver and a NASCAR representative, or track representative, or manufacture representative. We don't want to do that.
"We believe, and I believe, one of the great strengths of our sport is the ability to have those conversations face-to-face, where you are with the main guy you need to be talking and he's talking directly to you. There is no reason for that to stop. 
"The Council's role is to gather as much information as possible, communicate that with the drivers, be a conduit to communication, not a firewall. We only want to enhance those communications."
Denny Hamlin critical of NASCAR in 2021 for lack of transparency
Last summer, Denny Hamlin didn't hide what he thought about potential safety issues with the Next Gen car and NASCAR's lack of transparency in adequately addressing those concerns.  
"When it comes to the crash stuff, I've asked questions to two different NASCAR people, executives. I can't get a response. That, to me, makes it even scarier," Hamlin said. "Man, the disconnect right now between all the parties — NASCAR, the tracks, and all the drivers, it's tough right now. It's not a good place."
Hamlin said, moving forward, it was imperative for the drivers to work together to ensure they were driving the safest cars possible. 
"In seven years, I'll be a team owner only, but these drivers, they need to get organized. Their safety is at risk," Hamlin said. "They need to know what they're getting strapped into. So they need to get organized and they need to have a voice. They deserve to have a seat at the table, whatever that table is."
First Drivers Council made impact then faded away
In May 2015, Denny Hamlin met with NASCAR executive Mike Helton and voiced his displeasure at NASCAR for adding downforce and raising the spoiler. The longtime official recommended that if the drivers wanted change, they should organize a group. They did. The first Drivers Council was born.
For the next several years, the group of drivers engaged with NASCAR and worked together on numerous topics, one of the biggest being the change in format and the incorporation of race stages. In addition, they addressed various safety-related areas. 
However, over time, interest from the group's members waned. In 2018, Kevin Harvick admitted there were too many politics involved. A year later, the Drivers Council disbanded. 
Now, here we are, three years later. Will this time around be different? Will the group have a voice that matters? If the other changes NASCAR has embraced in the last couple of years are any indication, like growing a more diverse fan base, going to new venues, and unveiling a new car, this new group could have an important seat at the table and make a positive impact on the sport for years to come.  
Like Sportscasting on Facebook. Follow us on Twitter @sportscasting19.