Rick Hendrick Directly Addresses Denny Hamlin's Hack Comment at Martinsville and Bluntly Points Out Alex Bowman Has More Wins This Year: 'If He's a Hack, I'd Like to Have More of 'Em'
Rick Hendrick knows success. There's a reason why Hendrick Motorsports became the winningest team in NASCAR Cup Series history earlier this season and now sits atop the pecking order with 279 wins. 
On Sunday, Alex Bowman added another victory to the organization, his fourth of the season. After the race, a frustrated Denny Hamlin called the No. 48 driver a hack for a late-race incident. This week, Hendrick visited with reporters, responded to the remark, and bluntly pointed out where Hamlin got it wrong.
Angry Denny Hamlin goes off and interrupts Alex Bowman's burnout celebration before calling him a hack
With seven laps to go in Sunday's Cup Series race at Martinsville, Alex Bowman drove too deep into the corner, got into the side of leader Denny Hamlin, and sent the No. 11 car sliding backward up the track. The Hendrick Motorsports driver went on to win the race, his fourth trip to victory lane this season. Hamlin, who had led for most of the final 100 laps, finished 24th. 
The Joe Gibbs Racing driver, who had been wrecked earlier this year during the final laps at the Indianapolis road course, didn't hesitate to let the Hendrick driver know he was not happy. Just as Bowman was about to start his burnout celebration, Hamlin pulled up and stopped right beside him. 
The No. 48 made an evasive move and pulled around with a spin. Hamlin then edged forward with the cars nose-to-nose before smoking his tires and pushing Bowman backward. He then flipped a double-bird before driving away. 
A few minutes later, NBC interviewed Hamlin about the racing incident.
"He's just a hack," Hamlin said as fans booed him. "Just an absolute hack. He gets his ass kicked by his teammates every week. He's f****** terrible. He's just terrible. He sees one opportunity, he takes it. Obviously he's got the fast car of the week, and he runs 10th. He didn't want to race us there. We had a good, clean race. I moved up as high as I could on the racetrack to give him all the room I could. He still can't drive."
Rick Hendrick bluntly responds to question about Alex Bowman being a hack
This week, with Hendrick Motorsports sending two drivers to the Championship 4, including defending champion Chase Elliott and the top driver this season, Kyle Larson with his nine wins, Hendrick visited with reporters and previewed the upcoming race at Phoenix. The NASCAR Hall of Famer and team owner candidly responded when asked if Bowman was a hack. 
"Describe a hack. I don't know what a hack is. Look, he's won four races this year. Denny's won two," Hendrick bluntly pointed out. "I think Denny just lost it Sunday. Alex races everybody clean. He's a good soldier. The sponsors love him. The crowd loves him.
"I think when you're in the middle of a disappointment, and you're frustrated and mad, you might say things that you wouldn't say normally. If he's a hack, I'd like to have more of 'em."
Both drivers have had impressive seasons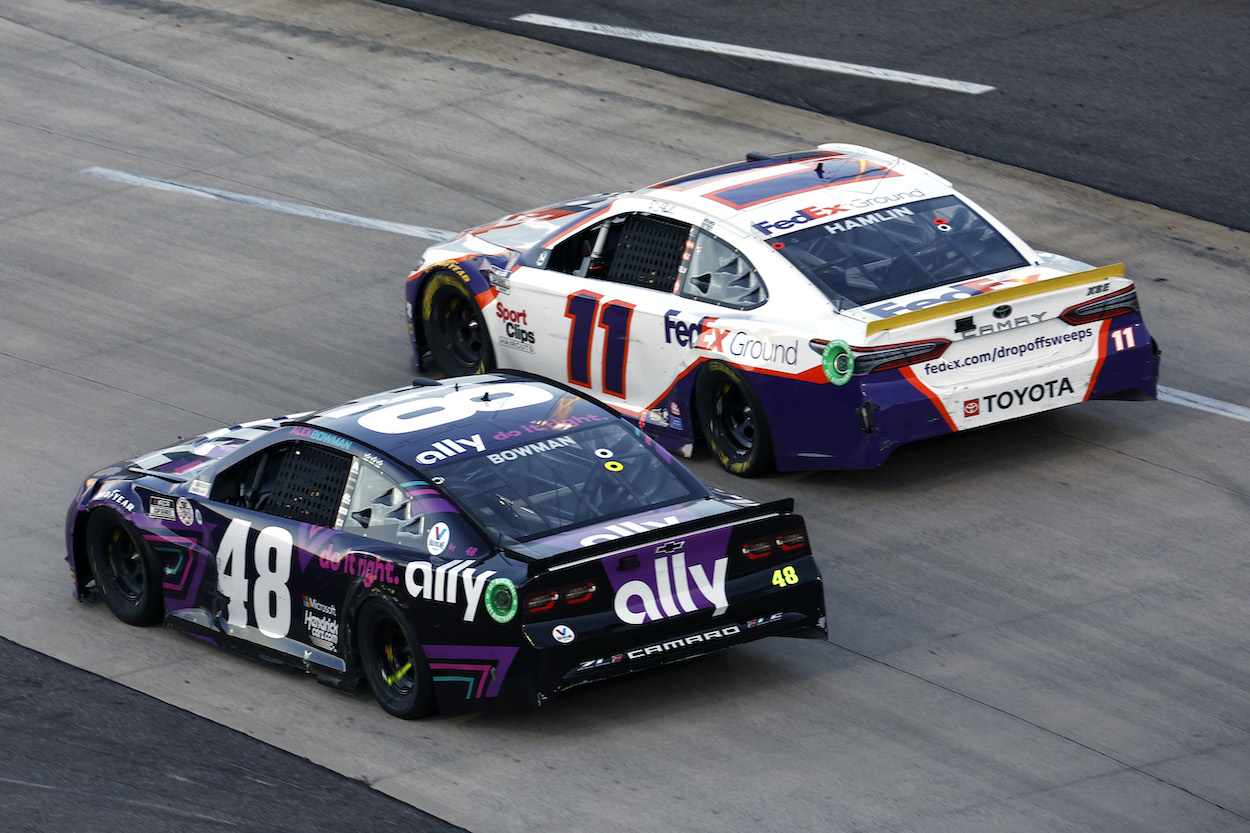 While the final chapter for the 2021 season will be written this weekend at Phoenix, the history books will show that Alex Bowman and Denny Hamlin both had impressive seasons. 
Hamlin started the season strong, finishing in the top five in nine out of the first 12 races. However, victory eluded him. He made it to the playoffs on points and has since won twice in the postseason. He is vying for the championship with teammate Martin Truex Jr. against the two HMS drivers.  
In his three previous full seasons with Hendrick, Bowman had earned a pair of wins, one in each of the last two seasons. This year the 28-year-old has had a breakout season with four wins and made the playoffs, where he was eliminated in the Round of 12. 
Unfortunately for Hamlin, he will always be remembered for his postrace comments and actions at Martinsville. However, if he can win his first championship, that moment will be much less memorable.
Like Sportscasting on Facebook. Follow us on Twitter @sportscasting19.