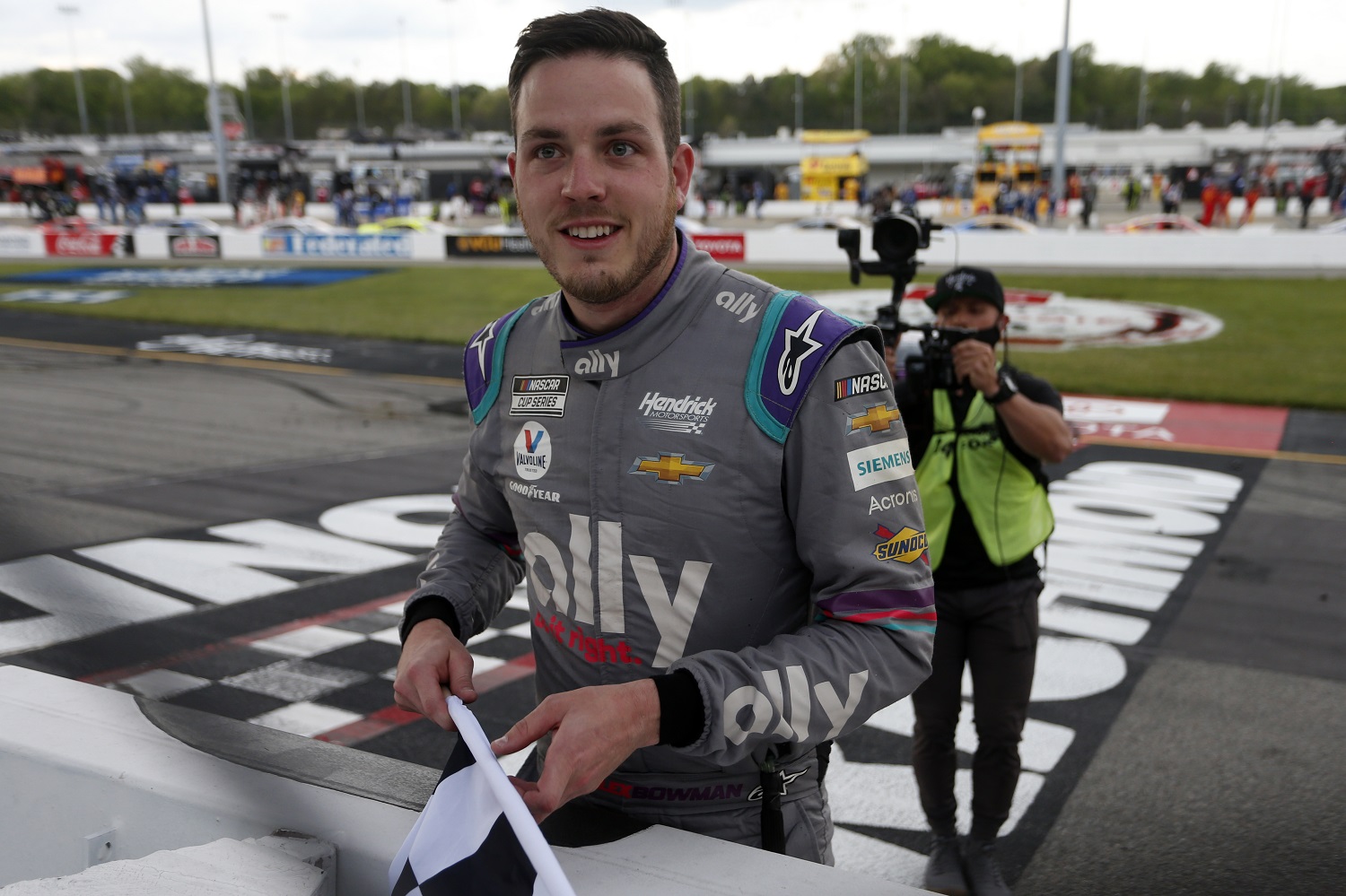 Alex Bowman's Victory Stirred Up Memories of Heartbreaking NASCAR News
Alex Bowman's victory in NASCAR Cup Series action at Richmond Raceway was his first since the death of Hendrick Motorsports crew member Rowdy Harrell in a November 2020 car crash.
The fact that he had broken out of an early-season funk wasn't at the top of Alex Bowman's mind after winning his first NASCAR Cup Series race of 2021. Rather, the Hendrick Motorsports driver was focused on the loss of a beloved member of the team.
Bowman and his crew chief celebrated winning at Richmond Raceway by remembering crew member Rowdy Harrell and his wife.
Alex Bowman's season was off to a sluggish start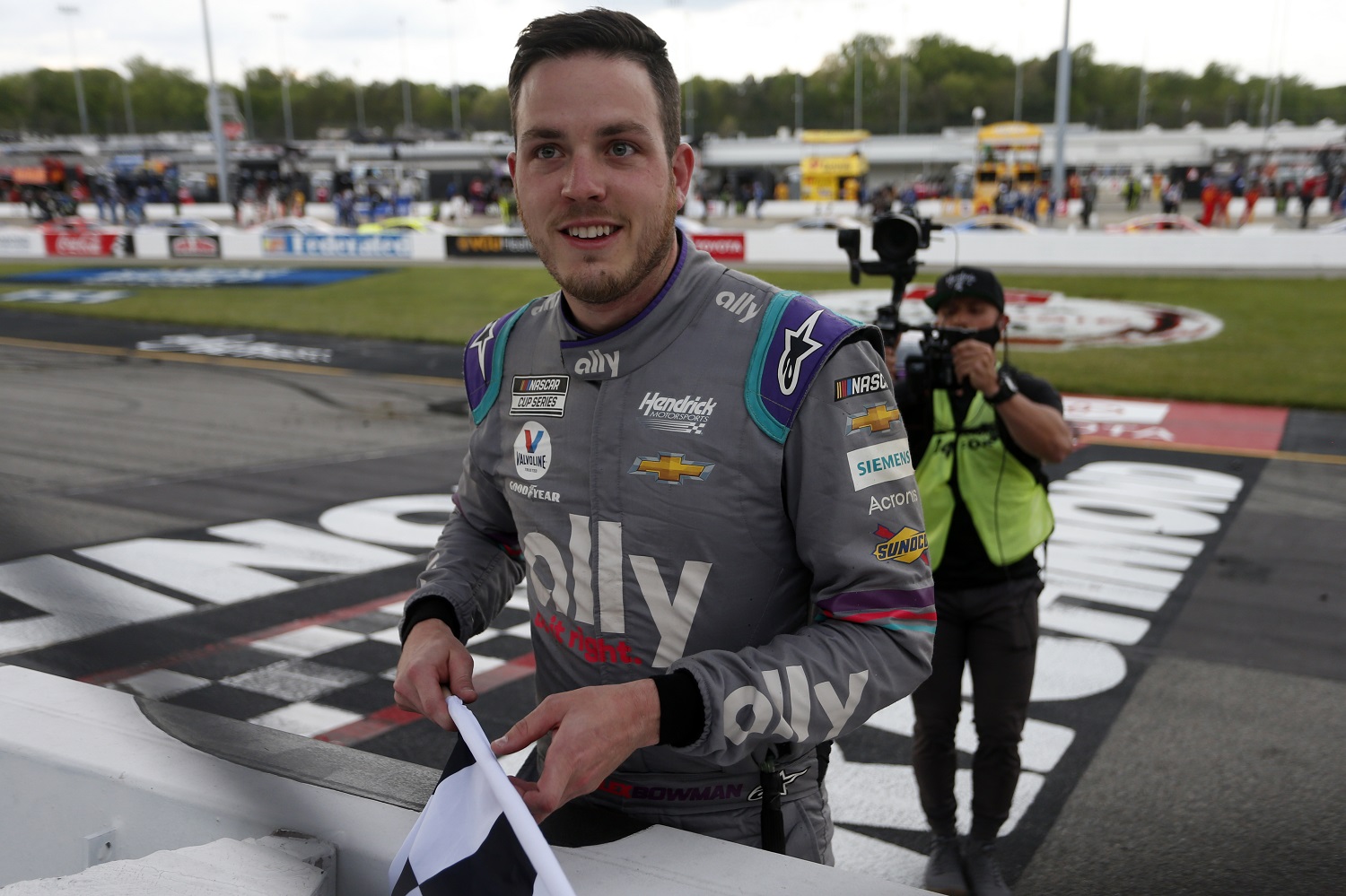 Alex Bowman's No. 48 Chevy placed in the top 10 in only two of the first eight NASCAR Cup Series races this season. Bowman had the look of a contender on April 11 at Martinsville until he got caught up in what passes for "The Big One" at a little track: Chris Buescher bumped Kyle Busch with 114 laps remaining, triggering a 14-car mess that ended Bowman's day.
Bowman arrived at Richmond with more DNFs (two) than laps led (one) so far this season and sitting 17th in points. He was bringing up the rear among the Hendrick Motorsports drivers. Defending series champion Chase Elliott hasn't won yet in 2021, but he opened with a second-place run at Daytona. William Byron and newcomer Kyle Larson were both among the winners in the year's first eight races.
If Bowman wasn't feeling stressed headed to Richmond, he should have been. However, the development at the end of the Toyota Owners 400 means he can race at Talladega with the burden off his shoulders.
A late adjustment and a checkered flag
Coming out of the restart with 12 laps to go at Richmond, Alex Bowman figured he had no shot at beating Denny Hamlin or Joey Logano, who'd dominated the second half of the Toyota Owners 400. "To be honest with you, a caution came out, (and) I was like, 'Man, we're going to struggle to get out of here with a top-five,'" he admitted.
Things changed in a hurry. Richmond has long been a frustrating track for Hendrick Motorsports teams – their last win there was by Jimmie Johnson in 2008 – but crew chief Greg Ives used his knowledge to gamble late with air pressure at the expense of grip.
"When we drove away, I was like, 'Oh, my gosh, what's happening?'" Bowman said. "We had some really fast laps there. I was super loose the last couple laps."
It worked. Bowman passed Hamlin and Logano in the space of just three laps and took the checkered flag. It was Bowman's first victory since the Fontana road course in March 2020, when he was still driving the No. 88 Chevy. It was also his first victory for Bowman, who replaced Dale Earnhardt Jr. midway through the 2016 season, without William "Rowdy" Harrell on the crew.
Alex Bowman's victory stirred up a heartbreaking memory
Winning over the weekend was emotional for driver Alex Bowman, crew chief Greg Ives, and many others in the Hendrick Motorsports organization. It was Bowman's first trip to victory lane since the death of Rowdy Harrell. The crew member was with Bowman since he began driving the No. 88 Chevy.
Harrell and his wife, Blakley, died in November 2020 in a car crash in the Florida Keys while on their honeymoon. The Florida Highway Patrol cited drugs and alcohol as contributing factors in the tragedy, according to Fox Sports reporter Bob Pockrass.
"Our group has a lot of personalities, a lot of awkward people, I guess. Greg and myself are a bit awkward," Bowman said in the post-race interview. "We have some normal personalities. Rowdy was that big, outgoing personality that really kept the group pumped up in any situation, really held us all together. He was always happy, no matter what the circumstance was.
"He meant a ton to our race team. He's probably the first guy when I filled in in the 88 back in the day to really make me feel super-welcome, feel like he had my back. He was just a huge part of our team."
Added Ives: "Every morning we wake up, we're reminded of the energy that he brought to the team. We just try to bring part of that, that will to never give up. I think you saw in victory lane how emotional Alex was about it. I think every lap he runs, that's on his mind, to drive him, to motivate him, to never give up as Rowdy was, give 100%."
Like Sportscasting on Facebook. Follow us on Twitter @sportscasting19.