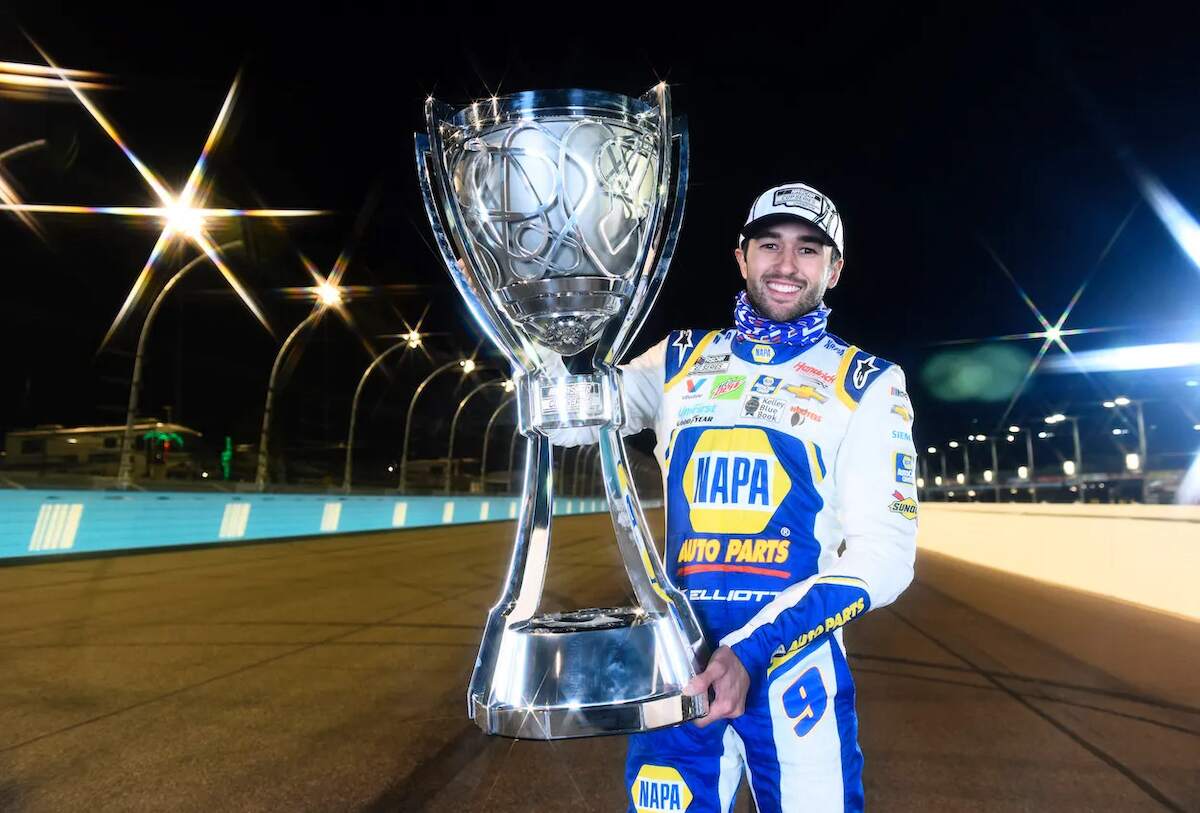 Chase Elliott Takes Shot at Formula 1 and Backs It Up With Specific Details Why NASCAR Is Better
Chase Elliott is the face of NASCAR as the 2020 Cup Series champ and most popular driver three years running. He proudly crowed about his sport recently and provided details on why it's better than Formula 1.
Chase Elliott has been a popular figure in the NASCAR world. In addition to winning the 2020 Cup Series title, he was voted NASCAR's most popular driver for a fifth consecutive year in 2022. As the sport's ambassador, his words matter.
During an appearance at COTA in Austin while running tire tests in preparation for a NASCAR event, Elliott expressed just how much he loves the sport that loves him so much. He took a shot at Formula 1 in the process.   
Chase Elliott has become the face of NASCAR
Chase Elliott was destined for NASCAR greatness. The son of 1988 Winston Cup Series champion Bill Elliott, Chase has literally been around the race track his entire life. And it shows. 
Since he made his NASCAR debut with the Truck Series in 2013, Elliott has earned a combined 19 wins between the three series, including 11 with the Cup Series. 
In his years racing Cup, Elliott has quickly ascended to the top. After going winless his first two seasons, Chase Elliot broke through in 2018 when he won his first race on the road course at Watkins Glen. It was a precursor of things to come. 
Since that initial win, Chase Elliott has won 10 more times, three of them coming on road courses, and has clearly established himself as one of the best road racers in NASCAR. In 2020, two of his five victories came on road courses. He followed in his father's footsteps when he drove his way to the Cup Series championship, doing so at just 24 years old. 
Chase Elliott details why NASCAR is better than Formula 1
After years of hosting the U.S. Grand Prix with Formula 1 cars, COTA in Austin held its first-ever NASCAR event in May 2021 with the EchoPark Texas Grand Prix. NASCAR invited Chase Elliott, Martin Truex Jr., and Brad Keselowski to test out tires on the 3.5-mile track this past week. 
During a break from testing, the drivers answered questions from reporters. Elliott didn't hesitate in making his case about why the Cup Series race will be better than any of the F1 races before.
"It's just a different type of racing. We're not going near as fast as those cars do," Elliott admitted. "But I feel like the product and the competitiveness on track and us being able to race around each other is much more feasible with the speeds we're going and kind of how big and heavy these cars are. I feel like, no, it's not the oohs and the aahs of going through the S-turns however fast those guys go, but I do think the racing is better to watch, and I think that's what's made NASCAR popular over the years."
What fans can expect from NASCAR at COTA
When Chase Elliott and all three NASCAR series come to Austin, Texas in May, fans in attendance and those watching on TV should expect a very different viewing experience than what they've witnessed from Formula 1 and the U.S. Grand Prix in years past.
As Elliott suggested, the NASCAR races will be much more competitive than what is typically seen in Formula 1, and it will start from the green flag and turn one. Four-time road course winner Martin Truex Jr. said COTA is a road course unlike any other he's raced on with NASCAR, and the first portion of the course should be action-packed throughout the race.
"The start of this race will probably be pretty cool because you've got that long front straightaway and it's very very wide and you go into a very sharp slow corner. We have races at places like Pocono where we get five- and six-wide down the front stretch, and there's a potential for that to happen here, and then you've got to turn around and go back the other way. It could be pretty hairy."
The hairier, the better.
Like Sportscasting on Facebook. Follow us on Twitter @sportscasting19.