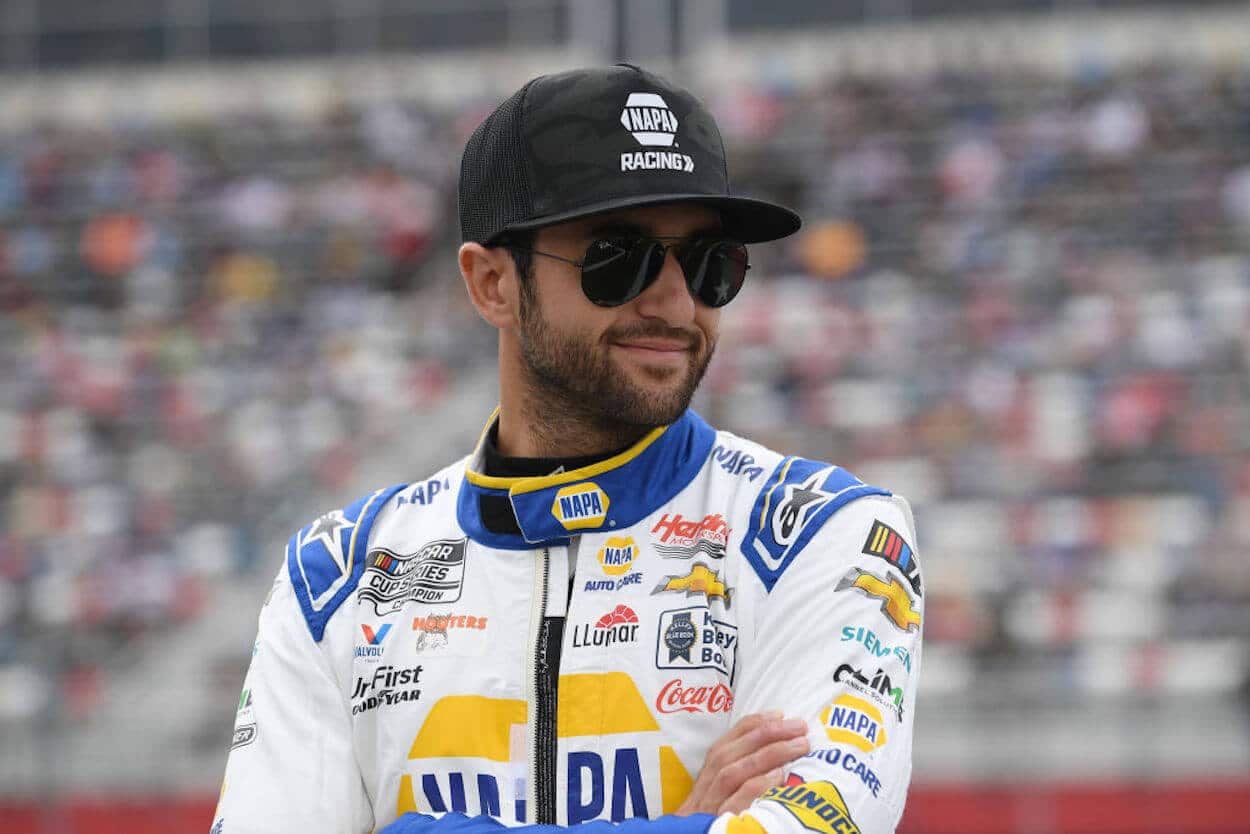 After Not Owning His Careless Move on Denny Hamlin, Chase Elliott Has a Credibility Problem
Ever since Dale Earnhardt Jr. retired, Chase Elliott has been NASCAR's most popular man. A lack of credibility, however, could change everything.
Everybody loves Chase Elliott. Or, almost everybody. OK, well, not Denny Hamlin. But you get the point.
The point is: There's a reason Elliott has been voted NASCAR's Most Popular Driver the last five seasons — taking up the mantle Dale Earnhardt Jr. carried for 15 years before his retirement from full-time racing at the end of 2017.
Like his father, Bill Elliott — himself a 16-time Most Popular Driver award winner — Chase has captured the hearts and minds of a major segment of NASCAR Nation with his down-to-earth personality and on-track success.
It also doesn't hurt that his Hendrick Motorsports Chevrolet carries the same No. 9 with which his NASCAR Hall of Fame father enjoyed his greatest moments in the sport.
This week, however, wasn't a good one for Chase Elliott. In fact, it's fair to say it was his worst week since joining NASCAR's top series in 2016 — even worse than the week in early March when he suffered a fractured tibia in a snowboarding accident that left him sidelined for the next half dozen races.
That's because, for the first time in his career, Elliott has a serious credibility problem.
Chase Elliott squandered a chance to help himself at Charlotte and made his situation far worse
The Coca-Cola 600, which was postponed to Monday at Charlotte Motor Speedway after a Sunday rainout, was supposed to be a golden opportunity for Chase Elliott to capture the win he so desperately needs to qualify for the NASCAR Cup Series playoffs after missing six weeks of action with his broken leg.
After all, Elliott is a past winner at Charlotte, having gone to Victory Lane at the 1.5-mile quad-oval as recently as his championship season of 2020. But rather than seizing the moment that presented itself in Monday's race, Elliott seethed with anger after being crowded into the wall by Denny Hamlin's No. 11 Toyota less than halfway through the event.
Then, just a couple of seconds later, in what one might rightfully call a quintessential knee-jerk reaction, Elliott came down the track and hooked Hamlin's right-rear quarter panel with the No. 9 Chevy's left front, sending Hamlin's Joe Gibbs Racing car sailing into the wall headfirst at high speed.
It was what Elliott did after exiting his race car, however, that has placed a black cloud over his credibility. Rather than taking it on the chin and admitting he wrecked Hamlin in an act of retaliation — which was clear to any remotely unbiased observer — Elliott denied harboring any such ill will when asked during a live TV interview.
"Once you hit the wall in these things, you can't drive them anymore," Elliott told FOX Sports. "Just an unfortunate circumstance."
Yeah, it was an unfortunate circumstance —especially for Hamlin, who could've suffered a serious injury in the crash. The first part of Elliott's above statement is anything but true, however.
The truth is that the second-year Next Generation Cup Series car Elliott was driving is far less susceptible to damage than any other model vehicle in NASCAR's 75-year history. In fact, the biggest knock on this car since its 2022 inception has been that it doesn't bend enough when making contact with a hard surface — causing the person inside the vehicle rather than the machine to absorb the brunt of the impact.
We won't even get into how Elliott didn't hit the wall all that hard — or the fact that he seemed to have perfect control of his car's steering for a second or two after hitting the wall, only to conveniently lose control when the opportunity to wreck Hamlin was too good to pass up.
It's incumbent upon Chase Elliott to come clean before some fans take their loyalties elsewhere
Interviewed on TV moments before Chase Elliott denied any wrongdoing, Denny Hamlin was quick to accuse Elliott of malicious intent — which certainly appeared to be the case upon further review of the accident itself and simulated data that Hamlin shared on Twitter.
"I got right-rear hooked in the middle of the straightaway," Hamlin said of Elliott in his televised interview. "It's a tantrum, and he shouldn't be racing next week. Right-rear hooks are absolutely unacceptable."
NASCAR conducted its own investigation into the matter and concluded Elliott did indeed deliberately put Hamlin in harm's way, handing the Hendrick Motorsports driver a one-race suspension in alignment with a precedent set last year when the sanctioning body suspended Bubba Wallace a single race for a similar move.
In case there was any question whatsoever of Elliott's guilt, Hendrick Motorsports pretty much threw cold water on the possibility of his innocence by announcing shortly after news of Elliott's suspension that the organization would not appeal the penalty and that Elliott would miss Sunday's race at World Wide Technology Raceway outside of St. Louis.
Now it's time for Elliott himself to take responsibility and acknowledge that he let his emotions get the best of him in the heat of battle. Even the most ardent Chase Elliott fan on the planet — if they're honest with themselves — knows deep down inside that their guy messed up big time at Charlotte.
If Elliott can't own up to his actions, he's going to be labeled as a liar, and his credibility will continue to suffer — likely causing some of his fans to decide they'd rather support a guy who shoots it straight. And Elliott will have no one to blame but himself.