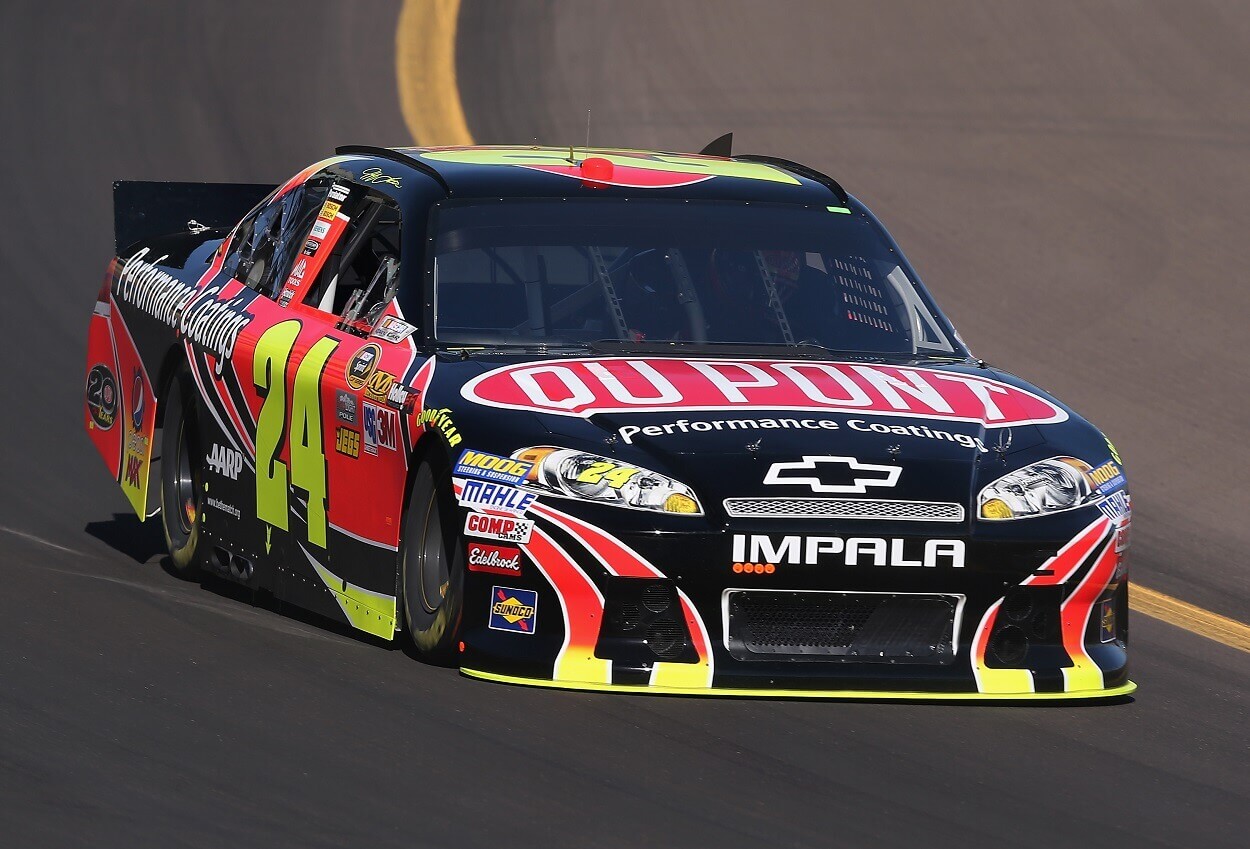 Jeff Gordon Once Famously Escaped the Type of Suspension Chase Elliott Just Received
Chase Elliott recently received the type of suspension Jeff Gordon should have gotten back in 2012 and didn't.
Chase Elliott will miss yet another race this season after he made a heavily scrutinized move Monday during the Coca-Cola 600 at Charlotte Motor Speedway that earned him a one-race suspension even though his predecessor and now boss at Hendrick Motorsports avoided such a penalty for a similarly controversial move in his own career.
Elliott entered the rain-delayed Monday race at Charlotte 28th in the points standings after he missed six races early in the season because of a snowboarding accident that resulted in a broken leg before the scheduled third race of the season on March 5 at Las Vegas Motor Speedway.
He fell from 14th to 32nd in the standings by the time he returned to once again pilot the No. 9 car for Hendrick Motorsports on April 16 at Martinsville Speedway. Elliott finished 12th or better in each of his first five races back from his injury and was running inside the top five Monday as the 600-mile race approached the halfway point.
Chase Elliott made a controversial move against Denny Hamlin at Charlotte
Elliott found himself on the outside of Denny Hamlin on Lap 186 in a battle the two had waged for several laps. Hamlin squeezed Elliott into the outside wall as the pair raced side-by-side out of Turn 4, and Elliott responded by turning down into the right-rear corner of Hamlin's No. 11 Joe Gibbs Racing machine.
The contact sent Hamlin headfirst into the outside wall, and the resulting damage from the incident ended the race for both drivers. Hamlin then posted Elliott's throttle and steering data on Twitter before the rest of the race was over, and he claimed the movement in the steering trace proved Elliott had acted intentionally.
Elliott, meanwhile, said in his post-crash interview that he did not run into Hamlin's car as an act of retaliation.
"Once you hit the wall in these things, you can't drive them anymore," he said. "So no, just unfortunate circumstances."
The replay and steering data suggest otherwise, and the wreck looked eerily similar to an incident late in the 2022 season that got Bubba Wallace suspended for one race when he wrecked Kyle Larson at Las Vegas Motor Speedway, as well as an incident 11 years earlier when NASCAR Hall of Famer Jeff Gordon made a similar transgression but avoided a suspension.
Jeff Gordon avoided a suspension for a similar wreck in 2012
Jeff Gordon and Clint Bowyer were both inside the top five of the points standings with two races left in the 2012 season. Bowyer had caused a wreck early in the season at Martinsville that collected Gordon and HMS teammate Jimmie Johnson. Gordon remembered that incident after contact with Bowyer with seven laps to go in the penultimate race of the season at Phoenix Raceway caused his left-rear tire to go flat.
Gordon, now the vice chairman and co-owner of HMS, then coasted around the track until Bowyer came back around the 1.0-mile oval, and Gordon hooked Bowyer into the Turn 4 wall, effectively ending his chances at the championship Brad Keselowski went on to win a week later.
The incident looked similar to what Wallace and Elliott both did in their wrecks, but NASCAR did not suspend Gordon for the final race of the 2012 season. Gordon merely got a $100,000 fine and lost 25 points.
Popularity, clout, and favoritism all come into play when HMS is involved in a controversial situation, and Elliott is the five-time defending Most Popular Driver award winner. 
The winningest organization in NASCAR history with 296 Cup Series victories is typically very good at dodging the harshest consequences of controversial situations, which opens room for fans and competitors to claim favoritism is at work within the sanctioning body when HMS avoids large penalties. 
HMS recently subverted a large NASCAR penalty after this year's race at Phoenix when it got an appeals panel to overturn 100-point penalties that NASCAR had issued to all four HMS drivers because of modifications the company made to the hood louvers.
NASCAR's integrity would have again been called into question if it had chosen not to suspend Elliott for Sunday's race at World Wide Technology Raceway near St. Louis. This time the sanctioning body will at least not have to deal with the conspiracy claims many hurled toward it as the Phoenix penalty appeal situation played out.
Elliott, despite his immense popularity, did not escape his incident with Hamlin at Charlotte without the one-race suspension that Gordon sidestepped after his own similarly deliberate and dangerous move many years before.