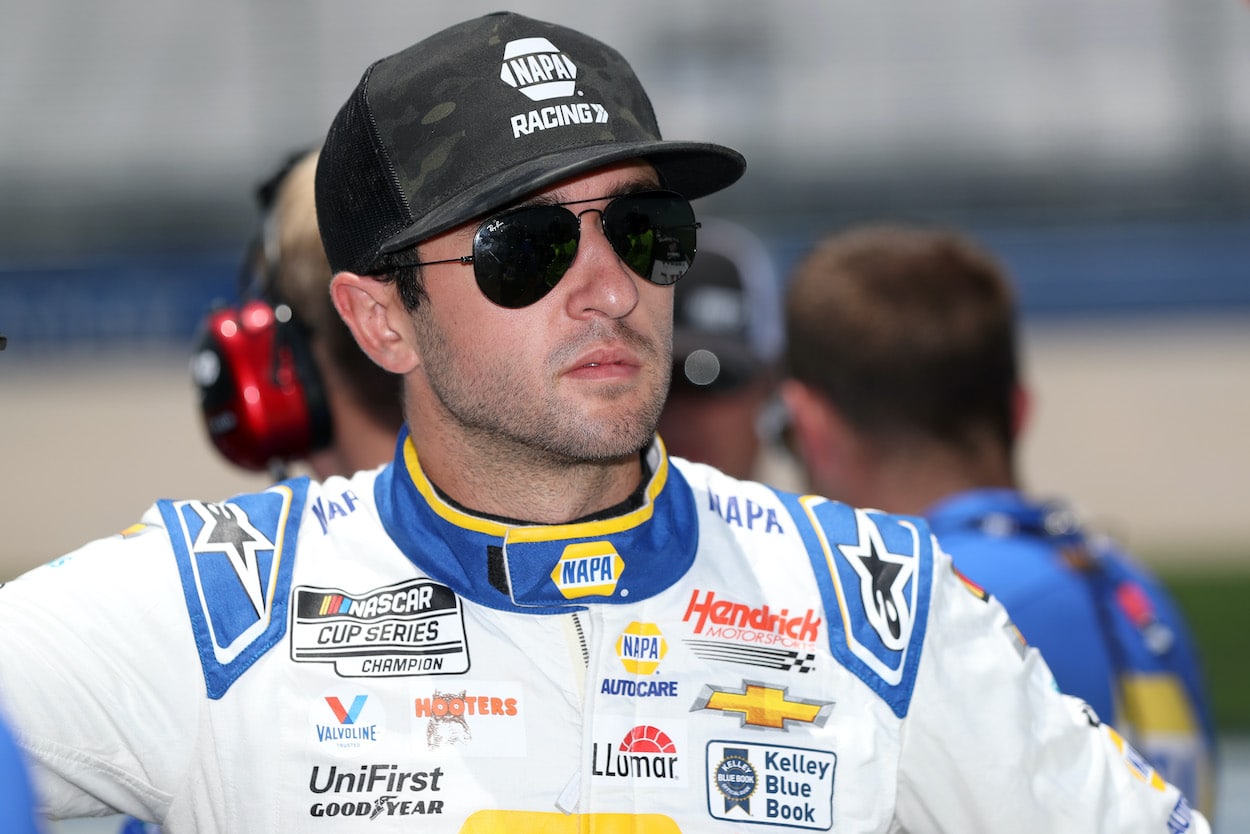 Chase Elliott Speaks Up for Fans and Says NASCAR Needs to Make a Change This Summer to Improve the Fan Experience 
Chase Elliott got candid this weekend at Nashville, suggesting that NASCAR needs to make a change this summer to improve the overall fan experience.
Chase Elliott has won NASCAR's Most Popular Driver Award five years in a row. He's a man of the people. This past weekend at Nashville, the Hendrick Motorsports driver spoke up for those people when he suggested that NASCAR has no excuse for not making a change that would benefit fans and make going to the track this summer a more enjoyable experience. 
Chase Elliott outspoken on Next Gen car this year
While Chase Elliott is naturally one of the faces of NASCAR due to his popularity, that doesn't necessarily mean he's the most outspoken. He tends to keep his thoughts to himself. That's noticeably changed since the introduction of the Next Gen car.
Like other drivers, the 2020 Cup Series champion has been vocal about safety concerns with the car in its second season. Earlier this year, after the race at Martinsville and his first following a six-week absence due to a knee injury, the 27-year-old driver was critical of the car, not out of concern for safety, but its overall performance. 
"Happy for HMS and Chevrolet, but you just never know until you start the race and get going and really hard to pass. These cars are just so," Elliott paused for a few seconds. "Frustrating at times, I guess would be the best way to put it. And just hard to be different. And when you can't be different, it's going to be hard to drive around somebody." 
Elliott calls for NASCAR to add more night races
Before this past weekend's race at Nashville, where he finished fourth, Elliott visited with reporters and was asked his thoughts on the upcoming night race at Atlanta. He didn't mince words.
"No, I don't think it'll change the racing itself, but I think rightfully, so I think it should be a night race much like the majority of the summer races should be," Elliott said. "You know, when I saw this race was a night race and Atlanta was a night race. I'm like, dang, was somebody actually listening to something that I said. Probably not. 
"But nonetheless, this time of year is just — it's hot. You know, for the drivers, it is what it is. It's hot every week for us but for the people sitting in the grandstands. I mean goodness. It's 95 degrees out here in the summer and sitting in bleachers like there is no reason to be to be roasting on a Sunday afternoon when this facility has lights. And same for Atlanta. That just makes no sense. 
"Basketball season's over. You know, baseball is on TV, of course, this time of year, but it's regional coverage anyway, and they're hard to watch. So from a TV standpoint, I don't really think there's any excuse for that. 
"We'd love to see these events be on Saturday night instead of Sunday night for people that have to go to work on a Monday morning but I just don't see any reason why we shouldn't have more night races during these months where it's so hot for the spectators and the people here to enjoy it more."
Dale Earnhardt Jr. offers a different perspective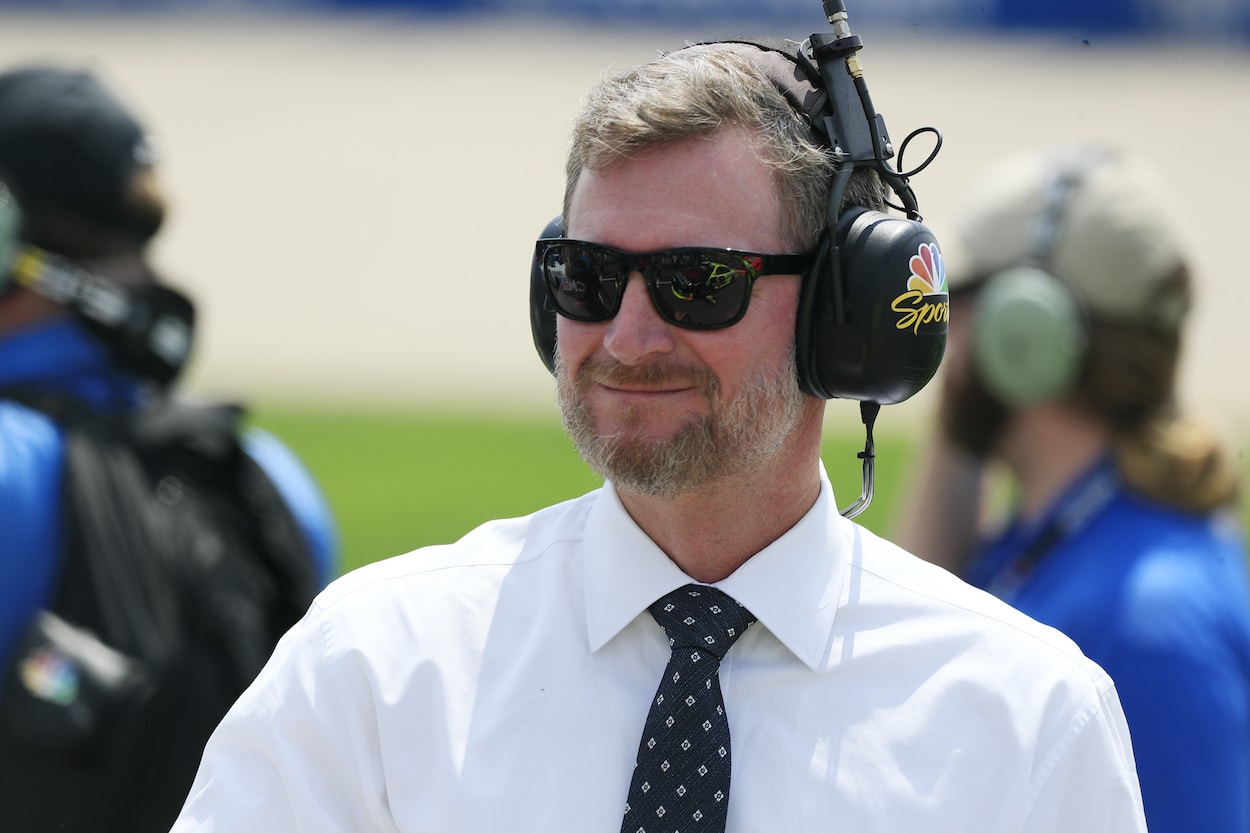 Dale Earnhardt Jr. joined his NBC booth mates this weekend in Nashville for the network's first race of 2023. Last week, the two-time Daytona 500 visited with the Athletic's Jeff Gluck in his 12 questions interview. During that conversation, the reporter asked the Hall of Famer to order five mildly annoying things, including the animated show "Bluey," finding rats around the house, both kids having colds simultaneously, late start times for races, and the Dallas Cowboys.
NASCAR finished top of the board.
"Alright, late start times is No. 1," Earnhardt told the reporter.
"The most annoying? More annoying than anything?" Gluck questioned.
"More annoying than anything, yeah," Junior said. "I love the thought of knowing a race is going to start at 1 o'clock. And I know the start times have gotten a little more predictable, but they're still like 2:30, 3, 3:30, 4, 7. 
"I know when an NFL game starts: It's the 1 (p.m. ET slot) or the 4 (p.m. ET slot) on Sunday. There's no variation. And that's what I want out of my sports. That's what I want out of everything in life. So to have to look on my phone and go, "I wonder when that race starts? Is it 3? 3:30?" I don't want to have to look."
Both Earnhardt and Elliott make good points. Interestingly, while differing opinions, both of them are advocating for a better overall fan experience. And it's easy to see why the pair have held the title of most popular driver for the last two decades.
To stay up to date on the latest happenings in NASCAR, including breaking stories you can't find anywhere else, follow Kyle on YouTube and Twitter.