Maybe Alex Bowman Should Mix in Some Right Turns Because His NASCAR Season Is Going In the Wrong Direction
Had last weekend's race been the NASCAR Blue-Emu Maximum Pain Relief 320 rather than the 500, Alex Bowman would be looking OK right about now. Instead, his day came crashing to a literal halt to continue a frustrating season.
The NASCAR Cup Series season only reaches the quarter pole on April 18 at Richmond Raceway, but it's getting late early for Bowman's team.
The news hasn't been all bad for Alex Bowman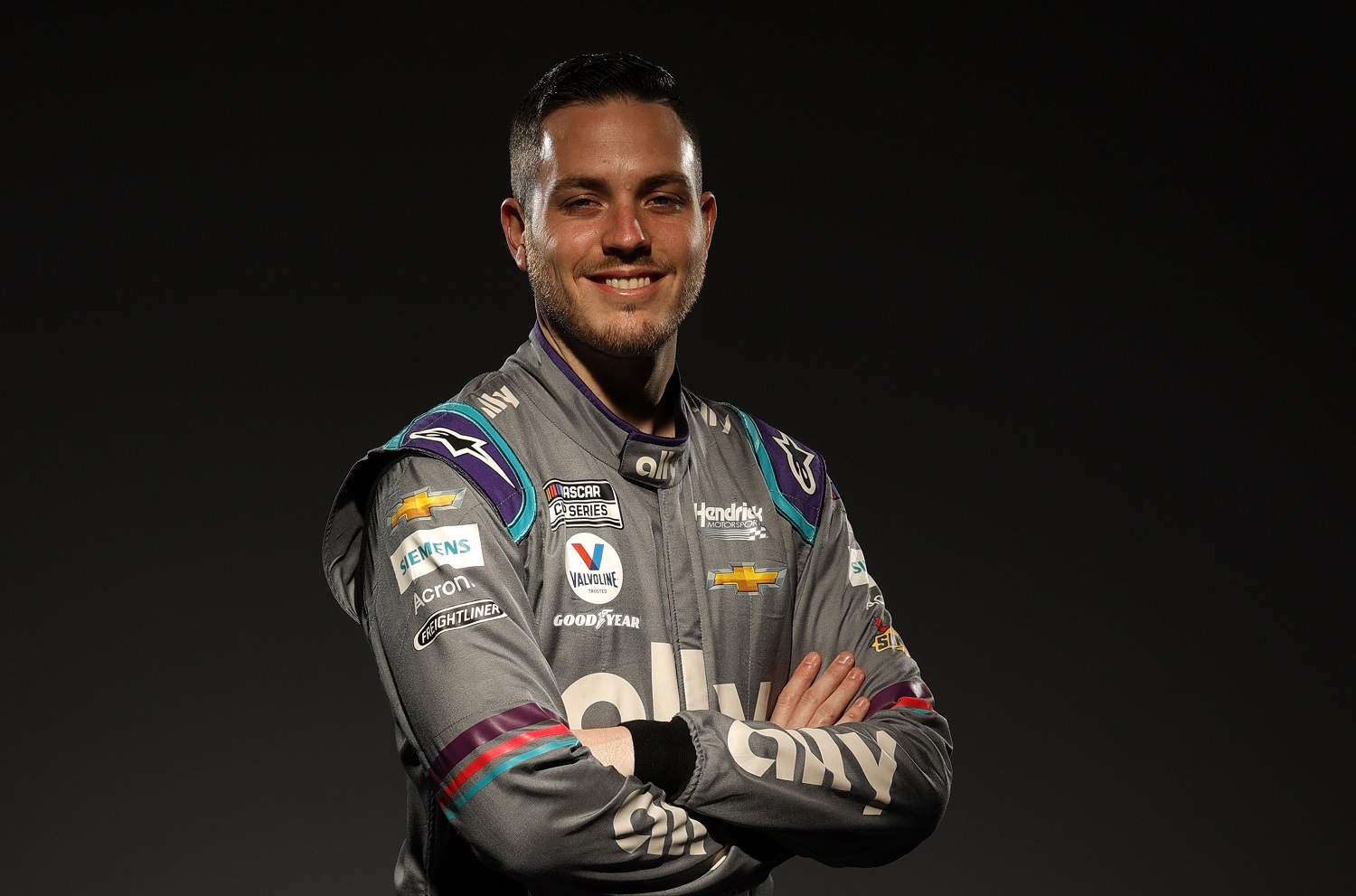 Alex Bowman has finished in the top 10 in only two of the first eight NASCAR Cup Series races this season, but he was within sight of his second top-three showing in three starts when disaster struck at Martinsville. Bowman got caught up in what passes for "The Big One" at a little track: Chris Buescher bumped into Kyle Busch with 114 laps to go, triggering a 14-car mess that put Bowman out of business for the day.
Bowman ran as high as fourth place in the race's second stage before settling for fifth. He continued to run strong in the final stage and had moved into second place before the No. 48 Chevy started to falter. As laps clicked off, Bowman dropped back to ninth when he gave in and pitted under the green, where the crew found a loose right-front wheel.
It was only a matter of minutes after that before he was collected in the massive wreck. Bowman couldn't finish and went into the books with a 34th-place finish. Had the wreck not happened, Bowman could have had another top-10 showing to go with the third-place result two races earlier in Atlanta.
Alex Bowman's season is going in the wrong direction
RELATED: Hendrick Motorsports Is On the Cusp of NASCAR Cup Series History After William Byron's Win at Homestead
Coupled with his mishap at the Daytona 500 to start the season, Alex Bowman has bookend DNFs on his 2021 NASCAR Cup Series record. He's led exactly one lap so far – remember, he started on the pole at Daytona — compared to 369 laps at this stage a year ago. (On the plus side, Bowman has run 500 laps inside the top five, which ranks ninth in the series.)
Bowman stands 17th in points heading to Richmond, which doesn't bode well for making the season-ending playoff one year after he advanced to the third round. Worse still, he's experiencing all these frustrations in the very visible No. 48 Chevy, which he inherited when seven-time series champion Jimmie Johnson retired at the end of last season.
In addition, Bowman is bringing up the rear among the quartet of Hendrick Motorsports drivers. Defending series champion Chase Elliott hasn't won yet in 2021, but he opened with a second-place run at Daytona and has three other top-10 finishes. William Byron and newcomer Kyle Larson have both won a race already, and each has posted six top-10s.
This is his contract year at Hendrick Motorsports
Alex Bowman is the only one of the four Hendrick drivers not under contract for 2022. Could he find himself unemployed at the end of the current season? That's highly unlikely. However, there are other reasons that could create sleepless nights this summer and fall.
FrontStretch.com placed Bowman on its shortlist of drivers on the hot seat before the Martinsville race, and his season only got worse in the past week. Consequently, things could get awkward at the end of the season if Bowman misses the playoff or does qualify but bows out early.
As a defending series champ, Chase Elliott could screw up pretty badly and still be safe in the No. 9 NAPA Auto Parts Chevy for 2022. Kyle Larson likely remains locked into the No. 5, which won't land a full-time sponsor until advertisers feel the 2020 controversy is safely behind him. But there's no way Rick Hendrick is letting him go based on performance.
So, one would have to at least consider the possibility that Ally Financial inquires whether William Byron or Elliott could move into the No. 48 Chevy. After Jimmie Johnson's success under the Ally banner, the company has a lot invested in brand identity and a lot invested in the Hendrick outfit.
Getting moved into the third- or fourth-best car in the garage would be a blow to Bowman but a legitimate business consideration for Hendrick.
All stats courtesy of Racing Reference.