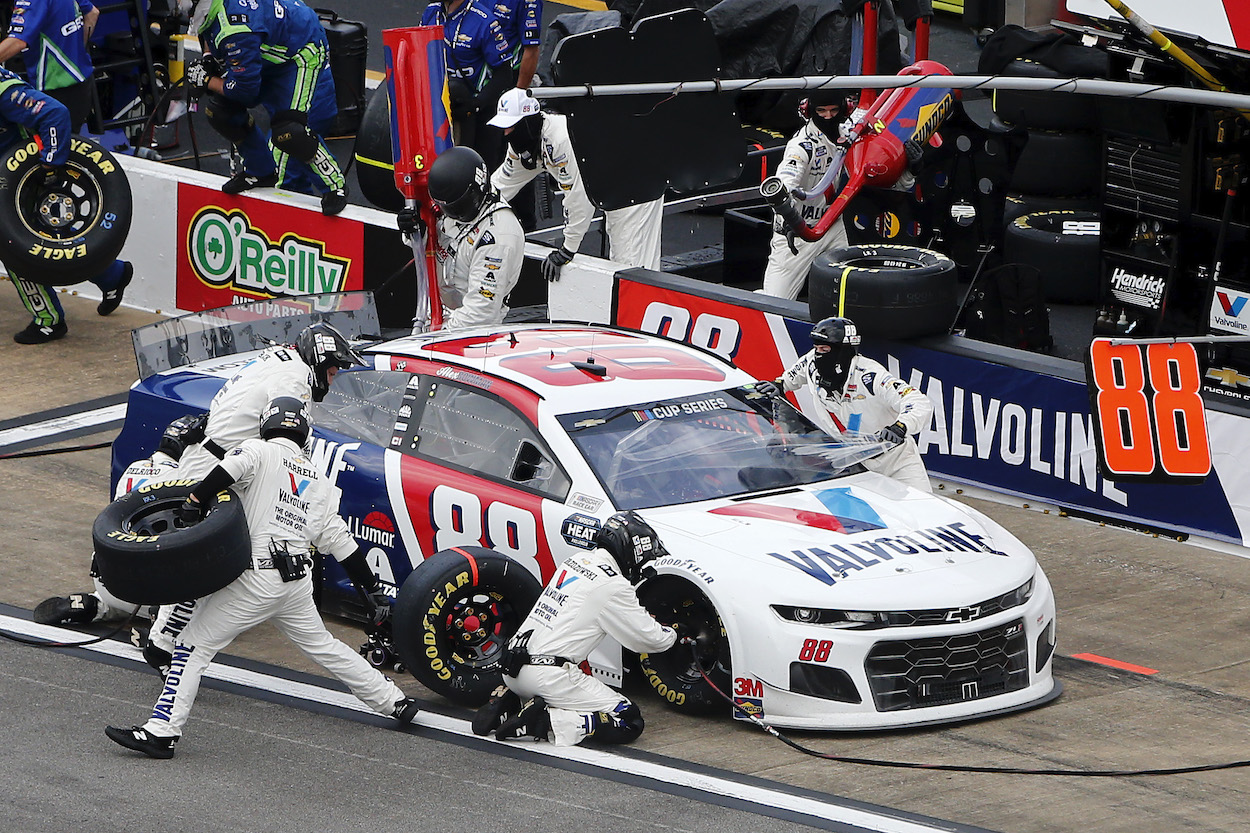 The Latest News on Death of Hendrick Motorsports Pit Crew Member and Former Alabama Football Player Takes Heartbreaking Turn
The Florida Highway Patrol released its findings on the death of former Alabama player and Hendrick Motorsports pit crew member Rowdy Harrell and it's even more heartbreaking.
Both the University of Alabama and Hendrick Motorsports received horrible news late last November when the former Crimson Tide walk-on and tire carrier William "Rowdy" Harrell and his new wife Blakley tragically died on their honeymoon in a car accident in Florida. A new report has come out, and the already tragic event has taken a heartbreaking turn. 
Rowdy Harrell worked for Hendrick Motorsports
After walking on at the University of Alabama and winning three national championships, Rowdy Harrell joined Hendrick Motorsports, where he worked the last eight seasons, most recently with the No. 88 NASCAR Cup Series team of Alex Bowman. 
Prior to working on a Cup team, Harrell won a pair of Xfinity Series championships with JR Motorsports, co-owned by Dale Earnhardt Jr. He also served as a pit crew member for Earnhardt.
Hendrick Motorsports announces Rowdy Harrell and wife killed in car accident
Rowdy Harrell, 30, was on his honeymoon in the Florida Keys with his new wife Blakley when they were in a fatal accident. According to the Florida Highway Patrol, Harrell had been traveling northbound on U.S. 1 when the 2020 Toyota Corolla he was driving crossed into the southbound lane and into the path of an oncoming pickup truck. The other driver attempted to avoid Harrell, but the two cars collided head-on.
Harrell and his wife died on the scene. The driver from the pickup truck sustained minor injuries while two passengers suffered serious injuries. 
"Our entire team is absolutely devastated at the loss of Rowdy and Blakley," Greg Ives, who was Harrell's crew chief for the past six seasons, said in a statement. "They were such positive, giving and passionate people who could not have been a more perfect match. Rowdy had an energetic and infectious personality. He was the heart and soul of our team and always kept us motivated, no matter the circumstance. Rowdy shared his love with the people around him and was loved in return. Although he will be greatly missed, his memory will continue to inspire us always. Our prayers are with Rowdy, Blakley and their wonderful family."
The University of Alabama also responded to the sad news. 
"Rowdy Harrell was a wonderful teammate and friend. Our thoughts and prayers go out to his family and friends during this devastating time," Alabama Football said on Twitter. "Roll Tide, Rowdy"
Toxicology report released 
When the accident occurred in November, the Florida Highway Patrol announced they were investigating whether alcohol was involved in the crash. 
According to Bob Pockrass of FOX Sports, that investigation was recently completed and the toxicology report revealed Harrell had a blood alcohol content of 0.11 percent. The legal amount in Florida is 0.08. In addition, Harrell also had marijuana in his system.
Hendrick Motorsports and Bowman's No. 48 car are honoring Harrell and his wife throughout the season with a special memorial decal just underneath one of the front headlights. 
Like Sportscasting on Facebook. Follow us on Twitter @sportscasting19.