Tony Stewart Once Bizarrely Called for More Crashes in NASCAR: 'We Need to Extend the Race Until We Crash at Least 50% of the Cars'
Tony Stewart was no stranger to making headlines during his Hall-of-Fame NASCAR career. Whenever he stepped in front of a microphone after a race, you knew Stewart was going to speak his mind no matter how uncomfortable it might make people. Similarly, if he had a problem with a competitor, he wasn't afraid to get in their face on the track.
Stewart was a unique and refreshing personality while on the Cup Series circuit, and he once called for more crashes in NASCAR in a bizarre post-race interview.
Tony Stewart was a hilarious interview during his NASCAR career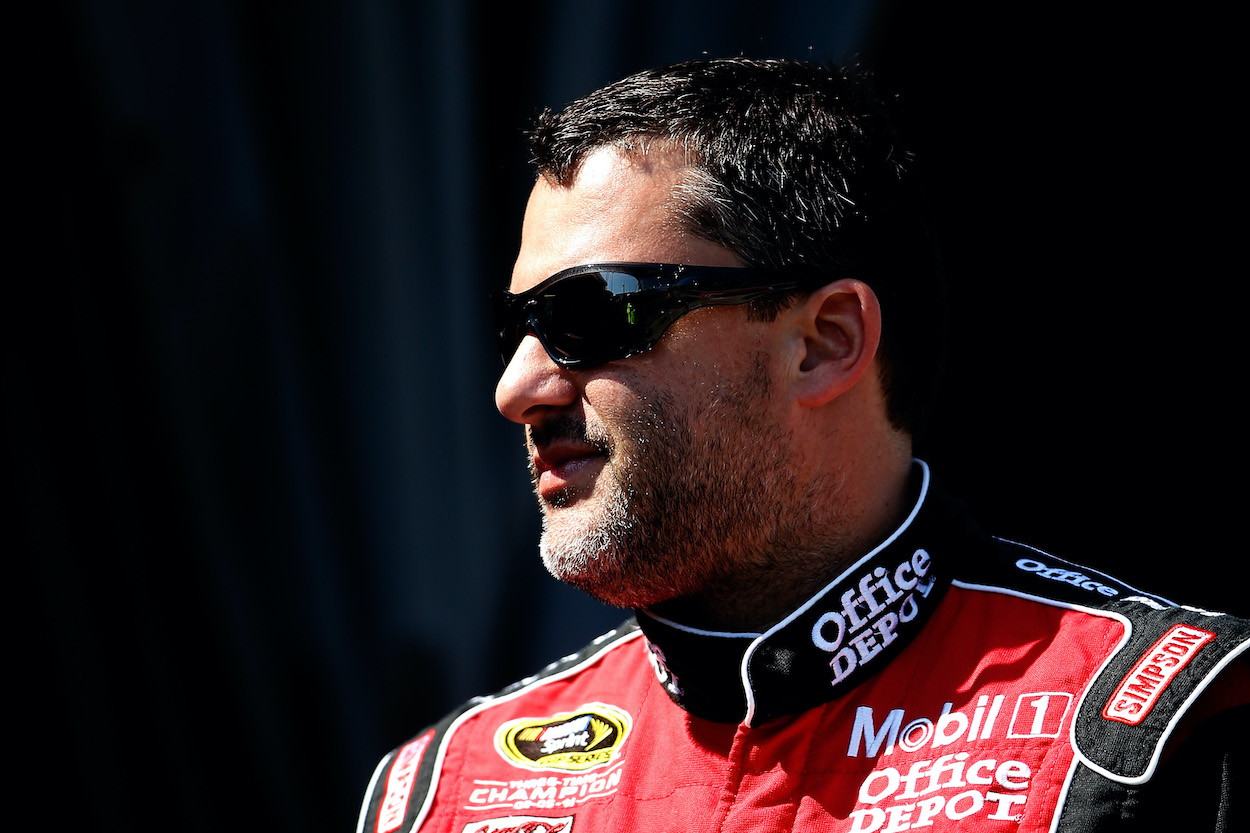 Throughout his brilliant NASCAR career, Tony Stewart cared about winning above all else. It didn't matter what it cost. It didn't matter who stood in his way to get there. After all, this is the man who once said, "I'd wreck my mom to win a championship. I'd wreck your mom to win a championship." And guess what? He meant it.
Stewart always spoke his mind on the track and during press conferences. When you pissed him off, you would know. Why? Because he would tell you.
Stewart once snapped back at a reporter by saying, "I don't know what you think of during the race, but I try to figure out how to win the race and make my car go fast. I don't sit there and think of that petty crap that you think of."
But one of the best sound bites from Stewart's career came from after a 2012 race in Talladega.
Stewart once bizarrely called for more crashes in NASCAR
During a 2012 Cup Series race at Talladega Superspeedway, Tony Stewart got caught in a nine-car wreck near the end of the race. He ended up finishing 24th, and after the race, he gave one of the most bizarre television interviews in NASCAR history.
"The racing was awesome," Stewart sarcastically said following the race. "It's fun to be able to race and have to watch the gauges at the same time. It just adds that much more. Being able to make yourself run on the apron and everything to try to get clean air, it makes it fun.
"I'm just sorry we couldn't crash more cars today. We didn't fill the quota for Talladega and NASCAR."
But things got even weirder from there.
"Honestly, if we haven't crashed at least 50% of the field by the end of the race, we need to extend the race until we crash at least 50% of the cars," he continued. "It's not fair to these fans to see any more wrecks than that, any more torn-up cars. I mean, we still had over half the cars running at the end, and it shouldn't be that way."
Stewart continued the joke for a full four minutes without ever cracking a single smile.
"I'm upset that we didn't crash more cars. That's what we're here for. I feel bad if I don't spend at least $150,000 in torn-up race cars going back to the shop. We've definitely got to do a better job at that."
Stewart's peculiar pitch for a rules change
During the same interview, Stewart went on to make a hilarious pitch for a rules change in NASCAR. Everyone knew he was joking the whole time, but it was still amusing nonetheless.
"I think we ought to make it a Figure Eight (race)," Stewart said. "I mean, if we could make it a Figure Eight, it would be perfect. It would absolutely be perfect here. It'd be better than what we've got. Or we could stop at halfway, take a break, then turn around and go backward. Then, with 10 to go, we could split the field and half of them could go in the regular direction and half could go backward."
As entertaining as that would be for the fans, we don't think a Figure Eight will be coming to NASCAR any time soon. Sorry, Tony.